Contemporary KVS House in Buenos Aires by Estudio Galera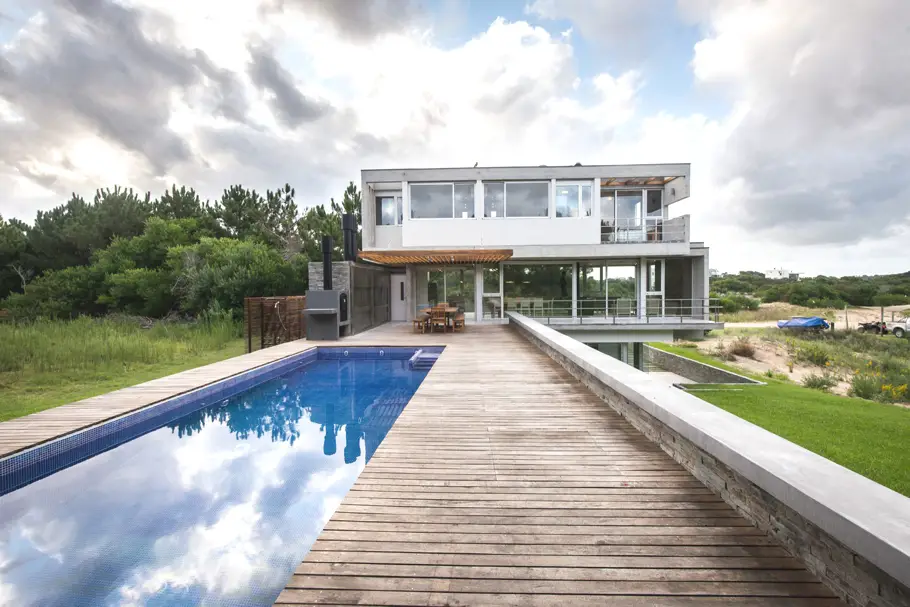 Cariló-based architectural practice, Estudio Galera, has designed the KVS House project. Completed in 2013, the chic family home is located in La Costa Partido, Buenos Aires, Argentina.
According to the architects: "The lot is situated in Costa Esmeralda, a new private venture in Costa County. A small pine grove at the front of the site, and a steep slope down from the street to the back of the lot. A simple but paramount commission: to focus the programme on the smallest portion of the lot as possible, since most of the natural landscape of the lot wants to be preserved. A vacation home thought for a family that wants to use the house for a variety of purposes, such as getting together and enjoying open air activities.
"The programme is centered around two boxes stacked, skewed, balancing each other on top of a half buried stone plinth. As a result, the program takes less than twelve percent of the lot, leaving enough space for a swimming pool and a green dune –part of the landscape.
"The activities were distributed according to the users' needs. In the partially buried plinth, we find the main entrance to the house, a bedroom, a bathroom, a laundry room and the playroom which opens to the rear façade directly connecting the inside with the outside. The walls which separate the playroom from the access circulation do not touch the ceiling; as a result, the sun brings natural light into this level which is partially underground.
"Upstairs, overhanging over the building site, there is the social box: a concrete box open at it lengths and supported on its ends. Forest views at its front façade, and a garden which dissolves into the acacias trees at the rear façade. Kitchen, dining room and living room open to the exterior to integrate with the deck, the swimming pool, and the garden.
"An interior-exterior volume contains the service area, a barbecue grill, machines room, and a toilette. This wedge-shape volume protects the barbecue grill and outside gathering area from the southern winds. A wooden pergola contains the space and offers protection from the sun. The upper floor shelters three bedrooms, two bathrooms, and offers views of the forest."
Images courtesy of Diego Medina
Love Interior Design & Exotic Travel? Follow us..
August 21, 2014 | Property | View comments