Contemporary house in the Mojave Desert, California
Palm Springs-based architectural practice, o2 Architecture, has designed the Rock Reach project. The luxury home is located 4,000 ft above sea level in the Mojave Desert, California, US.
According to the architects: "A collaborative effort between home developer Blue Sky Homes LLC and architect Lance O'Donnell of o2 Architecture; this 1,000 sq ft home is located in the Mojave Desert region at 4,000' above sea level.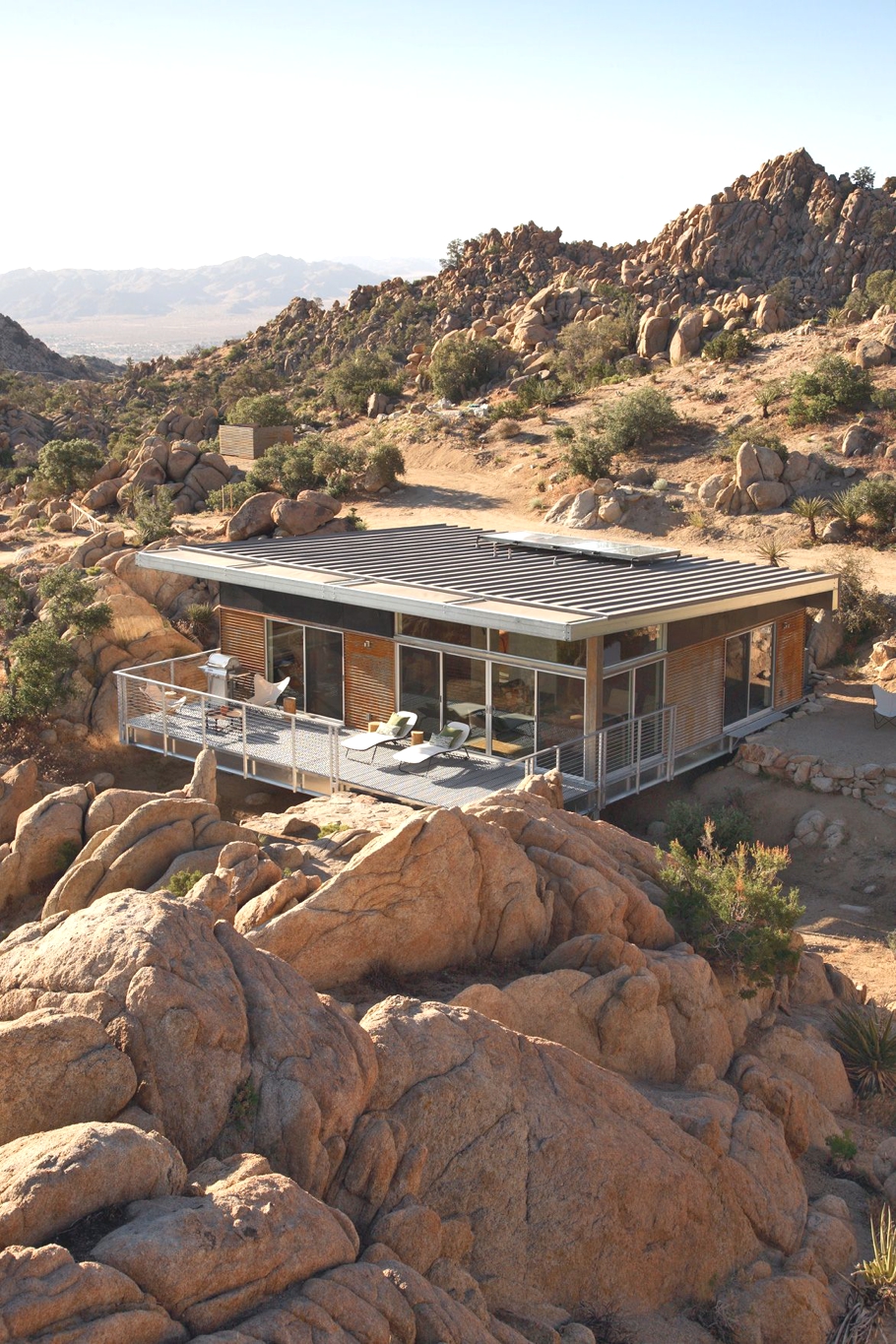 "The programme called for a sustainable, modestly scaled residence to serve as a prototype for a prefabricated line of homes. Special attention was paid to site placement and building orientation. Inspired by Le Corbusier's 'Domino'; the building contains a pure structure of columns and planes. Adaptability is created by the non-load bearing walls and openings that can be moved within the structure to satisfy a variety of site conditions.
"The luxury home is positioned above the site on moment-resisting columns and beams of cold-formed, light gauge steel. The building envelope is composed by a grid of pre-manufactured wall panels and standardised building components. The bathroom module, containing all home MEP systems, is built off-site and delivered finished. Interior spaces are defined by the placement of storage cabinetry, eliminating interior framed walls. Solar technologies provide electricity, hot water and space heating.
"The flat-packed building components minimise transportation volume and promote sustainability through material/structural efficiency and can be dissembled and relocated. The inherent nature of prefabricated design ensures low embodied energy and minimises site waste. The prototype was completed after a construction schedule of eight weeks.
Images courtesy of NuVue Interactive
Love Interior Design & Exotic Travel? Follow us..
September 4, 2014 | Property | View comments