Contemporary Casa Club Bosque Altozano, Mexico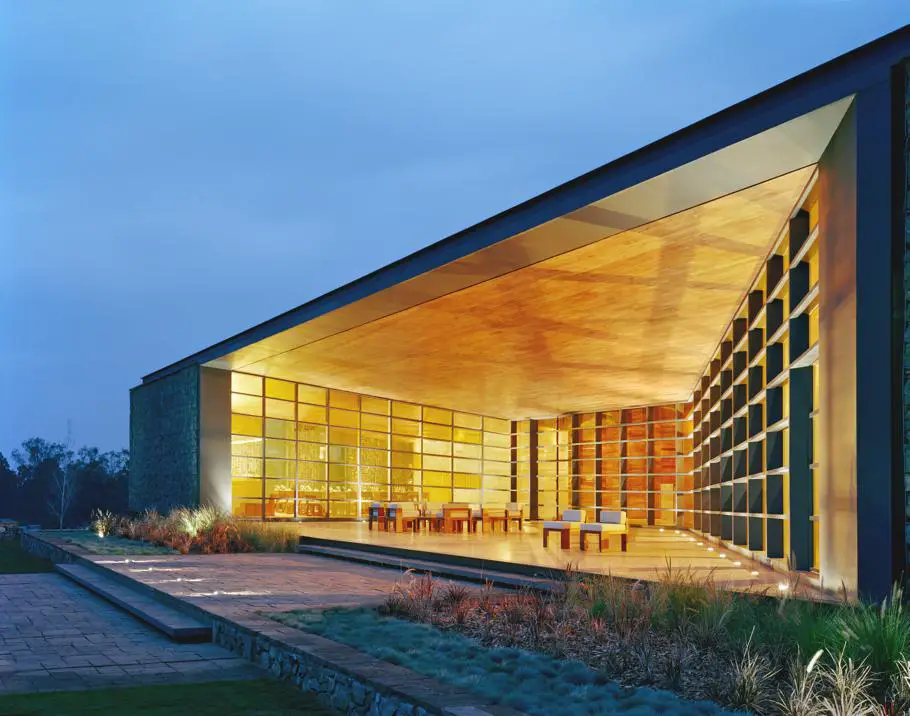 Mexico-based architects Parque Humano have designed Casa Club Bosque Altozano. This award-winning contemporary property was completed in 2009 and resides effortlessly on a soft slope with privileged views to the valley of Montaña Monarca, in Morelia, Mexico.

The building has been conceived as a homogenous stone mass, hollowing out a huge opening with an inviting forced perspective effect caused by the asymmetric glassed walls that frames the natural panorama (meant to evoke renaissance perspective drawings).
The amber atmosphere created through the filtering of the natural light through the stained glass, blends with the coloured space, generating a chromatic continuity that during the course of the day moves imperceptibly through an endless scale of oranges, red and yellows. Light also enters through two wooden skylights located in the middle of the room, helping to balance the colored light that comes from the window.
A few rich, tactile materials were used in combination with the light to create the environment. This effect is granted by using local stone for the gabion walls and floors and timber for the roof and other wooden objects.
Lounge area, dining space and an open terrace are the main features of this contemporary property.  Images courtesy of Paul Rivera, ArchPhoto.
Love Interior Design & Exotic Travel? Follow us..
September 8, 2011 | Property | View comments