Contemporary Cajititlan Pier, Jalisco, Mexico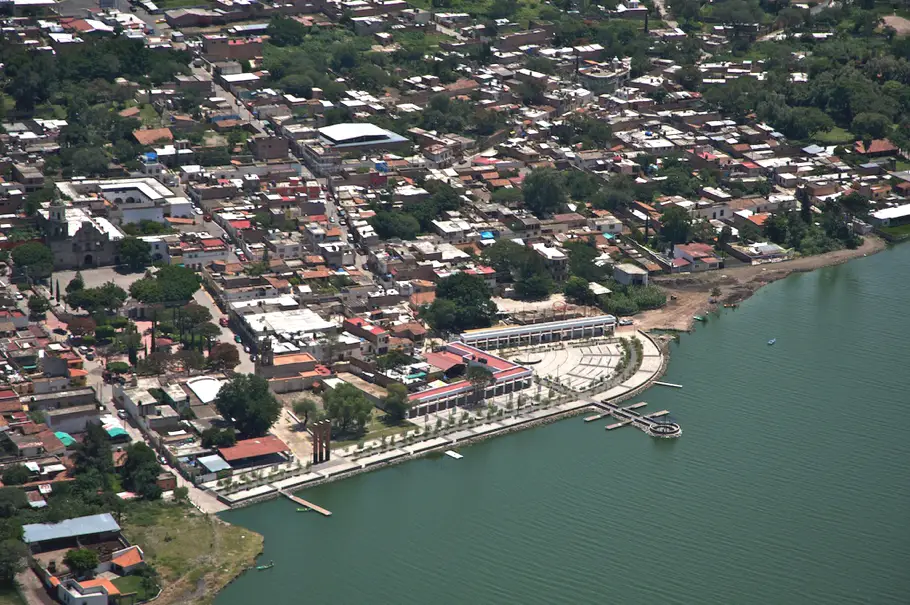 Guadalajara-based architectural practice, Agraz Architects, have completed the Cajititlan Pier project. Completed in 2011, the contemporary pier can be found in Cajititlan, Mexico.
Cajititlan is a small fishing town located in Tlajomulco de Zuñiga, at the shore of the lake that carries the same name. It is the place for sailing and ski sports, and also for witnessing the Epiphany, an annual event when thousands of people gather to see the Three Kings taken on tour on the lake every 6 January.
The pier and main plaza –popular gathering points for locals and visitors- had been quite forgotten for years and therefore presented a severe deterioration due to the lack of roadways, urban furniture and any other equipment.
This is why the challenge of the project consisted in recovering this urban space –property of the common land- in several aspects. Because of its proximity to the lagoon, the first goal was the pier that works as walking path in the shore of the bank, framed by an outline of two tree lines of endemic weeping willows.
Another sidewalk gives place to a second area where you can find a place to sit rest and relax under the shadows of these tree barriers that have become the statement of the project. And then a third strip, close to the private property line of the pier, is reserved for the food court.
Because of the scope of this plaza, the project needs built-in urban furniture and equipment and this is how a series of piers are installed for fishermen and tourists, leading to a wooden lighthouse.
In the plaza comes a spectacle platform that can hold musical, theatrical and dance performances and also a large quantity of displays for any kind of exhibitions that can make of the place an outdoor museum.
The Cajititlan Pier considers a second part with the construction of a multifunctional lounge that will be able to lodge cultural or social events, assemblies or meetings.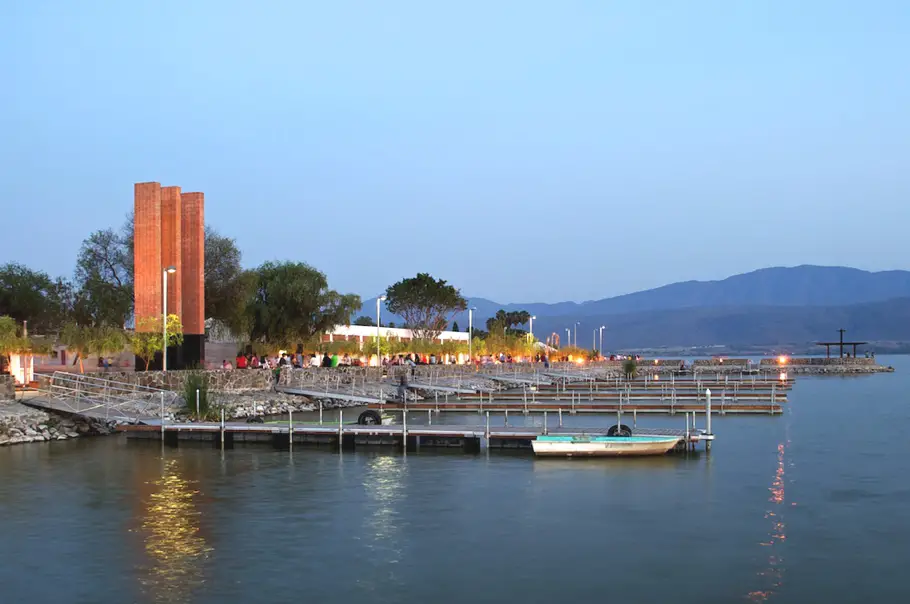 The materials where chosen with durability and pertinence criteria. As in most of the public projects that have been designed by our firm, resistance and correspondence to the place were policies. Therefore reinforced concrete with inserted volcanic stone and local brick where used. And ultimately as a stamp of modernity, a triad of brick columns where lifted over the main drive. They are three bricked slipstreams of 1.50 wide by 12 meters high, making a clear reference to the Three Wise Men of Cajititlan.
For Agraz Arquitectos this project brings the relevance of offering a public space that has the ability to strengthen the local tradition within a new appearance and a fresh ambience.
Images courtesy of Mito Covarrubias
Love Interior Design & Exotic Travel? Follow us..
September 29, 2013 | Property | View comments