Concrete chic and spacious design features at KM House, Santa Fe, Argentina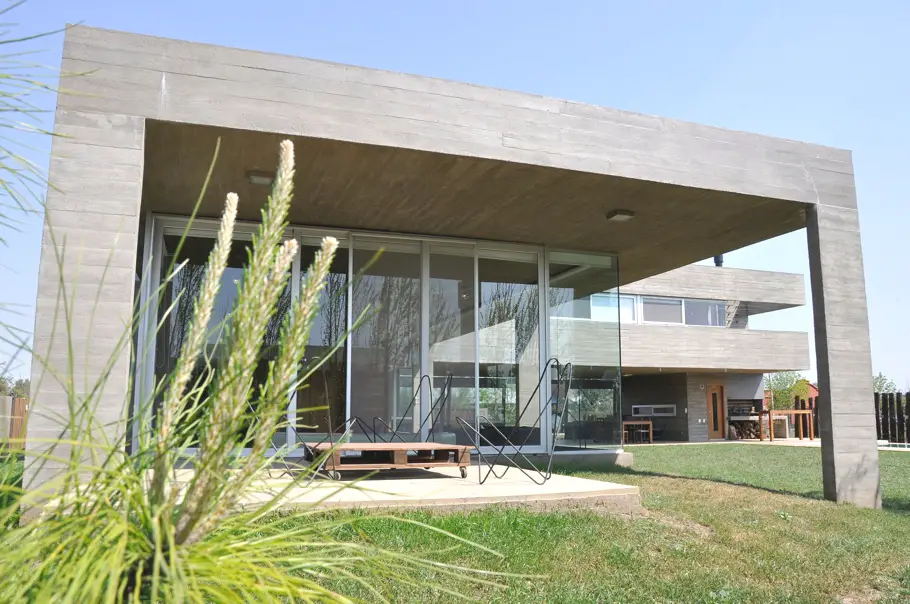 Argentinian architectural practice Estudio Pablo Gagliardo have designed the KM House project. The contemporary property can be found in Rosario, the largest city in the province of Santa Fe, in Argentina.
According to the architects: "The property can be found on a corner lot, the ground floor volume was longitudinal implanted at the south limit, disposing the main entrance on the avenue. Its facade is closed to the outside views, but opened to the inside, strengthening the dialogue with the landscape and benefiting the direction of the sun to the social areas of the house. This volume also contains the main bedroom, with its own dressing room and bathroom. A service area with a secondary kitchen and toilette, barbecue and an alternative access to the second floor, was designed as a support to the gallery and swimming pool area.
"The second floor volume was implanted like a 'crossing bridge' on top of the ground floor, creating a wide-opened space underneath it, in the heart of the house, with dimensions similar to the main living room. The idea was to obtain two different multifunctional spaces to be used on different times of the day. This gallery allows east-west continuity along the terrain. The contemporary house is essentially closed to the south, opening in favour to the north and east, which are the privileged orientations, as the location is on the south hemisphere.
"The result of this volumetric is a double height space over the main entrance that connects the two levels. To maintain the ground floor as free as possible, the children's bedrooms, utilities and other flexible uses, like a studio and guest bedroom, were disposed on the second floor. It also hosts a social space, used as a playroom, opened to the void of the main entrance.
"As a constructive and aesthetic solution, exposed concrete is adopted in all structural and closure elements, such as, ceilings, walls and columns. The formworks were all made with wooden structure, to create a plank texture in all surfaces. Interior and exterior flooring, are all made of micro concrete, which creates a great continuity between the different spaces."
Images courtesy of Estudio Pablo Gagliardo
Love Interior Design & Exotic Travel? Follow us..
April 21, 2013 | Property | View comments