Chic Apartment Interior, Netherlands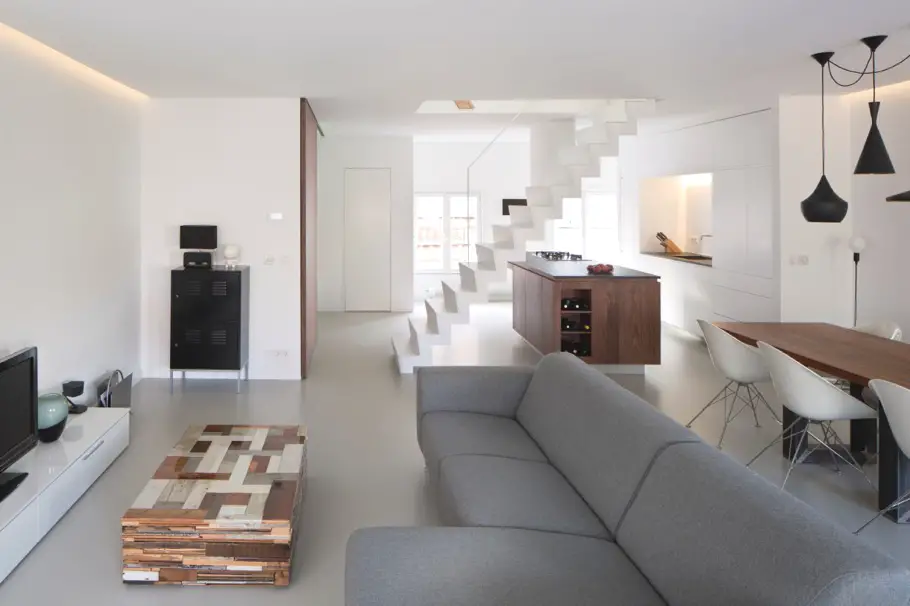 Laura Alvarez an Amsterdam-based design studio have recently completed the interiors of this ultra-modern apartment. Apartment Singel is a two-floor contemporary apartment located in Amsterdam, Netherlands.
The main concept was to transform the dark and claustrophobic existing apartment into a bright loft and at the same time bring into view special elements of the old building.
The compact living area is located on the first floor. It is conceived as a continuous space capable to host different living activities without dividing them into different rooms. A light steel staircase creates a transition between cooking and dining area.
A series of satin-glass walls have been introduced in the upper floor to bring natural light into the lower level and the bathroom.
An oak grey-painted window bench provides a seat to enjoy the beautiful view towards the Amsterdam channels. It is also designed as storage cabinets.
On the upper floor we can find a guest room and the main sleeping room . Both spaces are experienced as one large room that can be split into two in case of need. The bathroom is situated between these two rooms. Existing plaster walls have been removed in order to bring the old roof-beams into view.
An eleven meter long closet has been designed to be used as storage and as wardrobe. An existing colorful closet is been used to define the height of the closet and to break the long white line of the new furniture. An indirect light is been placed above the closet to accentuate the continuity of the space.
The bamboo floor gives a warm feeling upstairs whereas on the first floor a grey epoxy floor creates a balanced contrast with the nut wood elements. Images courtesy of Ewout Huibers.
Love Interior Design & Exotic Travel? Follow us..
February 4, 2012 | Property | View comments