Chalet Solais designed by Sir Norman Foster
Chalet Solais is a luxury chalet located in Villars, Switzerland. Designed by architect Sir Norman Foster and interiors by London-based studio Callender Howarth, the chalet is spacious, stylish and architect-led.
The luxury Swiss chalet designed by Sir Norman Foster took under three years to complete and Callender Howarth came in post-design to work on the gorgeous interior design.
The brief was to design a 'dream chalet' that was not to showy or spectacular on the design front, but stylish yet a relaxing space, perfect for relaxing after a day spent skiing.
Mark Howorth, archiect from Callender Howarth, said to Adelto: "The clients are good friends with Sir Norman Foster so when they found the perfect land they had dinner with Sir Foster who sketched out the concept for the chalet on the back of a napkin.
"The challenge was to keep the designs true to the vision of Sir Foster but also keep the main team motivated and part of the general vision. The house also had to be filled with smart technology and the latest must-have gadgets, including a home cinema, as the client is in the electronics business."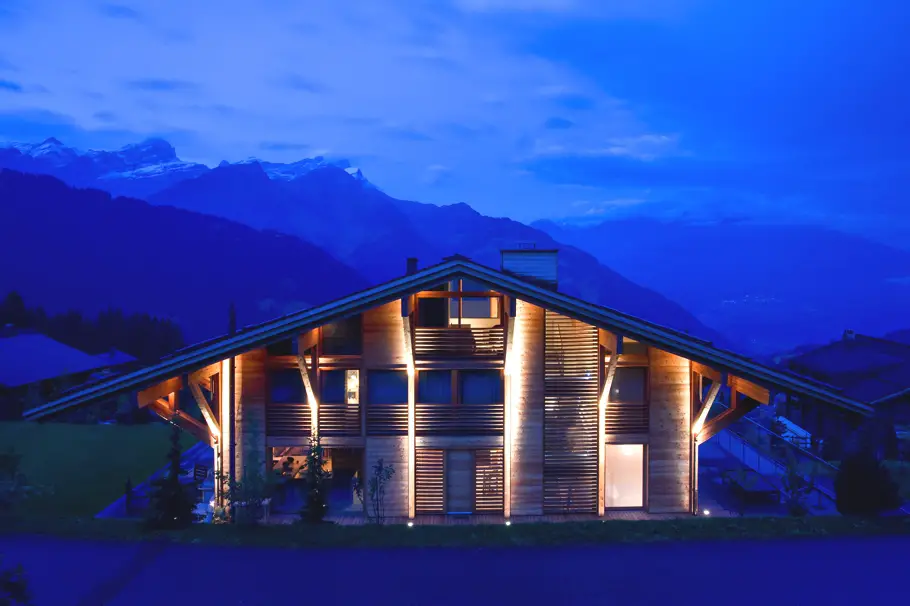 The main living quarters are three-storeys high – so when the clouds come up underneath the balcony you feel like the chalet is in the clouds – it literally is.
The open plan living room has been executed to a very high standard. The first thing you notice is the wow factor bespoke chandelier designed by UK chandelier designer George Singer. The chandelier hangs like wind chimes above the large dining table. A huge see-through fireplace is the main stage for the living area and can be seen from a distance, including the outdoors. The overall effect of the finishes and lighting is warm and cozy while staying clean and contemporary. The luxury Swiss chalet oozes high-octane glamour.
Love Interior Design & Exotic Travel? Follow us..
September 10, 2013 | Property | View comments