Casa Bilbaína in Spain by Foraster Arquitectos
Bilbao-based architectural practice, Foraster Arquitectos, has designed the Casa Bilbaína project. Completed in 2013, the luxury home is located in Urbanización La Bilbaína, in Bilbao, Spain.
According to the architect: "In our latest project we were lucky to find two souls who thought that building their home was not a trivial matter. They gave us a cleat brief: a desire to live with their children in a contemporary house. What is rare is that they had thought of every detail possible. For example, they wanted a sculptural staircase that linked the two plants, an exercise in style that marks precisely their personality.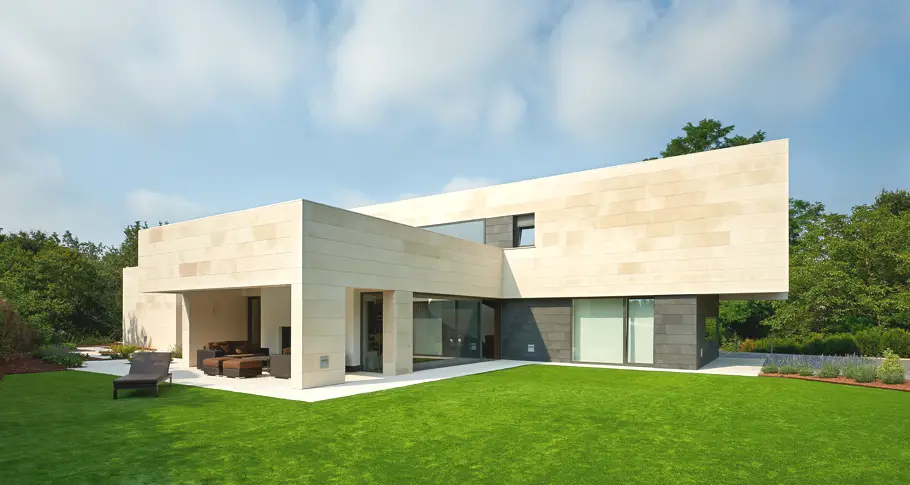 "The house consists of two prisms placed on the floor and another perpendicular above them. By this structure we got to increase the surface of the facade facing south, where they turn the social area. At the same time, these volumes create different environments abroad: a vegetable garden, one with herbs and a plaza.
"Around the square, on the ground floor, is where you can find the living room, the children's playroom and the dining room – all open to the kitchen. All these spaces have visual contact through the square, whereby there is a family connection, that it was specially sought. The lounge and the library have dual orientation: to the aromatic garden, like the rest, and the vegetable garden. On the facade facing west lies the porch, which shares with the living room a double sided fireplace.
"The first floor is accessed by a spiral staircase, which was created as a double-height space that gives light to the entire volume. In the basement you can find the service areas and a gym that receives natural light through an English garden.
Looking for innovation, there are solar panels for hot water production and domotic system anti-intrusion. The walls and floors are have been finished in limestone and the aluminum insulating safety glass includes a sunscreen. Blinds installed in the sleeping area are motorised, with aluminum slats."
Images courtesy of Joseba Bengoetxea
Love Interior Design & Exotic Travel? Follow us..
January 10, 2014 | Property | View comments