Birmingham's 21st-century library designed by Mecanoo
Dutch architects Mecanoo have designed the Library of Birmingham. Completed in 2013, the £189 million library is located on Centeneray Square in Birmingham, England's second largest city.
The Library of Birmingham, designed by Dutch architects Mecanoo, is a striking new addition to the skyline of Birmingham. The new library is expected to attract more than three million visitors a year, with many more visiting online, and will hold a four month discovery season of events, displays and activities to mark its opening.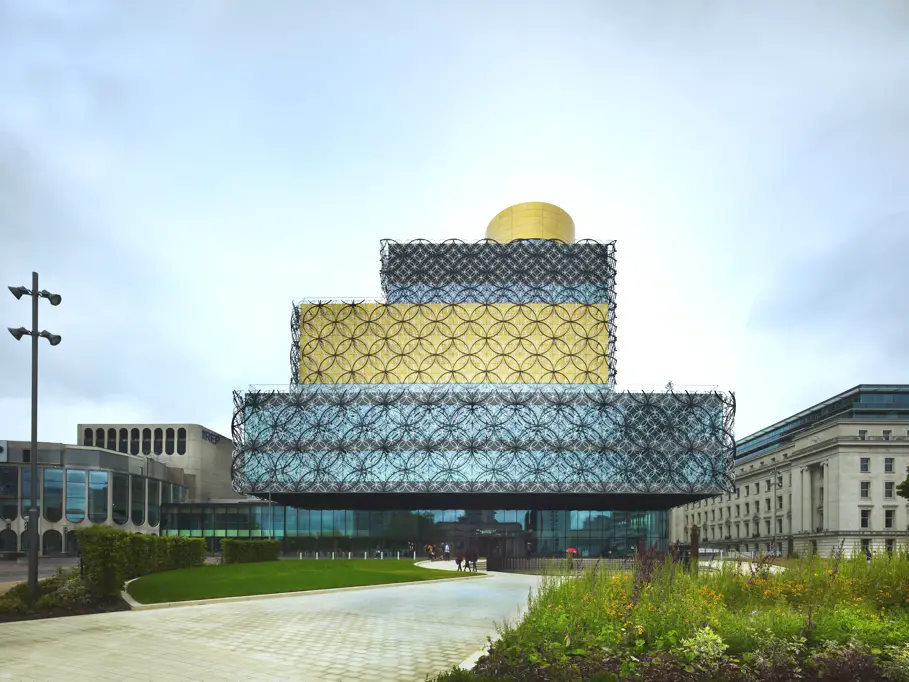 Designed by Dutch architects Mecanoo, the Library has transformed the city's library services and become a major cultural destination, housing Birmingham's world-class collections of archives, photography and rare books as well as a million printed volumes, the largest number held by any public library in the UK. Of these, over 400,000 books will be available on the Library's public floors. With outstanding resources and access to expert help, the Library is a centre of excellence for literacy, research, study, skills development, health information, creative expression and entrepreneurship.
At 31,000 sq. metres it is around 20 per cent larger than the old Central Library building and is the largest public library in Europe.
The building also contains the Shakespeare Memorial Room, home to a collection of 43,000 books, including copies of the Bard's First, Second, Third and Fourth Folio editions.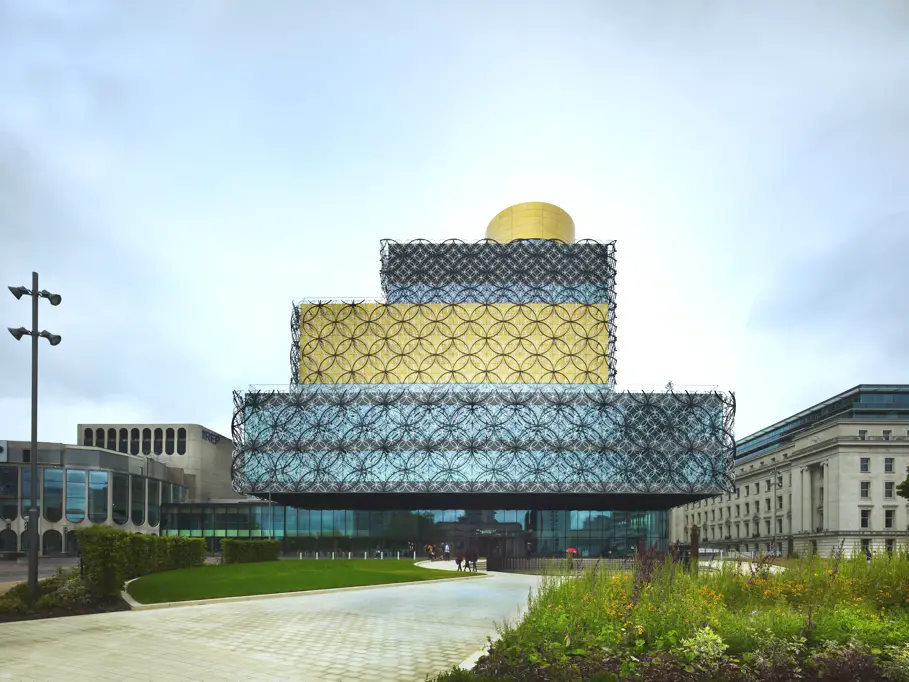 The largely transparent and light-filled library's façade is laced with delicate metal filigree, composed of interlocking circles that reference Birmingham's industrial and artisanal past. Floor-to-ceiling windows on public floors allow daylight to pass through these and cast patterned shadows on the porcelain tiled floors.
The Book Rotunda at the heart of the library is ringed by four levels of cantilevered circular balconies spread over three floors each providing access to a different part of the book shelves in the rotunda. Escalators zigzag across the space, providing stunning views throughout the Library. Daylight comes from the rooftop three floors above through a dramatic space that passes through the two "golden box" archive storage floors.
Specialist archive storage occupies a distinct golden box over two levels of the building and contain the city's internationally-important archives. A series of interlocking rotundas draw visitors into the library and provide ventilation and natural light throughout. These circular voids provide enticing sight lines drawing visitors up through the building to the top.
Two public garden terraces, on the third and seventh floors, provide tranquil green space high above the busy streets in the heart of the city centre, a location for visitors to unwind, socialise, and learn. Planted with a variety of plants including fruit, vegetables and herbs, they will provide an opportunity for local people to learn about where food comes from and about healthy eating, and also aim to inspire people in the community to get involved with the library through gardening. The terraces, along with a "brown roof" covered in rubble from construction, will also bring environmental benefits through offsetting carbon emissions and attracting wildlife and local ecology.
Images courtesy of Christian Richters
Love Interior Design & Exotic Travel? Follow us..
September 4, 2013 | Property | View comments