Bespoke Glass Roof Atrium Design, Wales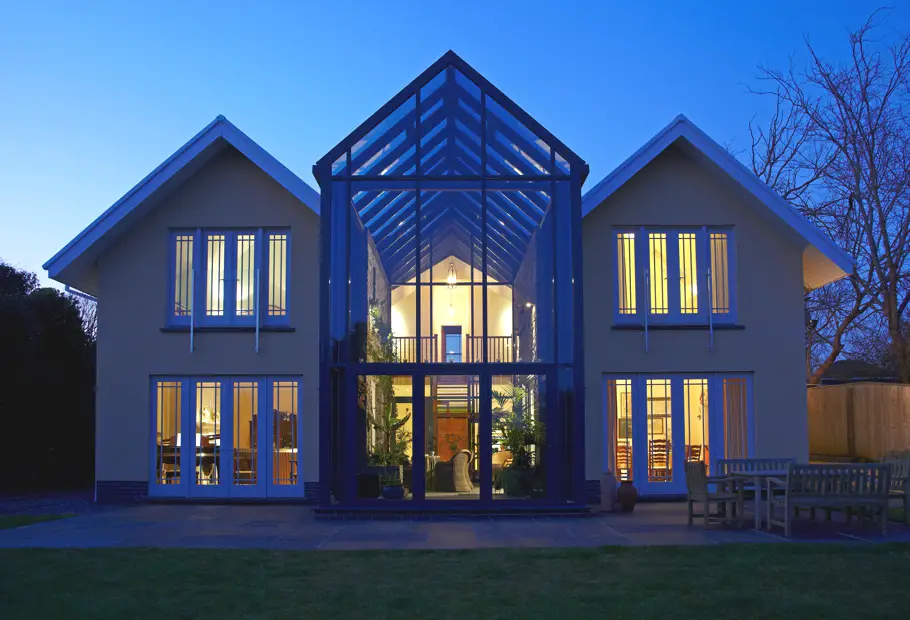 UK-based Apropos a bespoke conservatory specialist have completed the Jenkins project. The contemporary new build glass atrium can be found in Swansea, Wales.
The brief included working alongside architect Owen Lloyd and structural engineer Andrew Thomas, on the construction of a new build home for a couple. Apropos were commissioned to design the structure which would both compliment the intended building style of the house and create a visually stunning focal point whilst also acting as a connecting structure between the two main areas of the house.
As the host building in question was yet to be built when the Apropos' design team were first introduced to the project they were given a lot of artistic license and limitations were scarce. The couple wanted their finished structure to act as the main architectural feature and so the designers suggested a glass roof atrium would be the best way to make such a bold statement. The contemporary glass atrium was planned in alignment with the pitch of the two supporting buildings which would sit either side and all three parts of the contemporary British house would be equal in height; thanks to the double storey aspect atrium's offer, allowing the natural light to flow throughout the whole building.
The result is a vast and spacious glass roof extension which acts as a connecting room between the two main wings of the house. The contemporary glass atrium is light and airy creating the feel of relaxing summer days all year round and allowing the couple access to their now large landscaped garden come rain or shine. The clients use their new contemporary extension as both an entrance hall for their home and a place to escape from the other busy areas of the house. The new glass atrium is breathtaking to look at and the unique qualities of the project showcase Apropos' bespoke nature and ability to marry modern architecture and technology with more traditional building styles.
What's your view on Apropos' glass roof atrium?  Reply in the comments area below or join the conversation on Twitter: we're @Adelto
Love Interior Design & Exotic Travel? Follow us..
November 5, 2012 | Property | View comments