Beautiful Natural Beach House by Herbst Architects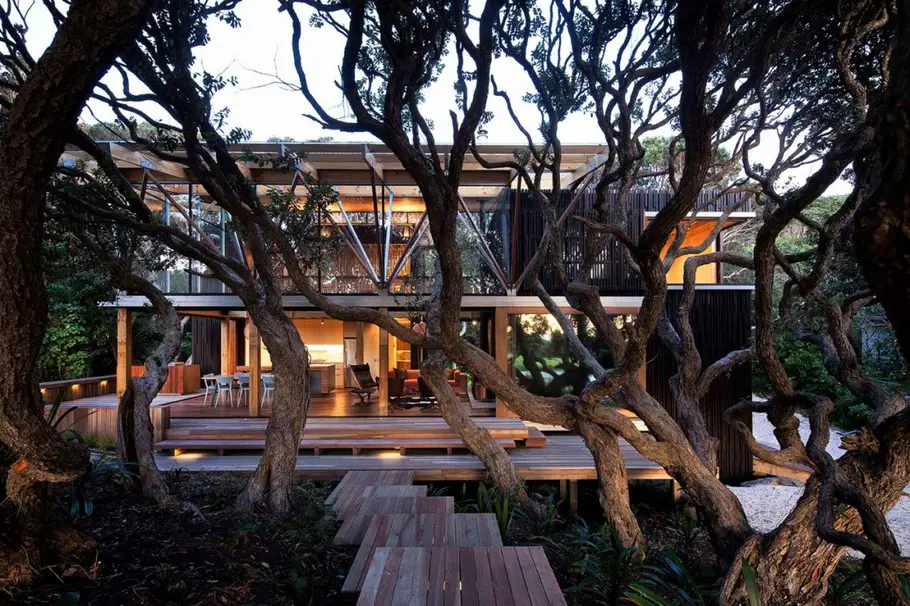 Auckland-based studio Herbst Architects have completed the Under Pohutukawa project. This two story beach house is located at Piha North, a northern New Zealand coastal settlement, and is a beautiful, natural haven.
Instead of being overwhelmed with the large saturation of mature pohutukawa trees – the site is 90% covered with them – the New Zealand architects have embraced this, encapsulating the natural surroundings and creating a home which both fits in with the scenery, yet bursts out of its shadow. The site is also close to one of the most popular beaches in the area and a major day-trip destination for Aucklanders throughout the year, allowing the lucky clients to either choose to preserve their privacy if desired, or become sociable with friends and tourists alike.
The exterior of the house is unique and contemporary. Engulfed by trees, the house becomes a natural paradise with the use of brown and green colours to exemplify this. An excellent use of a wood-like material to build the walls stands out as both a modern technique and an effective way to draw attention to the house instead of its surroundings.
Inside the house lays beautiful, contemporary and comfortable spaces. The material used on the outside of the house continues on into the inside, giving it a unique and modern feel. The kitchen and main living space is conjoined, and even stretches into a courtyard-like area on the front garden; a contemporary technique which blurs the lines between inside and out, creating even more space.
This exceptionally comfortable, spacious and contemporary home is like no other, grasping the imagination by blending the house into its surroundings, instead of allowing it to be dominated by the wildlife.
Love Interior Design & Exotic Travel? Follow us..
October 19, 2011 | Property | View comments