Beautiful architectural design at House Faes, Belgium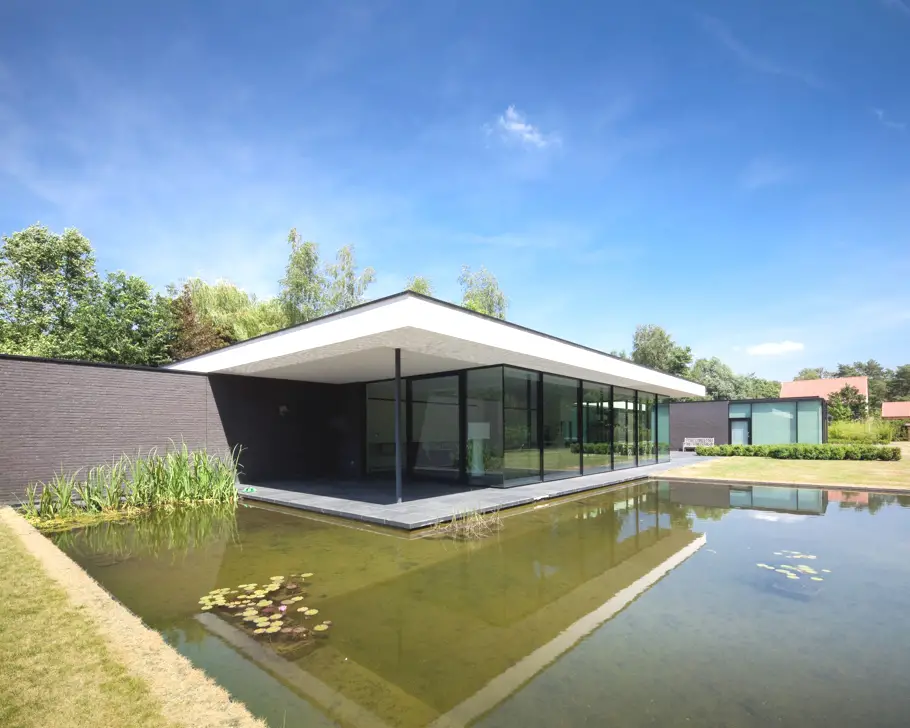 Belgium-based architects and interior designers HVH Architecten have designed the House Faes project. Completed in 2007, this single-storey luxury property can be found on a large plot in Keerbergen, Belgium.
According to the architects: "The client wanted a single-storey property, with a focus on optimal daylight and maximum integration of the house with the terrain.
"The floor plan was conceived as an elongated volume with patios where every space with its specific function is related to a specific orientation.
"Each space therefor has its own relationship with the terrain. Bedrooms are directed to the east, the living areas to the south and west. The north side of the house is mostly closed.
"Since the start of the design a collaboration with landscape architect Patrick Verbruggen was established to fully integrate the house with the open spaces.
"The property is situated just beside a creek along the site, thereby the open area of the plot can be maximised in the south. The functions were literally spread over the plot for optimal contact with the surrounding area. The garden beautifully blends into multiple interior spaces of the building.
"On the west side the living area is situated under a large cantilever, which on the other side of garden wall serves as a carport. The living room has two two adjoining terraces, the west terrace is covered.
"A second pronounced volume houses the children's bedroom and the office which also includes a shower room. The third volume is the night area, next to the bedroom there is a walk in closet and the bathing area. In relation to the pool a sauna is integrated with a nice relaxation area.
"The masonry, the floor and the window profiles are black, the interior design features included keeping all interior walls, ceilings and fixed furniture in white. The central volume in the night area and all doors to the outside storage are made in grey wooden planks."
Images courtesy of Tim Van De Velde
Love Interior Design & Exotic Travel? Follow us..
May 8, 2013 | Property | View comments