Beach House in Las Arenas by Artadi Architecture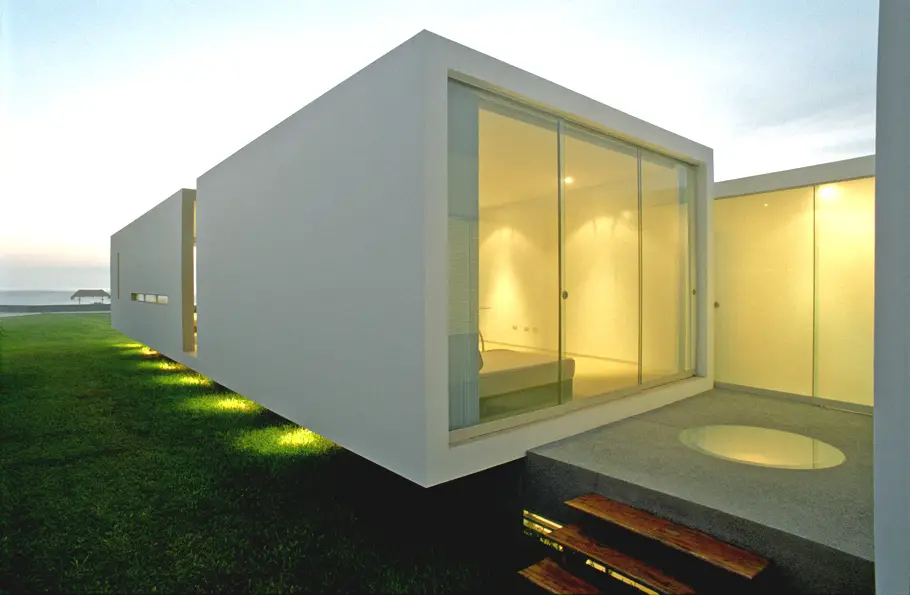 Lima-based architectural practice, Artardi Architects, have designed the Beach House project. This stunning beach side property can be found in Las Arenas a hundred miles south of Lima, Peru.
According to the architects: "The project consists of a small house that explores the expansion of the conventional uses of a beach house.
"To that end, a container box has been created, a space that integrates the living-dining room and terrace with pool, within which various elements have been designed (conventional and unconventional furniture) that offer multiple use options.
"Architecturally, the volume has been strategically perforated along some planes in order to control sunlight and to achieve a selective visual approach (towards the sky, the sea, etc.), and it has been deliberately suspended above the garden to add an air of weightlessness and freedom to the architectural experience of the users.
"Functionally, the main volume is surrounded by sleeping and service areas. There the kitchen and master bedroom can be found, which are both visually connected with the terrace and pool, and through them, with the skyline."
Images courtesy of Alfio Garozzo and Elsa Ramírez
Love Interior Design & Exotic Travel? Follow us..
August 14, 2013 | Property | View comments