Apartment H with continuous colour reflections, Romania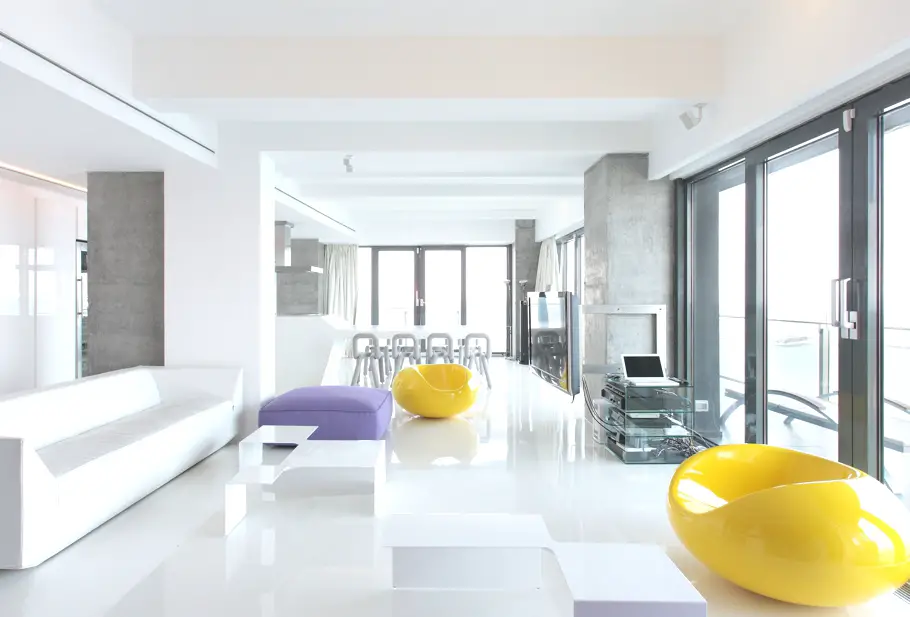 Bucharest-based interior designers and architects Re-Act Now have designed the Apartment H project. The modern and chic apartment can be found off the Black Sea coast in Constanta, Romania.
According to the architects: "The luxury apartment is located in a block of flats in Constanta, directly on the Romanian coast off the Black Sea. It was the priming intention of having a beautiful open space with a continuous 'sea coast feeling'. The white colour is almost everywhere in the interior design.
"A glass partition cut out the main sensation of 'innocence' of the existing space, through its folding trace and through a special spectral film stuck directly on it.
"The 3M Radiant Color Film product is usually supposed to be used on some small gadgets or promotional products. This 3M film gives through its optical properties a "real life" to the entire space.
"A continuous change of colours and reflections is perceived by whoever is moving inside the apartment. In the end having a "living" element is the main challenge on a white surrounding."
Images courtesy of Andrei Margulescu
Love Interior Design & Exotic Travel? Follow us..
May 1, 2013 | Property | View comments