An optical store with modern design, Madrid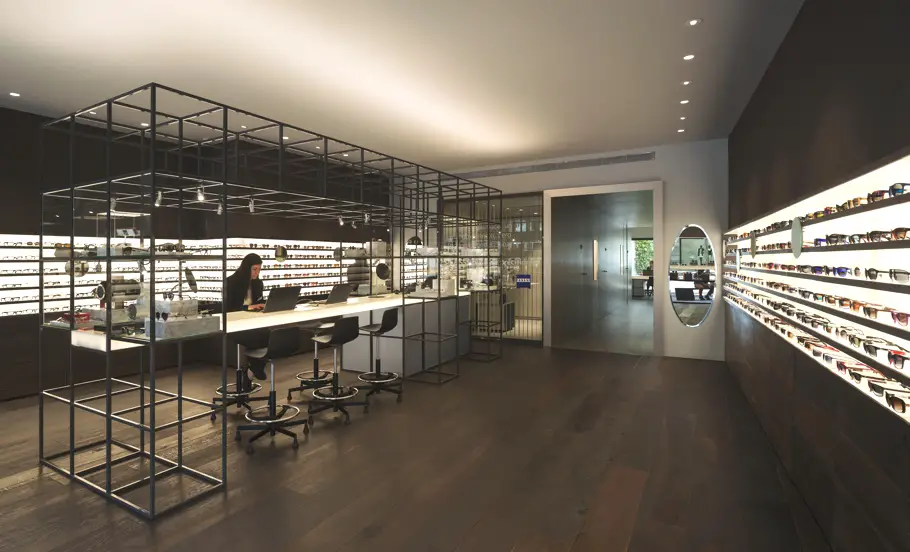 Madrid-based interior designers and architects Isabel Lopez Vilalta + Asociados have designed the Ulloa Óptico project. Completed in 2015, the optician first opened in 1919 and is located on Calle Serrano, 21, Madrid, Spain.
Ulloa Óptico is an optician with early 20th-century charm. In the past century, the firm introduced new systems and refraction techniques, as well as hearing aids and contact lenses.
The space is organised linearly to showcase the sunglasses and prescription frames first, housed on a central structure specifically designed for personalised customer service. The linear plan cuts horizontally through the store, crossing with longitudinal elements to create a pentagram-style experience, dotted with circular mirrors.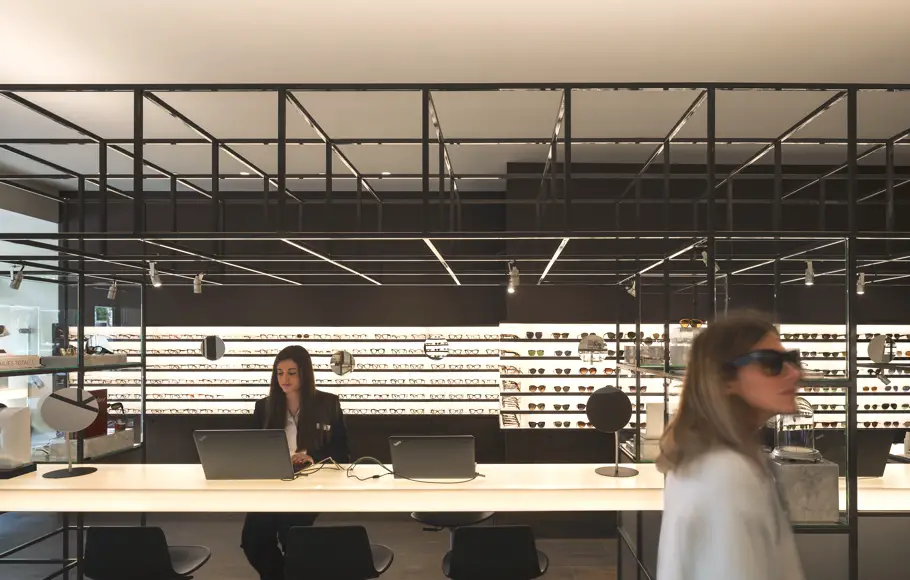 In the center of the floor, a large central structure cradles a long and gently-illuminated table. On one side of this table there are cabinets and mounts to present the client with a variety of options, while the other side holds the cash area.
A wide hallway takes the client through the storage areas and moves him or her to a room for private consultations, next to a small interior garden which acts as a teaser, visible from the main entrance to the modern shop.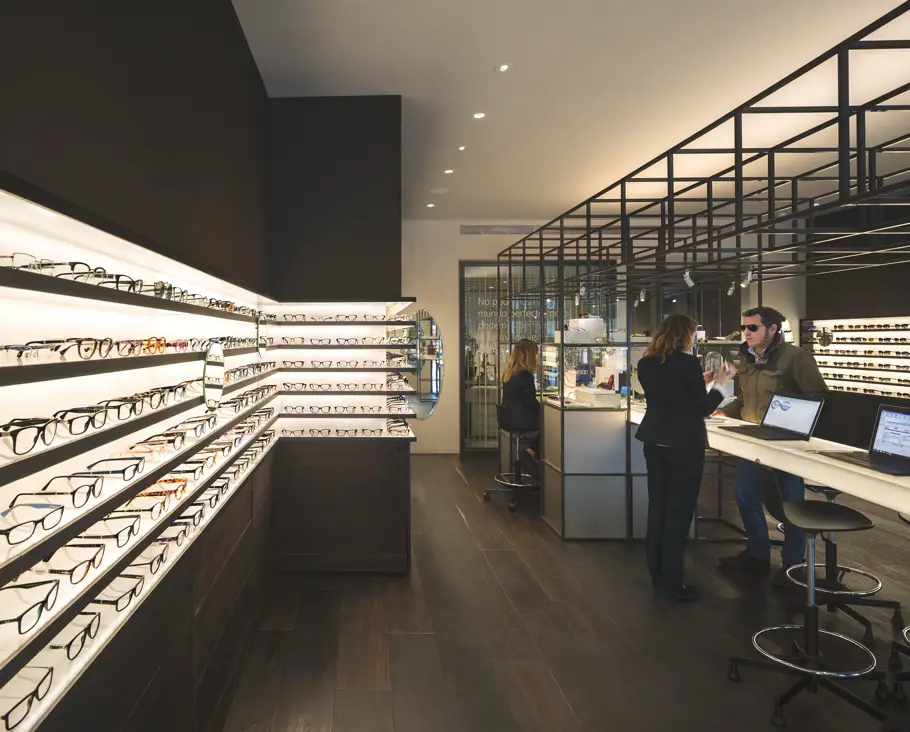 The following palette of materials was chosen: dark wood for the flooring and the lower parts of the lineal plan, white backlit Methacrylate for mounting the products, lacquered metal (in a shade of ash) for the central structure and acrylic resin for the table and display cases. In the hallway, the walls are painted with a light, iridescent coating while the floor is made of ceramic tiles. The insides of the cabinets also use ceramic tiles, but lighter-colored. The off-white paint used for the walls of the cabinets creates a technical, medical aesthetic.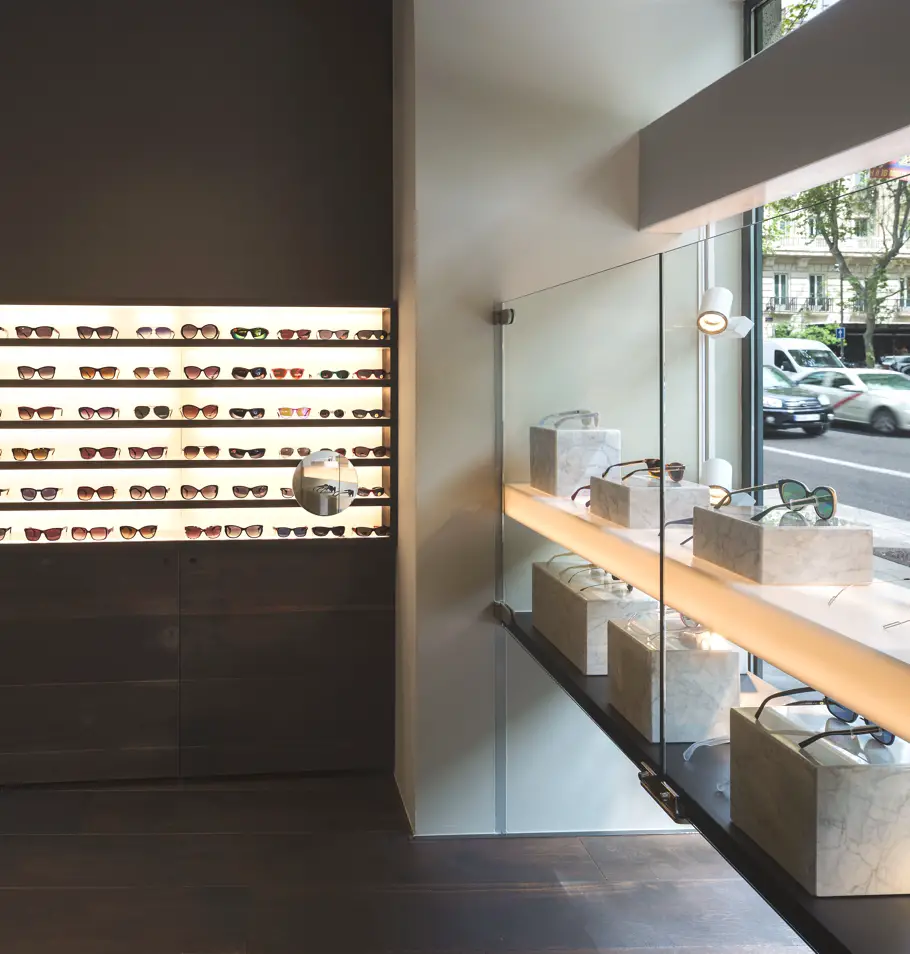 Backlighting is used, both on horizontal and vertical lines, to create a coherent lighting plan that, with the help of some extra spot-lighting highlights the most relevant elements of the design.
The combination of quality materials and technical excellence serve to reinforce to optician's image as a business that is both traditional and contemporary.
Images courtesy of Isabel Lopez Vilalta + Asociados / Alejo Bagué
Love Interior Design & Exotic Travel? Follow us..
July 20, 2015 | Property | View comments