Alex Lerner, Brazilian television host's luxury home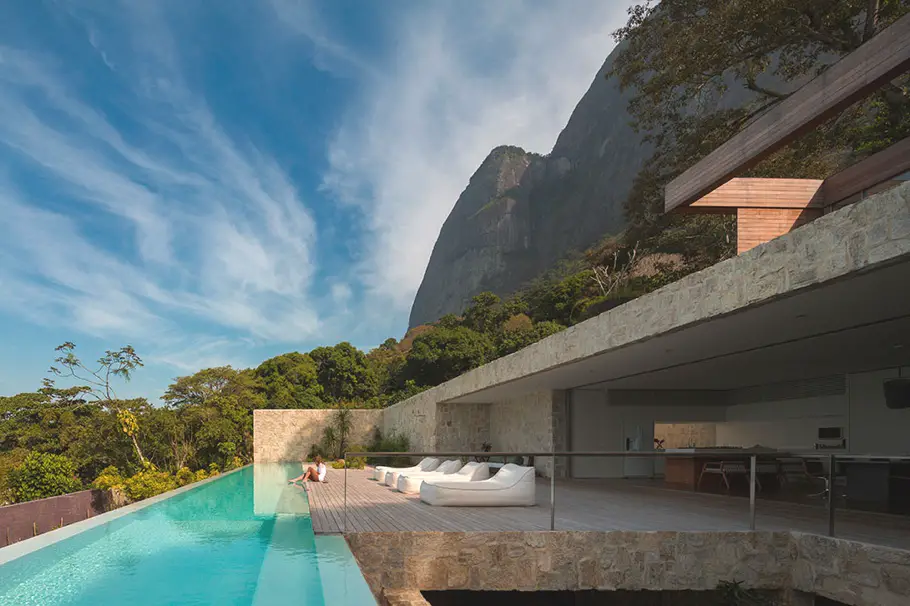 São Paulo and New York-based architectural practice, Studio Arthur Casas, has designed the AL Rio de Janeiro project. Completed in 2012, the luxury home cost about $213 a square foot to build and is located close to the Pedra da Gávea in Rio de Janeiro, Brazil.
Alex Lerner, the Brazilian TV host, has enjoyed taking holidays on the luxury Caribbean island of St. Barts. However, he decided he wanted to live the same way he did on holiday when he was at home in Rio.
The host commissioned Arthur Casas, a modernist architect to design his luxury home. Together they found a plot, which boasts spectacular views of the ocean and Pedra da Gávea, a granite dome that is a popular spot for paragliding with Brazilians.
"I wanted a big pool," he said to the New York Times, because "I swim four times a week."
The property, is immaculate and contemporary in design. It feels light and airy despite all the stone, thanks in part to the floor-to-ceiling sliding glass panels in front and back. The floors and much of the millwork are cumaru, a hardwood that Mr. Casas said "is extremely tough and great for outdoor use," he says to the newspaper.
On the ground floor of the luxury home are apartments for staff, as well as two guest rooms; the master suite is located on the third floor. Visitors enter the luxury Brazilian home on the second level, which opens onto the pool, with a view of the ocean beyond.
Images courtesy of Fernando Guerra | FG+SG
Love Interior Design & Exotic Travel? Follow us..
August 12, 2014 | Property | View comments