Abandoned 19th-century Italian villa brought back to life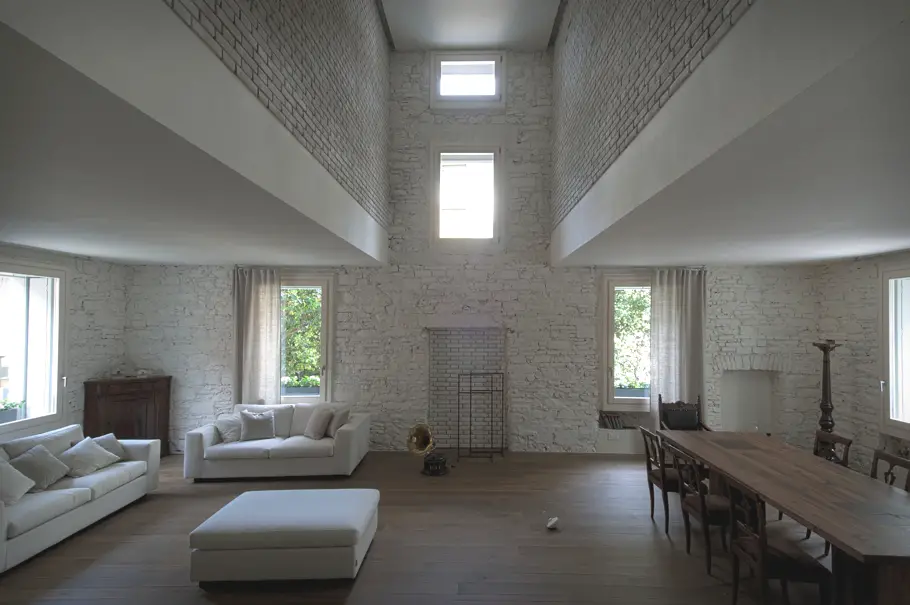 Dizzasco-based architectural practice, Lorenzo Guzzini, has designed the G House project. Completed in 2013, this abandoned 19th-century villa is located in Cerano D'intelvi, Italy and was remodelled to pay homage to the villa's roots.
The owners of this home are from a central region of Italy, Marche and used to live among the medieval villages made from bricks.
According to the architects: "The perimetral structure made in whole stone shows the poetic sensitivity of the matter. There is a matter that talks about a personal memory, the bricks, and a matter that talks about a historical memory, the stone, that describes the constructive technique used to built the ancient houses. These two memories meet each other into this house.
"The interior design project conserved the facades and scratched the walls to discover the stone behind the plaster. The internal walls are built in whole bricks. The Gothic texture of the walls allowed to install a new wiring system inside the home.
"The central double high is on top of the living room. The ground floor is composed by this living room and two boxes, one with the kitchen and the other with the office.
"There are two bedrooms inside, one for the owner, the other for guests. The main bedroom has a contemporary look.
"Some crystal bricks are nestled into the walls to allow a light communication between the spaces of the whole house. The attic is the space reserved for the owners' s sons.
"In conclusion, all of these spaces tell us that personal memory is a short part of a collective memory. Like a picture, the character of this villa freezes into the time the elements that belong to this family, but that are, in the same time, part of the general culture."
Images courtesy of Valeria Bellora
Love Interior Design & Exotic Travel? Follow us..
March 17, 2014 | Property | View comments