A contemporary Venice pied à terre by Baldessari e Baldessari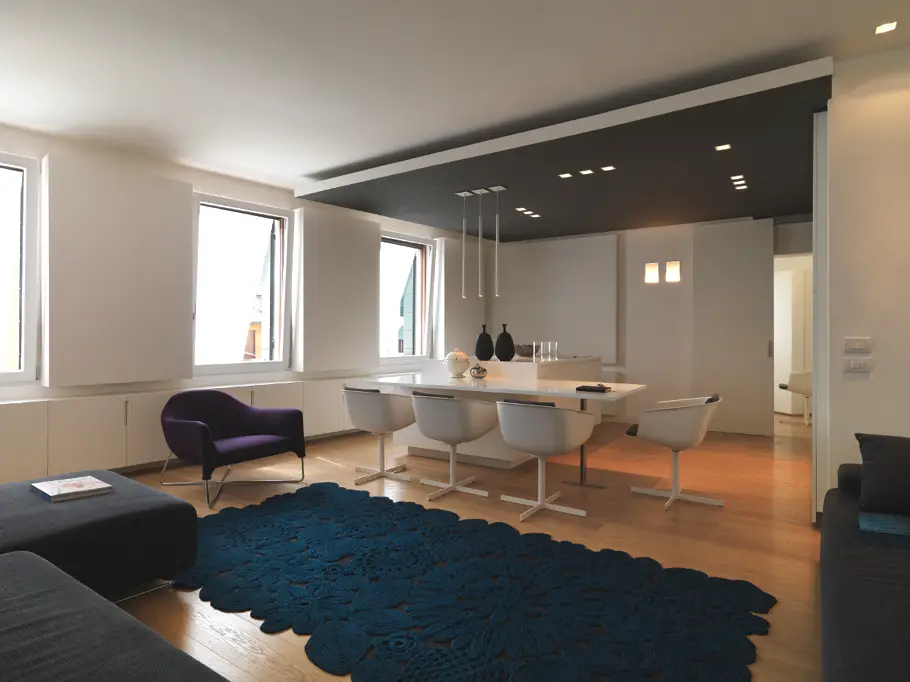 Milan-based architectural practice, Baldessari e Baldessari, has designed the Venice pied à terre project. Completed in 2012, the contemporary apartment overlooks the San Vio canal in the Dorsoduro area of Venice.
The completely renovated luxury apartment by the Baldessari siblings boasts approximately 110 sqm and the designers' experience in the arts led the interior design project to focus on intersections between and allusions of art and design, the city and private spaces.
The contemporary apartment was once formed by the unification of two units of an apartment building dating back to the 1800s.
The two architects have created a very open living area on the second floor, to allow a continuous view of the city through its many windows. This has allowed the city of Venice to appear as if it's inside the residence, which in turn responds with its elements of furnishing chosen because of their ironic Baroque markings resemble the art of Venetian lace and the decorative façades of the city's most elegant buildings, such as the Crochet carpets (Paola Lenti) and the cement Heatwave heaters.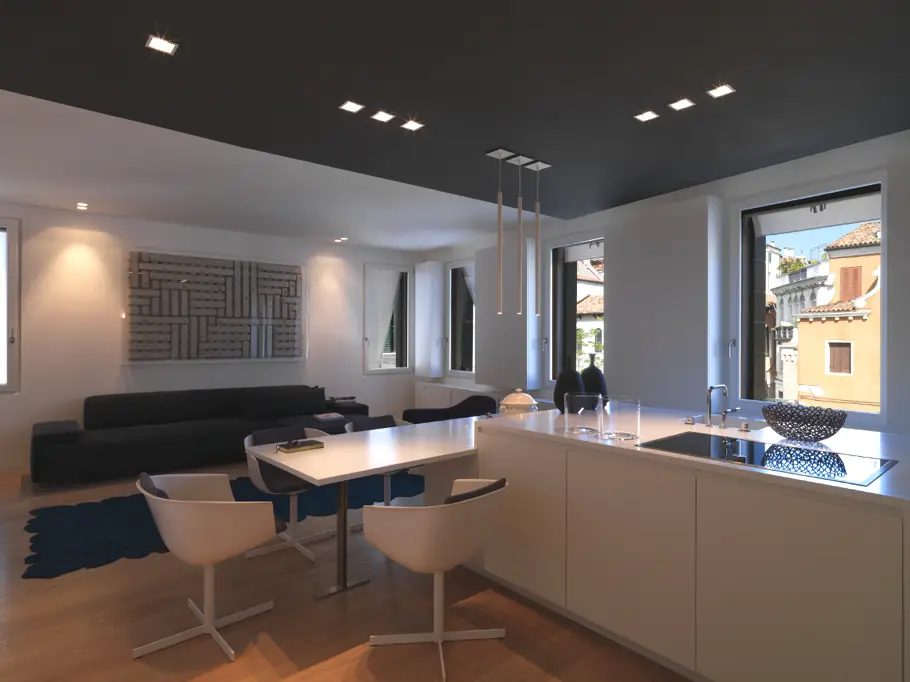 A number of walls and obstacles that obstructed the view of the city have been removed in the kitchen, which has also been dematerialized – transforming it into a low room with a built-in Corian bench top and table.
The colour white, which dominates the walls and custom-designed furniture, is the chosen backdrop to highlight the furnishing elements and artworks selected by the designers. The lighting comes in the form of lamps by Davide Groppi and Viabizzuno – they almost disappear into the architecture, while the sofas, chairs and beds bring a strong visual presence to the room.
Venice subtly reappears as an allusion in much of the paintings and sculptures, with the lion in the photographic background of Jarvis Wilcox's collage or in the micro cars that will never be able to circulate in the city but only in the work of Thomas Bayrle.
The attic was designed to be a guestroom and includes a small living room and bedroom with en-suite. The architects have designed a multifunctional space here by using piece of furniture in which the TV shelf hides the concealed basin, which is similar to those in old railway sleeping cars. It's almost like finding oneself on the Orient Express, on a journey from Paris to Istanbul, crossing the artistic and architectural landscape of a truly contemporary Venice.
Images courtesy of Matteo Piazza
Love Interior Design & Exotic Travel? Follow us..
March 3, 2014 | Property | View comments