A glistening jewel Kenoa Beach & Spa Resort, Brazil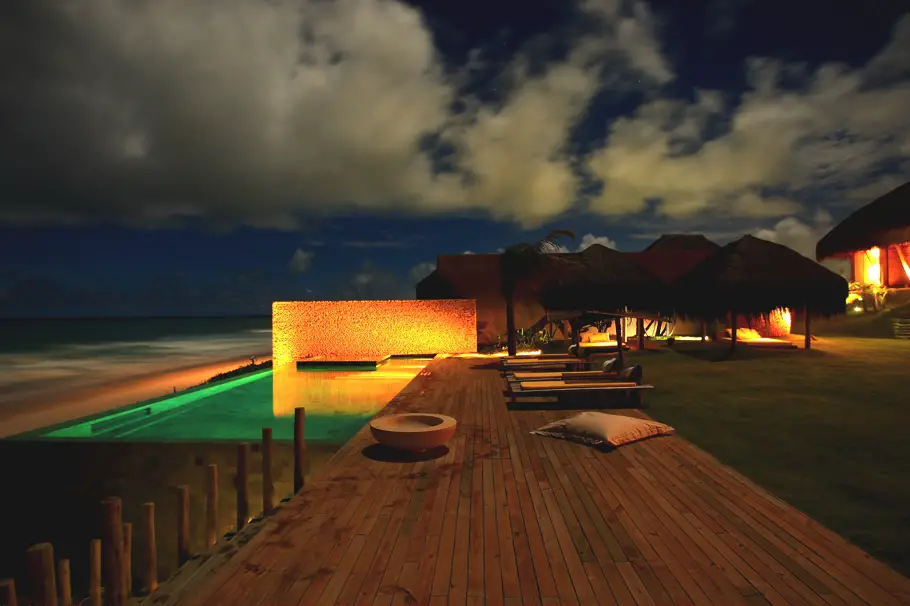 South of Maceio, in Barra de Sao Miguel, a jewel glistens on the ocean's shore. Kenoa Beach Spa & Resort is an exotic retreat which offers an ensemble of luxury, serene accommodation, harmonised with exquisite culture to compose triumph in blissful unison.
The luxury Brazilian resort, offers an array of dynamic, modernist ideas integrated with illusions of  the wilderness. From the moment you arrive you will feel at one with nature, as reforested Eucalyptus forms omnipotent tree trunks that lock you in this paradise. You are then left in awe at the magnificent modernist architecture with features like the hotels' rectangular turquoise pool, encased in a yellow-lit stone wall, and garnished with inspirational interior such as the thatched umbrellas.
Each of the 23 atmospheric villas and suites are fitted with varying sumptuous extras such as private plunge pools and bathrooms with interior gardens. One of the most outstanding architectural features is the tree trunks constructed from reforested Eucalyptus that seemingly grow through the hotel, piercing through floors and roofs on their way up.
Amongst the flavour of incandescent culture and architecture which embalms you in relaxation, this exclusive beach spa and resort is ideal for the business mind alike. The five-star Brazilian resort doesn't disappoint, with its inclusion of up-to-date modern technologies, it makes this place perfect for those seeking a sophisticated and peaceful business venture.
If you're keen to get out you can visit the lagoons nearby to scuba dive, wander through the mangroves or visit a coconut plantation. Heaven!
Rua Escritor Jorge de Lima, 58, Barra Mar, Barra de São Miguel – AL, Brazil. To book visit Welcome Beyond.
Love Interior Design & Exotic Travel? Follow us..
December 14, 2012 | Barra de Sao Miguel Brazil Travel | View comments