2Day Langauges Spanish school by Masquespacio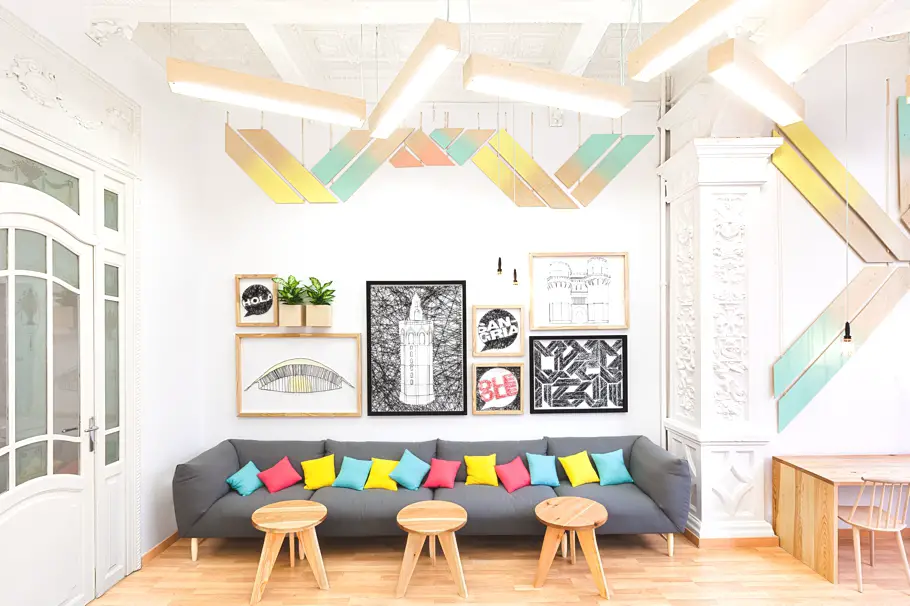 Valencia-based architects and interior designers, Masquespacio, have designed the 2Day Languages Spanish school project. Completed in 2013, the school can be found in Valencia, Spain.
According to the architects: "A flag that is fused with a text bubble including the three fundamental characteristics of language learning represents this 2Day Languages school: the levels, the goal and the conversation. On the other hand it integrates the historic values of the city of Valencia that mixes modern and old architecture. A fusion symbolized in this new Spanish school through its neoclassical architecture and the intervention from Masquespacio's designers.
"The space is developed on an area of 183 m2 that contains three classrooms, a staff room and a lounge. Each of the classrooms and common rooms are a defragmentation from the brand identity of 2Day Languages and also incorporate parts of the Spanish language and the architecture of Valencia.
"The classrooms have been painted in  three brand colours, which in turn are a representation of the three levels A, B and C established by the Common European Framework of Reference for Languages, here seen as the colours blue, yellow and pink. Every classroom contains a different colour that is fading as if presenting the progress in language learning. Also, the sculptural lamps are another defragmentation from the graphical elements."
Ana Milena Hernández Palacios, creative director of Masquespacio, said: "We opted for warm materials like pine to generate pleasurable sensations with functional features to make easier the school operations. Two tables instead of one in each classroom were chosen to be separated and stacked during activities. Also the chairs were chosen to offer maximum comfort to the students and with stack options for better circulation during activities."
Images courtesy of David Rodríguez of Cualiti
Love Interior Design & Exotic Travel? Follow us..
July 30, 2013 | Property | View comments