2 restaurant designs unveiled at Azure Qiantang, China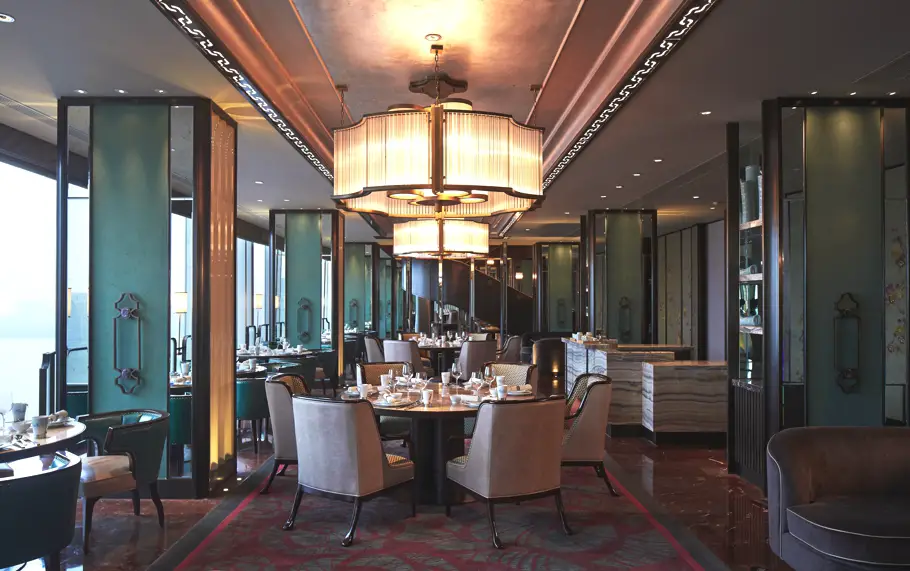 Inspired by East and West, architectural practice, AB Concept has masterfully captured the essence of Azure Qiantang, the Luxury Collection Hotel, with these two stunning restaurant designs.
Effortlessly blending French and Chinese styles, the all-day dining restaurant Panorama Signature, meaning 'peaceful shore', is a delectable variation of modernity and tradition.
The bespoke furniture and lighting ensures an integrated approach to the space that is synonymous with the designers' philosophy. Muted tones are interspersed with navy and royal blue, with accents of French chequered patterns for the seats. Eastern patterns mixed with French style windows and customised crystal wall lamps contribute to the exquisite atmosphere and the seamless link between East and West.
A cleverly created ice bar using acrylic and LED lighting is a highlight feature situated on the terrace of the prime location. The bar reflects the surrounding area, creating a myriad of different patterns.
Translated as 'a pavilion of waves', Lan Ting is the Chinese eestaurant that is divided into four separate zones, each area is beautifully represented by a flower from different season of the year. The space takes on an almost magical feeling with a strong sense of fluidity and cohesion in the design throughout.
Inspired by the iconic orchid of spring, the entrance gives customers a taste of what to expect. The recognisable purple hue of the orchid winds up the staircase seamlessly leading to the second floor like a flower in bloom. The theme is continued in the floor pattern to highlight the continuity and flow of the design.
Images courtesy of AB Concept
Love Interior Design & Exotic Travel? Follow us..
December 4, 2014 | Property | View comments