Contemporary retreat the Wolf Creek Cabin, Washington, US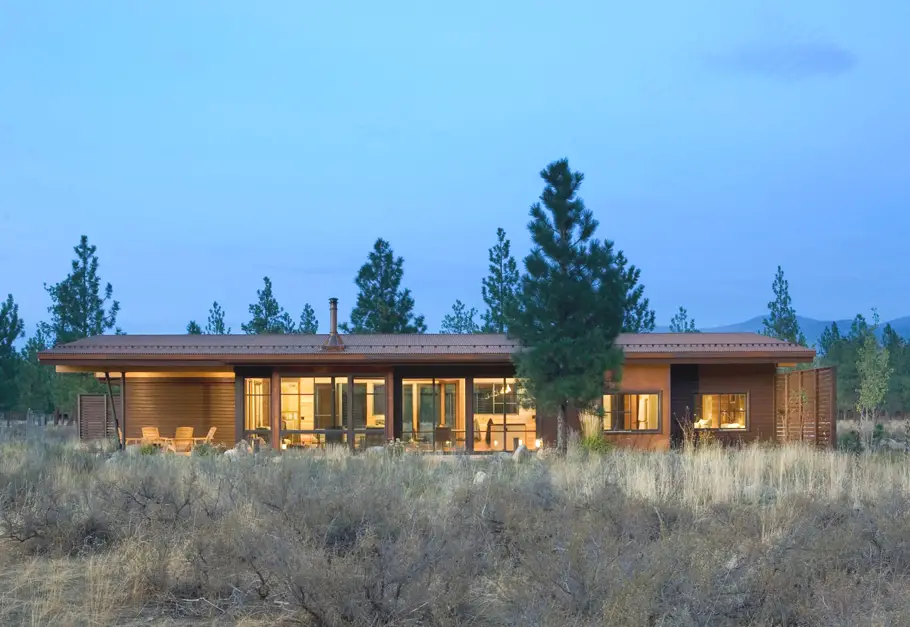 Seattle-based architectural practice Balance Associates Architects have designed Wolf Creek Cabin project.  This contemporary cabin, which is used as a private retreat can be found in Washington, USA.
Wolf Creek View Cabin sits in a lightly treed meadow, surrounded by foothills and mountains in Eastern Washington. The home is designed as two interlocking 'L's'. A covered patio is located at the intersection of one 'L', offering a protected place to sit and contemplate while enjoying sweeping views of the valley.
A lighter screening 'L' creates a courtyard that provides shelter from seasonal winds and an intimate space with privacy from neighbouring houses. The building mass has been kept low in order to minimise the visual impact of the cabin on the valley floor. The roof line and walls extend into the landscape and abstract the mountain profiles beyond. Weathering steel siding blends with the natural vegetation and provides a low maintenance exterior.
The architects believe the project was successful due to its peaceful integration with the landscape and that it offers an innovative solution in form and aesthetics for cabin architecture.
Located in both Seattle and Eastern Washington, Balance Associates create custom residences in urban and rural settings throughout the west. The firm specialise in residential work because of the personal connections it affords with clients. Taking the time to explore client goals and functional requirements, they help clients create homes that beautifully express their character and lifestyle.
Love Interior Design & Exotic Travel? Follow us..
April 9, 2013 | Property | View comments