Ufaa restaurant by Jereme Leung opens in Maldives
Ufaa by Jereme Leung, which opened last month in the Maldives, is a blend of provincial Chinese with western influences in all aspects of menu, décor and wine and tea selection.
Located at the Conrad Maldives Rangali Island, the restaurant can be defined a happiness in the Maldivian language, Dhivehi, Ufaa is an innovative culinary concept, featuring multi-functional spaces, with settings for every mood.
The informal ground floor tea house boasts a purpose-built Yum Cha (Chinese tea) and dumpling counter, offering visitors all sorts of delicacies including succulent Xiao Long Bao dumplings, hand-made spring rolls and freshly baked pancakes stuffed with minced pork and preserved vegetables, and Leung's signature handmade pulled noodles. In the evening under the starlit sky on the beach, guests can enjoy the iconic reunion hot pot featuring locally-caught seafood and the highest grade imported meats from Japan and Australia.
The Chinese restaurant on the first floor is a playful, modern twist on the traditional Chinese restaurant. Strong Chinese accents offer a sense of heritage, while homage is also paid to the idyllic island location. Ingredients such as caviar, goose oil and avocado are melded with traditional Chinese staples to create the perfect marriage of cultures and tastes. Each of the dishes is influenced by renowned culinary provinces of China including Liaoning, Shannxi, Changsha, Guandong and Zhejiang.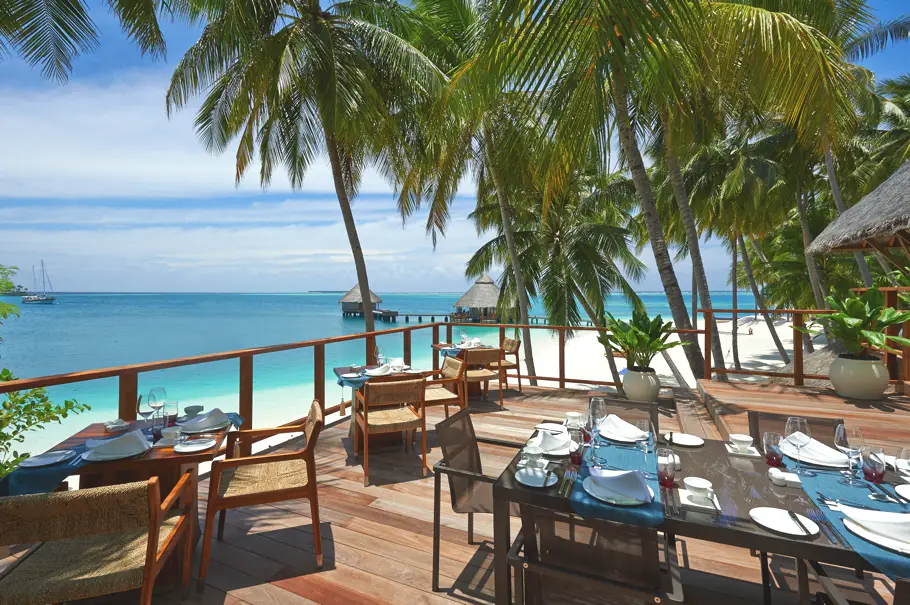 Beyond food, Ufaa presents various experiential options for guests to enjoy. The ground floor tea house features a number of communal and private spaces where you can catch up and mingle over a game of Mahjong or a spot of karaoke in one of the restaurant's  custom-designed karaoke and Mahjong rooms.
The creative mastermind behind Ufaa's cuisine and dining concept is the pioneer of contemporary Chinese cooking, Jereme Leung, a hugely successful chef-restaurateur. Renowned in China and honoured by twice The American Academy of Hospitality Science, to rank among one of the world's best chefs.
Ufaa by Jereme Leung, Conrad Maldives, Rangali Island, 20077, Maldives, conradhotels.com/maldives
Love Interior Design & Exotic Travel? Follow us..
October 31, 2014 | Africa Indian Ocean Maldives Travel | View comments