The Majestic Leela Palace Udaipur, India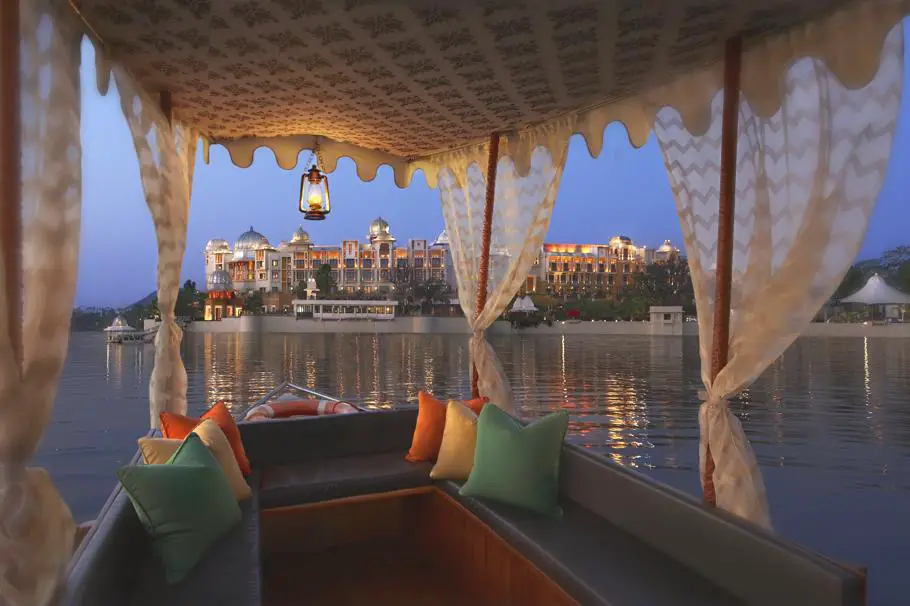 Set on the banks of the beautiful Lake Pichola, The Leela Palace Udaipur has 80 luxurious rooms and suites with captivating views of this romantic heritage city and the surrounding majestic Aravalli Mountains.
Renowned architect Bill Bensley and interior designer Jeffrey Wilkes have created a modern palace recalling the grandeur of Udaipur's historic past.  The luxury boutique hotel has two restaurants, a lounge and bar and the famous ESPA at The Leela Palace Udaipur.  Guest rooms – all with views of Lake Pichola – measure an average of 580 square feet with the Maharaja Suite, an impressive 3,552 square feet.  The design is contemporary with traditional elements of Rajasthani artistry.
Guests are ferried to the hotel in delicately adorned private boats and check in takes place directly in the room. With a personalised butler on every floor to cater to your requirements, this modern palace leaves no stone unturned to ensure that you have a grand royal experience.
Experience the fairy-tale setting and authentic royal treatment of this stunning luxury hotel, featuring a luscious courtyard, lakeside pool, opulent spa, and alfresco fine dining.
Hotel Leelaventure Ltd. operates The Leela Palaces, Hotels and Resorts in New Delhi, Mumbai, Bangalore, Gurgaon – Delhi N.C.R., Udaipur, Goa and Kovalam. Located in key business and leisure destinations, and charting a pan India presence in the near future, The Leela Palaces, Hotels and Resorts are a blend of aesthetic sensibility, modern amenities and truly reflect the essence of India. New hotels will soon open in Chennai in 2011, and subsequently in Agra, Hyderabad and Lake Ashtamudi in Kerala. The group has marketing alliances with Germany based (Hoteliers since 1897); US based Preferred Hotel Group and are members of Global Hotel Alliance based in Geneva, Switzerland.
Love Interior Design & Exotic Travel? Follow us..
December 2, 2011 | India Travel Udaipur | View comments