The luxury Jade Mountain Resort, St Lucia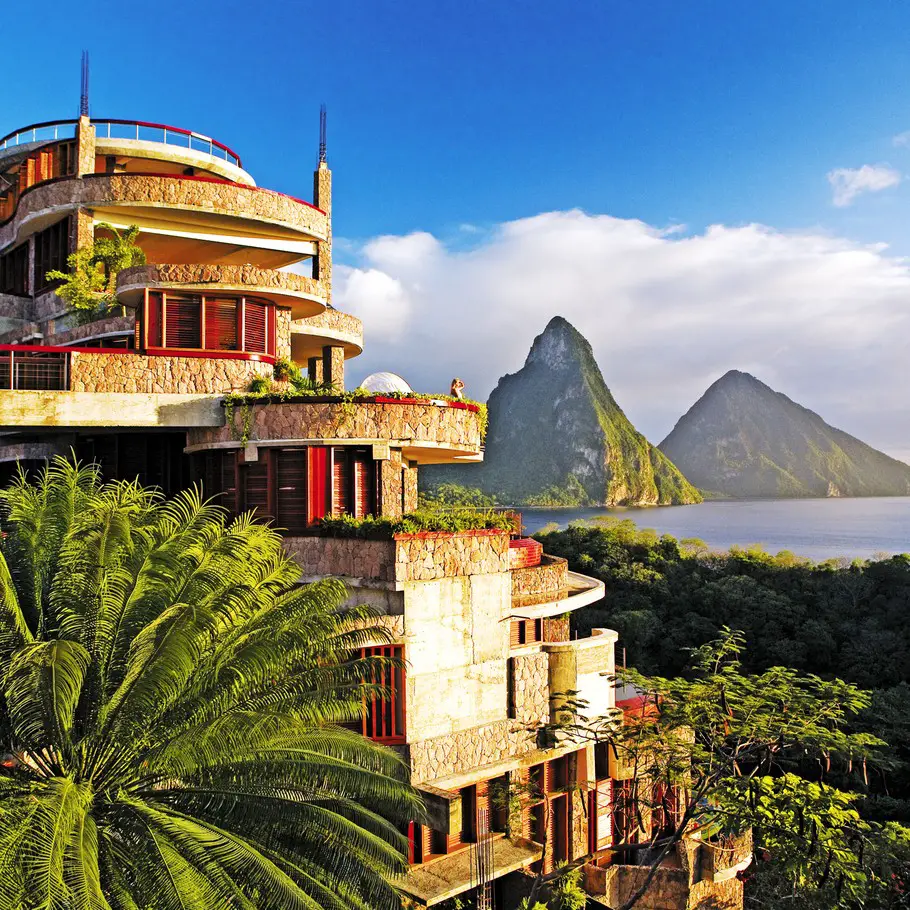 High on Morne Chastanet, overlooking St. Lucia's Piton World Heritage site and the Caribbean Sea, Jade Mountain is Anse Chastanet's new and exclusive resort within a resort. Anse Chastanet's architect owner, Nick Troubetzkoy, has expanded upon his philosophy of building in harmony with Caribbean nature and environment by introducing a new level of sophistication in the design of Jade Mountain with its extraordinary infinity pool sanctuaries.
The private infinity pools range from 450 to over 900 sq. feet – their sizes increase in relation to the different square footage of the three different room categories; SUN, MOON and STAR. All pools feature shallow water lounging areas in addition to a large swimming area. They are illuminate at night with fiber optic lights the colour of which guests can personally control. All of the pools have been surfaced entirely in one-of-a-kind glass tiles, which have been specifically designed for Jade Mountain. The glass tiles feature a sophisticated, textured iridescent surface on one side and a smooth but undulating surface on the other. The pools are lined with the iridescent side facing out, while the bathroom in each sanctuary has the tiles mounted with the smooth, undulating surface facing out. Each of the infinity pools has its own individually designed glass tile colour scheme which is then carried onto the individual bathrooms, giving each sanctuary its own unique – and rather bold – personality. The glass tile texture is complex in reflective and prismatic ways with each piece of tile unique due to their custom hand crafted fabrication.
Jade Mountain was conceived as a place in which guests would be exposed to a carefully orchestrated sensory experience. The infinity pools are integral to this. As a visual element, water flowing over a vanishing edge serves to draw the view into the room, linking the view with water, and water with sky and land, sun and stars.
Love Interior Design & Exotic Travel? Follow us..
February 7, 2011 | Caribbean St Lucia Travel | View comments