The 'It' restaurant – Momofuku Toronto, Canada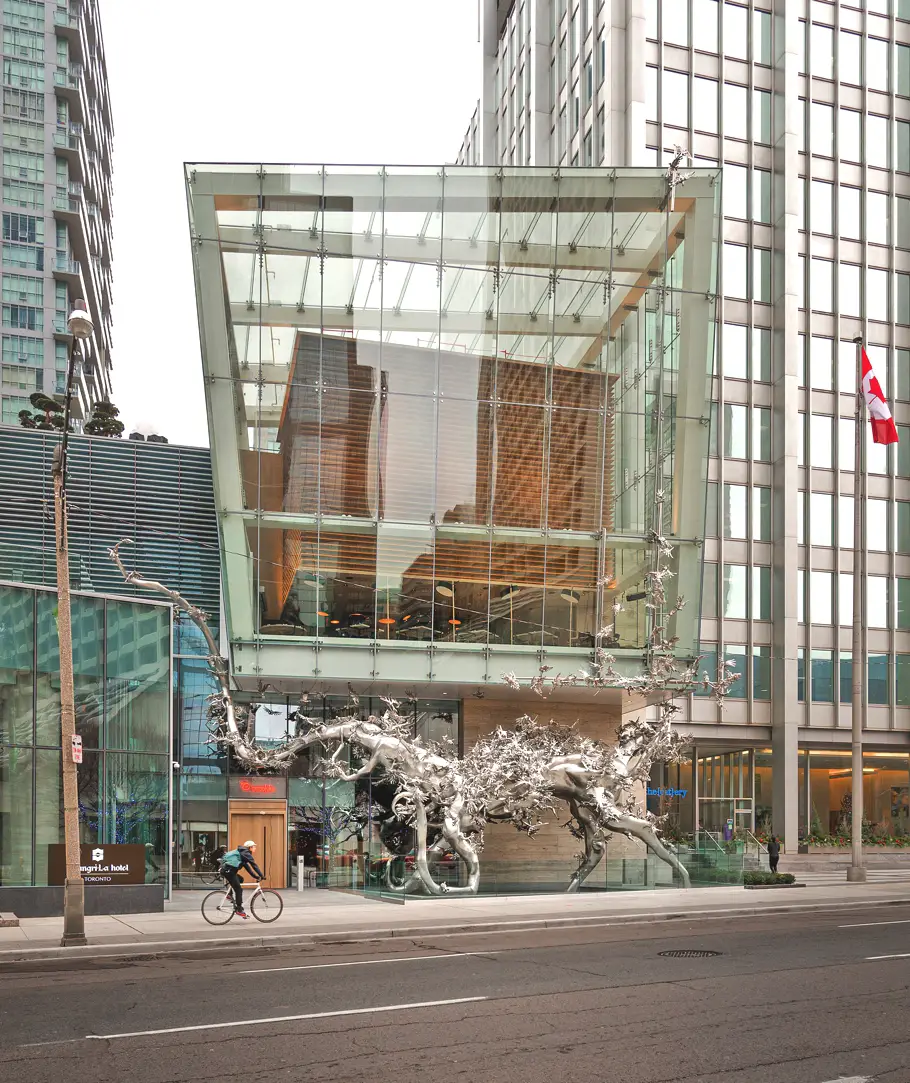 Canadian designers, The Design Agency, have designed the Momofuku Restaurant in Toronto, Canada. Completed in the autumn of 2012, the luxury restaurant has become the 'It' place to wine and dine for food and design connoisseurs alike.
The 6,600 sq. ft., restaurant is spread over three levels and combines Asian influence with New York energy and local Toronto flavours. The restaurant interior is housed within the new glass "ice cube" by architect James K.M. Cheng. The restaurant's entrance is marked by Chinese artist Zhang Huan's 33-foot tall and 65-foot long, twisting, energetic stainless steel sculpture, 'Rising' which bridges the ground and the sky with stainless steel birds taking flight, but also resembles a twisted root and a dragon.
On the ground floor, the Noodle Bar continues the spirit of Zhang's sculpture with plenty of movement and organised chaos. The double height space is wrapped in organically textured white oak walls intersected by blackened steel bridges and stairs. The open kitchen, the communal "Momo-styled" white oak bench seating and a colorful painting of Neil Young at Madison Square Gardens by album cover artist Steve Keene—picking up on familiar features and the vibe of Momofuku's original New York Noodle Bar.
The textured oak wrap continues on the second level, where Nikai, a bar and lounge, treats patrons to a more intimate experience. Entry through sliding doors that resemble shoji screens inspires a more secluded atmosphere. Completely sheathed in warm white oak, this room feels welcoming and protective. Loosely Asian influenced architecture is mixed with classic Arthur Umanoff stools, custom-designed tufted leather sofas and local retro furniture.
Rising to the third floor, one senses a shift from the grounded nature of the lower floors to the airy glass ice cube, opening the restaurant to Toronto's grand University Avenue. Sheltered by an oak finned cube that is floating within the ice cube, Daishō offers communal seating. Table options include a bar made of black oak, a communal Chinese-style round table and tables with carved bases surrounded by black, handcrafted Maruni 'Hiroshima' chairs. At night, Rich Brilliant and Willing 'Excel' chandeliers and floor lamps illuminate the room.
Behind Daishō patrons can join the chef at Shōtō. Encapsulated by the wine fridges Shōtō is a black, high-gloss inner sanctum and open concept kitchen. Patrons perch on Brooklyn-based Token's 'Catenary' bar stools at a black granite bar, sampling a daily tasting menu for a true 'back-stage' experience.
Momofuku Restaurant, 190 University Avenue, Toronto, Canada, momofuku.com
Images courtesy of Bob Gundu
Love Interior Design & Exotic Travel? Follow us..
June 24, 2013 | Property | View comments