The Contemporary Los Altos Hills Residence, USA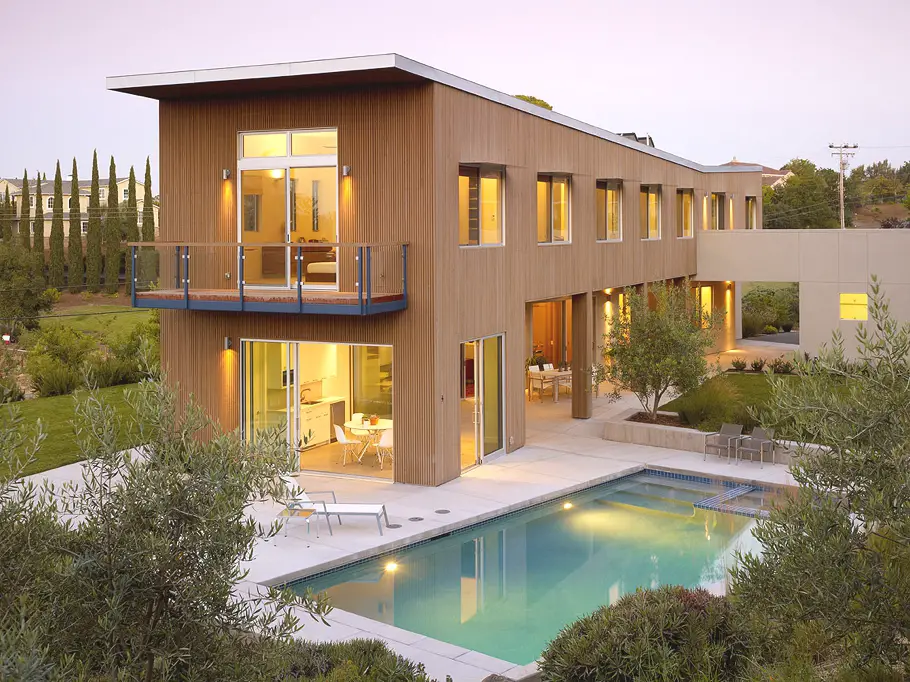 CCS Architecture a San Francisco-based design studio completed the Los Altos Hills home in 2008. The beautiful two-storey contemporary home can be found in California, USA.
According to the architects they have: "Designed this modern home for a family of five in Los Altos Hills, California. The clients, both working parents, wanted a warm and casual, family-friendly dwelling with interiors that would merge with the outdoors. The goal of sustainability was met through the home's building methods, materials, and energy systems.
The luxury home is broken into three parts separated by two breezeways. The result is a contemporary home with well-defined outdoor spaces that are comfortable during hot summer days. An L-shaped main level plan houses the primary living areas and garage. The second floor bedroom wing, clad in cedar, is a long bar that is rotated in relation to the first floor. It creates sheltered zones below as well as a pair of roof decks for the four bedrooms. The second floor meets the ground at its north end, forming the pool house. Between the pool house and the family room, a breezeway frames a view of the property and Silicon Valley.
The open floor plan maximises connections to outdoor living spaces with large glass sliding doors aligned on each side of most rooms. This main living space is a series of rooms that flow together in a linear fashion. The light-filled interior is composed of white painted walls, wood walls, hardwood floors, stainless steel, glass, and painted cabinetry.
A 4-killowatt photovoltaic solar array on the roof generates about half of the home's electricity, with additional solar panels that heat all of its water.  An electric, high efficiency split-system heat pump provides heating and cooling. Sunshades over windows and doors temper the sunlight and decrease heat gain in the summer. Images courtesy of Matthew Millman.
Love Interior Design & Exotic Travel? Follow us..
February 8, 2012 | Property | View comments