Sustainable design features at the luxurious Skyline Residence, Hollywood Hills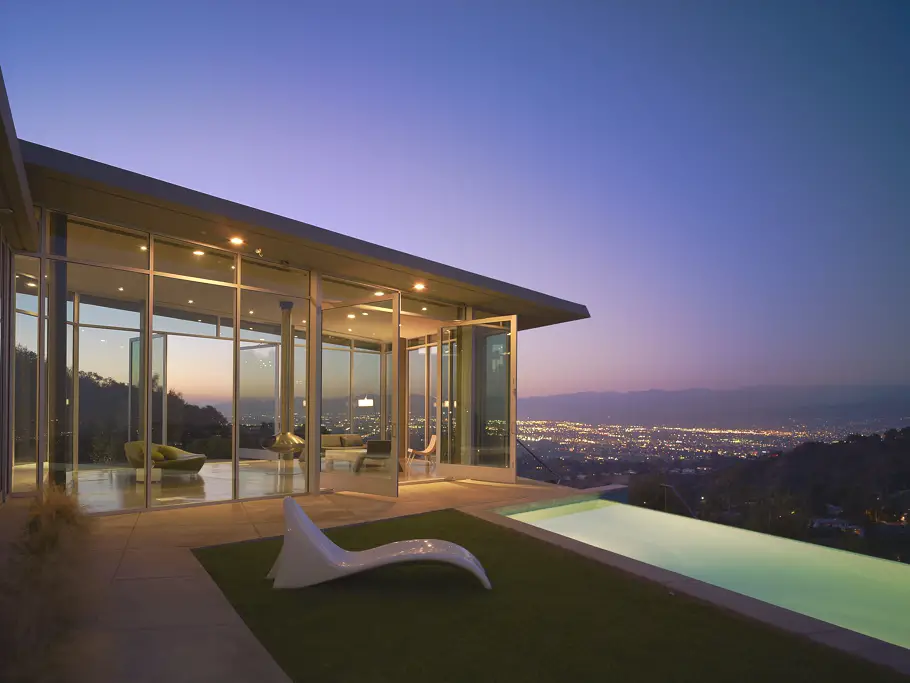 Santa Monica-based architectural practice Belzberg Architects completed the Skyline Residence project in 2007. The stunning residential building, which is perched atop a ridgeline in the Hollywood Hills, incorporates sustainable design strategies.
According to the architects: "The presence of the Skyline Residence represents an honest approach to creating an environmentally sensitive building without sacrificing beauty nor budget.  The pre-existing site presented a challenge in terms of constructability, the client presented the challenge of limited allowable expenses, and the architect was resilient to marginalize beauty and originality.  The requirements of an architecture to satisfy each of these constraints are found in that which is constant and continuous at a given site.
"Capitalising on and working within the physical, visual, and psychological characteristics of a given site fosters value in the relationship between building and site.  Beyond incorporating various sustainable strategies out of pure concern for the environment, the budgetary limitations imposed on material choice forced the architect to implement strategies for using resources in close proximity to the site.  While the building is not fused with the ground formally, it's relationship to ground, sky and the elements through a comprehensive understanding of locality is symbiotic.
"Because the site exists along a ridgeline, the shape of workable land was generally narrow and linear abutted at both sides by steep, brush-covered hillside.  The workable area was also compressed by an easement flanking the Southwestern edge.  The earth itself is partially composed of granite implying difficulty for excavation.  Simultaneously, the root system of the surrounding brush helps to prevent the less solid areas of earth from sliding making the occupation of the hillside a feat which would require ample resources and additional equipment.  Beyond the physical constraints, opportunity presented itself by realizing viewing angles in comparison to solar angles.  Each had the capacity to compliment each other in order to maximize natural lighting and views without increasing future cooling demands.
"From the beginning, incorporating sustainable design strategies was a guiding principle in developing the interior design and architecture.  The increasing popularity of 'green' products and the emerging state of newer 'green' technologies are changing the way architects perceive the substance of each design, however, cost is still quite prohibitive, especially for single-family residences.  At the same time, some of the most common or basic strategies to incorporate natural solutions are also some of the cheapest.  The Skyline Residence was built for $180 per square foot and incorporates a multitude of green tactics for building sensitively and responsibly."
Adelto loves the outdoor cinema –  what a great design feature? Also both the main house and the guest house are enclosed by a single folded surface with infill glazing and screened wall, truly spectacular.
Images courtesy of Benny Chan of Fotoworks
Love Interior Design & Exotic Travel? Follow us..
April 1, 2013 | Property | View comments