Stunning Washington Apartment by Robert Gurney Architect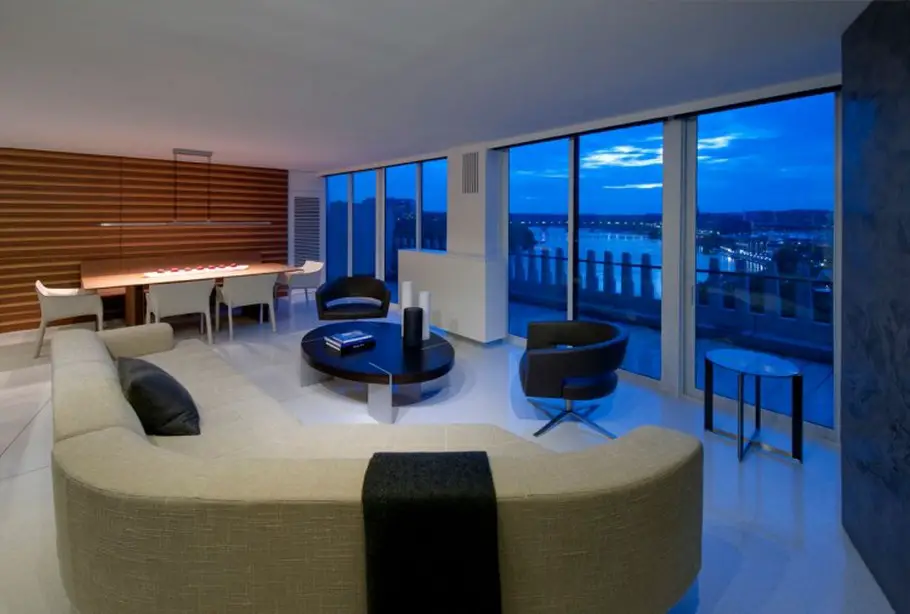 The renovation of the strikingly beautiful and modern Watergate Apartment has been completed by Washington-based studio Robert Gurney Architect. The 1,250 square foot apartment incorporates one bedroom and one and a half bathrooms, but feels spacious, comfortable and luxurious, providing stunning views of the Washington scenery.
The simplicity of this apartment really exudes a charming, sophisticated and refined feel, combining gorgeous, comfortable furnishings with sleek finishes and spectacular panoramic views. A deluge of simple yet striking colours include white, black and brown, and the use of these amalgamates into a quite magnificent apartment. The open-plan main living area and kitchen is a pleasant asset, giving the house a more homely, 'together' feel.
The kitchen's fittings are all state-of-the-art and completed with a sleek, glossy, almost metallic finish, really adding to the attraction and efficiency. The bedroom maintains the beautiful, sleek finish of the apartment, giving a feel of continuation to the client. There is also plenty of storage space, adding a further efficient edge to this beautiful piece of architecture.
The bathroom is spacious, modern and efficient, allowing any client to feel comfortable in their surroundings. The addition of a grey, marble-like stone for the sink is incorporated also in the bathroom for one of the walls, furthering the continuation feel and almost exuding a futuristic touch.
Finally, the views from this glorious apartment set it apart from the rest, promoting a relaxing, peaceful and comfortable touch with stunning views.
Love Interior Design & Exotic Travel? Follow us..
November 30, 2011 | Property | View comments