Spacious interior for Net Zero Energy Modern House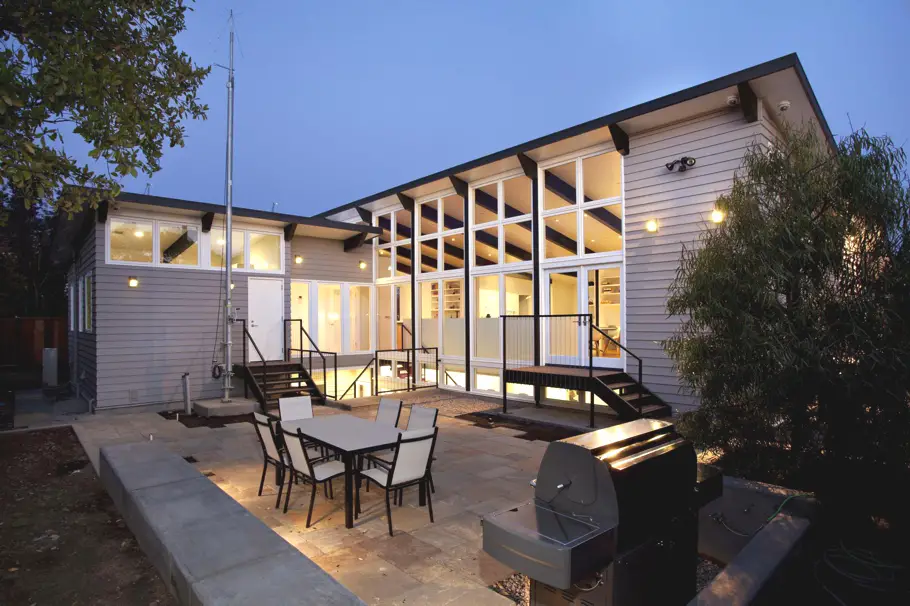 Net Zero Energy Modern House is a 2011 residential architectural project by San Francisco-based interior designers and architects Klopf Architecture. The spacious home has plenty of character and is located in Cupertino, California.
According to the architects: "The owners de-constructed their existing house when they realised that any single-storey design meeting their needs would completely eliminate their back yard. They directed us to design them a new two-level home that could score as high as reasonable in the Build It Green "GreenPoint Rated" system, would be a contemporary interpretation of the Eichler style, and would also make their neighbours happy. They wanted to maintain their privacy, but also wanted an open, light-filled interior design.
"The owners both work from home, and wanted this to be their 'final' residence, so we needed a larger-than-normal home to suit their lifestyle needs. Instead of adding a second story on top (which would've annoyed the neighbors) they opted for a partially-submerged lower level, which we designed to seem as little like a basement as possible (with a pulled-back floor plate, a light-filled "atrium" and a lower level light well).
"To preserve privacy, bring in light while minimising unwanted solar heat gain, and provide connection to nature, we oriented a large window wall north to the back yard, sloping the ceiling of the great room up to increase the light and connection to nature in that space. The sloping roof also provides a surface suitable for mounting the 13.4 kW PV system. Other building faces have smaller, punched windows that maximize privacy.
"The owners were very concerned about the environment, specifically about energy and resource efficiency. They directed us to use materials that would last as long as possible while avoiding 'food for termites' and designing a high-performance sustainable home. So in conjunction with our Mechanical Engineer we designed a net-zero energy home featuring insulated concrete forms (ICFs), structural insulated panels (SIPs), high-performance windows, cementitious siding, and an 13.4 kW solar Photovoltaic (PV) system sized to cover all the energy use in the house. No natural gas will be used in the home, with the possible exception of a backyard BBQ."
Images courtesy of Mariko Reed
Love Interior Design & Exotic Travel? Follow us..
November 15, 2013 | Property | View comments