Shenzhen Bao'an International Airport – Terminal 3 opens
International architectural practice, Studio Fuksas, has designed the Shenzhen Bao'an International Airport project. Completed in 2013, the new terminal at Shenzhen Bao'an International Airport, Guangdong, China, will begin operations from November 28, 2013.
The new airport is set to become an iconic landmark and the owner's hope that it will boost the economic development of Shenzhen – one of the fastest-growing cities in the world.
The terminal will be built in three phases, with the final elements due to be completed by 2035.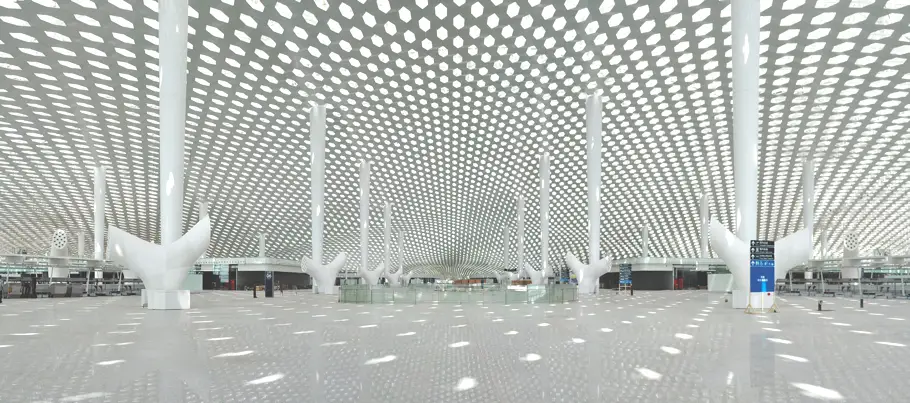 Materials include steel with a concrete structure. 52,000 tonnes of steel was used, with an additional 260,000 tonnes of reinforcement.
Shenzhen Airport (Group) Co., is so pleased with the striking design that it is taking the unusual step of trying to copyright it.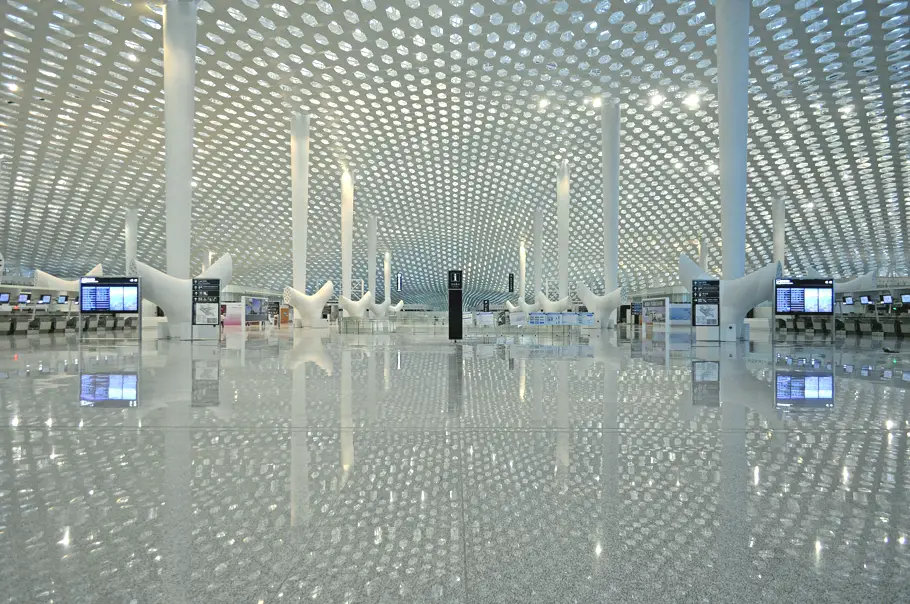 The terminal – the largest single public building to be built to date in Shenzhen – encompasses 63 contact gates, with a further 15 remote gates and retail space. The airport's capacity will increase by 58 per cent, allowing the airport to handle up to 45m passengers per year.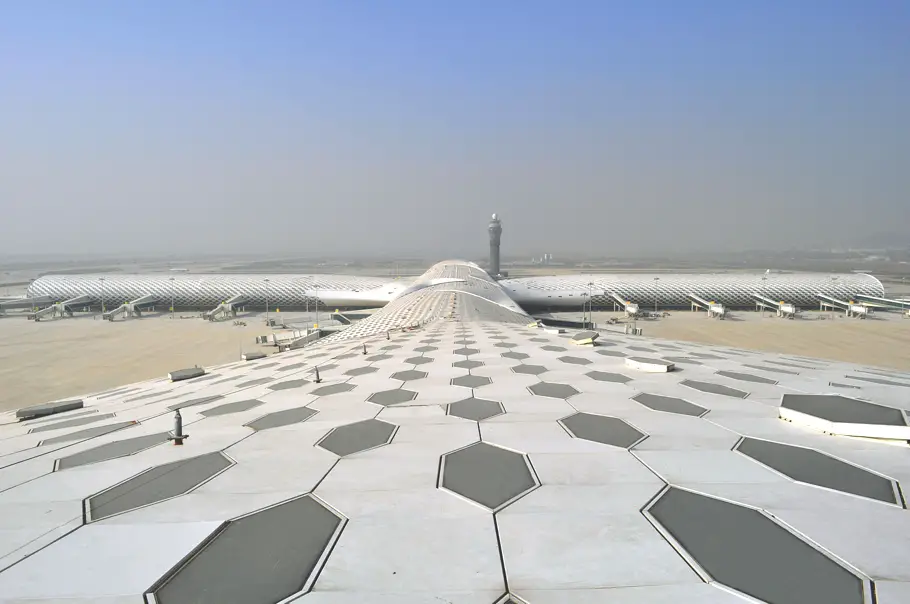 The huge sculptural terminal evokes the image of a manta ray and features a striking internal and external double 'skin' honeycomb motif that wraps the structure. At 1.5 km long, with roof spans of up to 80m, honeycomb shaped metal and glass panels punctuate the façade of the terminal allowing natural light to filter through. On the interior, distinctive white conical supporting columns that rise to touch the roof at a cathedral-like scale characterise the terminal.
The focal point of the airport design is the concourse located at the intersection of the building. Consisting of three levels – departure, arrivals and services – they vertically connect to create full height voids, allowing natural light to filter from the highest point to the lowest.
Studio Fuksas has created an interior, as striking and elegant as the exterior. The spatial concept is one of fluidity and combines two different ideas: the idea of movement and the idea of pause. Carefully considering the human experience of such environments, Studio Fuksas focused on processing times, walking distances, ease of orientation, crowding, and availability of desired amenities.
Stand-out features of the interior design include stylised white 'trees' that serve as air conditioning vents, and check-in 'islands', gates and passport-check areas with a stainless steel finish that reflect the honeycomb patterns from above. The honeycomb motif translates through into many aspects of the interior and at different scales – from the larger retail boxes to smaller 3D imprints in the wall cover.
 Images courtesy of Studio Fuksas
Love Interior Design & Exotic Travel? Follow us..
November 27, 2013 | Property | View comments