Safari style goes primal at the luxe Singita Boulders Lodge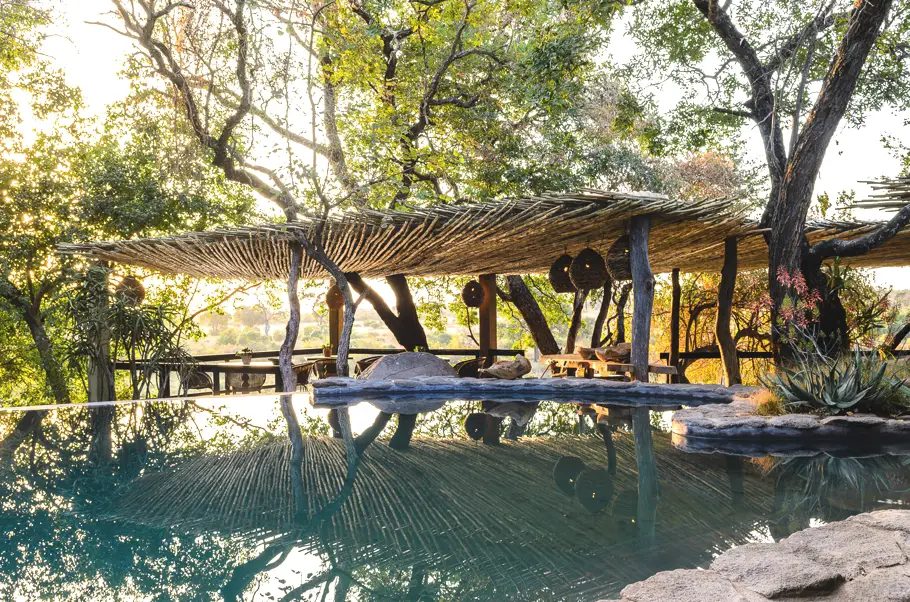 Singita – one of Africa's most inspiring safari specialist – unveiled a complete re-design of Singita Boulders Lodge in the heart of South Africa's Sabi Sand Game Reserve.
Seventeen years after opening, Singita Boulders Lodge has undergone an extensive reconfiguration and redecoration getting back to its true character and redefining its unique sense of place on the boulder-strewn banks of the Sand River.
Re-opened in summer 2104, Singita Sabi Sand is a private acre game reserve within the main Sabi Sand reserve. It offers exclusive access to the three Singita properties within it Singita Castleton, Singita Ebony Lodge and of course the new Singita Boulders Lodge.
The luxury South African reserve consists of 12 privately spaced suites each with their own private plunge pool, two of which are designed exclusively for families. Returning from a game drive, guests will be able to enjoy a sundowner at the new Copper Bar and socialise at a show-stopping outdoor dining pavillion that's decorated with a series of matted, nest-like ceilings suspended at different heights to resemble an ancient tree.
The new stripped back safari look blends soulful, sensual Africa with high design – and instills a sense of tranquility that the owners hope will free up guests time to experience and explore nature like never before.
The décor throughout by Cécil & Boyd is pared-down in a palette of charcoal, chalk, bone, rust and ochre to reflect the four elements of earth, fire, air and water. Dramatic sculptural shapes, abstract art, and carefully curated collections of crystals, seed pods, bones and other found objects articulate a deeper connection with the wild and a sense that everything has been derived from the earth, while sheepskin rugs and natural flax bed linen add subtle layers of luxury to the guest experience.
Singita Boulders Lodge, Sabi Sand Reserve, South Africa, singita.com
Love Interior Design & Exotic Travel? Follow us..
January 30, 2015 | Africa Property South Africa Travel | View comments