Villa Giannina Restaurant by David Guerra Architecture & Interior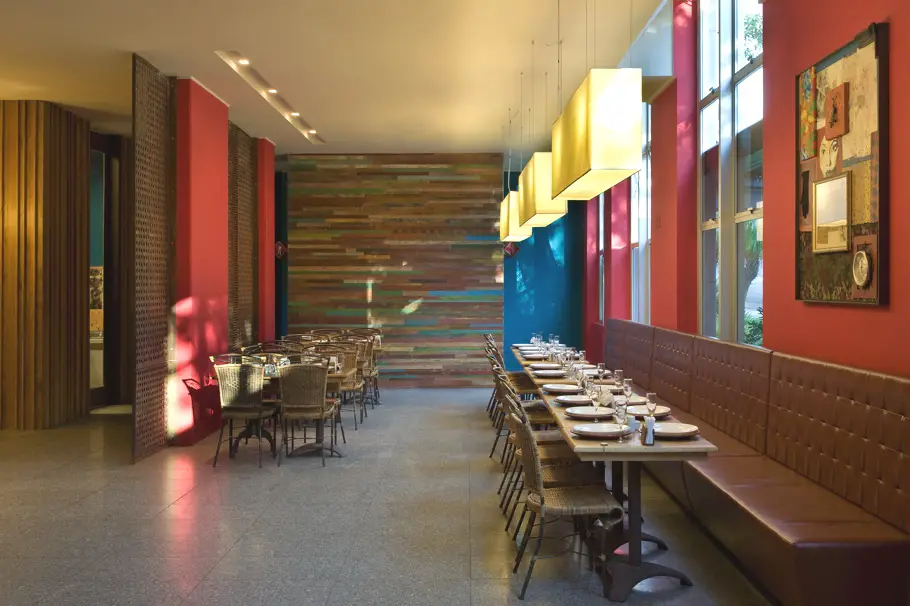 Belo Horizonte-based architectural practice, David Guerra Architecture and Interior, have designed the Villa Giannina Restaurant project. The luxury restaurant is located at the ground floor of a residential building in Belo Horizonte, Minas Gerais, Brazil.
According to the architects: "The restaurant has the capacity to 300 seats and the refinement of an a la Carte restaurant in its menu and decoration but it offers a self service style.
"The village aspect and the colours of Italy appear in the use of the plaid and materials such as the straw, the antique wood, the bamboo, the reed and  the hidráulico tile create a cozy atmosphere.
"The functionality and the simple language created by the straight lines reflect the contemporary design of the restaurant.
"The strong colours, the double height room, the exposed structure, the lighting, the rustic materials and the sculpture shelves create a scenic atmosphere."
When you enter the restaurant, on the left you can find checkered wood panels with an acoustic function, sculpture shelves, lamps made from rice paper, which create a scenic lighting effect), cashier counter made of peroba do campo wood. The floor next to the cashier counter made is made of Formica. The colour scheme for the interior design is green and red to represent the national colours of Italy. In the middle of, between the pillars, the panel is made of pieces of checkered guard rail. And on the right, the wall is covered in peroba do campo wood that helps to absorb noise pollution.
Images courtesy of Jomar Bragança
Love Interior Design & Exotic Travel? Follow us..
July 15, 2013 | Property | View comments