Picture-Perfect Luxurious Modern Penthouse in the Trump World Tower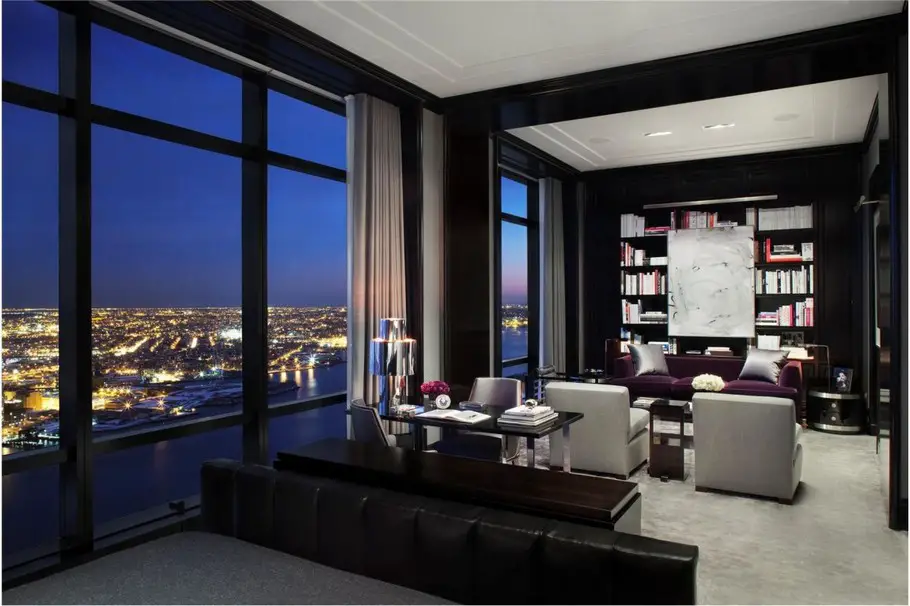 Notorious and prominent designer Mark Cunningham and architect Michael Gilmore have articulated a stunning two bath, two bedroom penthouse in the glorious, luxurious Trump World Tower in Manhattan.
The 77th Floor Penthouse is a masterpiece and a lesson in elegant, strikingly beautiful architecture. Towering over Manhattan and the East River, as well as the U.N, the 77th Floor Penthouse's stunning panoramic views have to be seen to be believed. The penthouse itself combines beautiful, comfortable and relaxing furnishings with sleek, glossy finishes. A wonderful saturation of dark, black colours juxtaposed with creamier white colours is an exciting and effective example of modern interior design, enticing the client with sophistication and refinery.
The aforementioned views really cannot be understated however. The luxuriousness of viewing the Manhattan skyline whilst enjoying perfect lavish living inside your own home is the encapsulation of a modern Eden. This picturesque way of life is merely enhanced by the adornment of gorgeous modern art on the walls.
Ample storing area is also a wonderful aspect of this piece, with bookcases playing a major part in increasing a feeling of refined, sophisticated living, while a charming, elegant and efficient kitchen is designed perfectly.
At a price of $12.95 million, the 77th Floor Penthouse certainly seems a lot of money. However, for one of the most beautiful, perfect modern pieces of architecture available, it's perhaps worth the money for a piece at the very top of the echelon; both figuratively and literally!
Love Interior Design & Exotic Travel? Follow us..
December 1, 2011 | Property | View comments