Nocturnal Bloom: Limited-edition range of upholstered wood sofas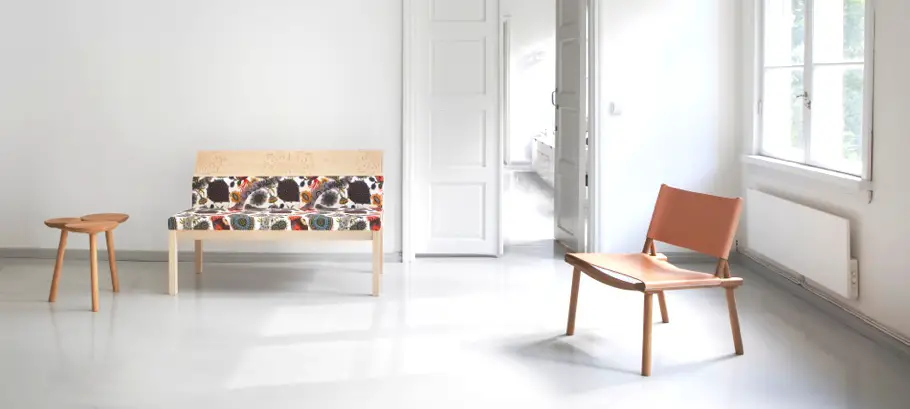 London-based, Finnish design brand Klaus Haapaniemi has unveiled a limited-edition range of upholstered wood sofas in collaboration with Finnish sustainable-wood furniture brand, Nikari.
Klaus Haapaniemi has collaborated with the Finnish company Nikari to create an experimental and intricate line of sofas, with Haapaniemi himself designing the upholstery and Kari Virtanen of Nikari working on the carving and marquetry.
Klaus Haapaniemi and Nikari re-launched the limited-edition redesign of Nikari's classic JRA3 as JRA&KH sofa during this month's London Design Festival. Haapaniemi has customised the popular birch sofa with an angled back engraved by Nikari craftsmen with a series of original patterns. The soft elements have been upholstered in Haapaniemi's new Nocturnal Bloom fabrics, also launched this month.
Five versions of the special sofa are being offered, each with a different Klaus Haapaniemi fabric and a different style of engraving. There are four Nocturnal Bloom patterns to choose from, four linen fabrics and a velvet version.
"The fabrics are in a dark floral patterns inspired by late summer nights and flowers that only bloom at night," says Mia Wallenius, one of the founders and creative director of the brand. "When you see all the sofas together, they look quite different, despite the fact that the shape is the same. Each has a different finish – oiled, patinated or painted. The engravings are most pronounced on the coloured ones."
Haapaniemi has also stripped the sofa of its armrests to alter the original shape.
The limited-edition range will bring focus to Nikari's upholstered furnishings, an offering the brand hopes to expand, due to popular demand, with help from Klaus Haapaniemi.
"What is inspiring to us is that Nikari is about craftsmen, very skilled people with a talent for joinery and eye for fine details," says Wallenius. "They are not a factory but rather a traditional workshop. And their intricate marquetry and engraving on traditional wood is a natural fit with our patterns."
'Nocturnal Bloom' collections are available at the Klaus Haapaniemi shop in Shoreditch, at 81 Redchurch Street, E2 7DJ, London, England klaush.com
Love Interior Design & Exotic Travel? Follow us..
October 13, 2014 | Furniture | View comments