Modern restaurant with urban design elements, India
New Delhi-based design consultation practice DCA Architects has designed the Amour Bistro project. Completed in 2013, the contemporary restaurant is located on Malcha Marg in the heart of New Delhi, India.
Set amidst the heart of New Delhi, Amour bistro is crafted with an intent of creating a native, effortless ambience that is unaffected by the surrounding urban chaos. The restaurant's look is manifested through a wild mix of urban pulse and human warmth.
According to the designers: "The design in general is based on simple and minimal elements and earthy tones giving purity and elegance to the space. Amour is a balanced dialog between neutral colours translated in contemporaneity: yellow planter boxes, wooden trellis, tall windows, a stone wall , an antique mirror, paver tiles for flooring and wooden slatted ceiling. Walls become three‐dimensional through steel grooming, home to an excellent range of high‐end wines and their fabulous colors that attire the visitor eye.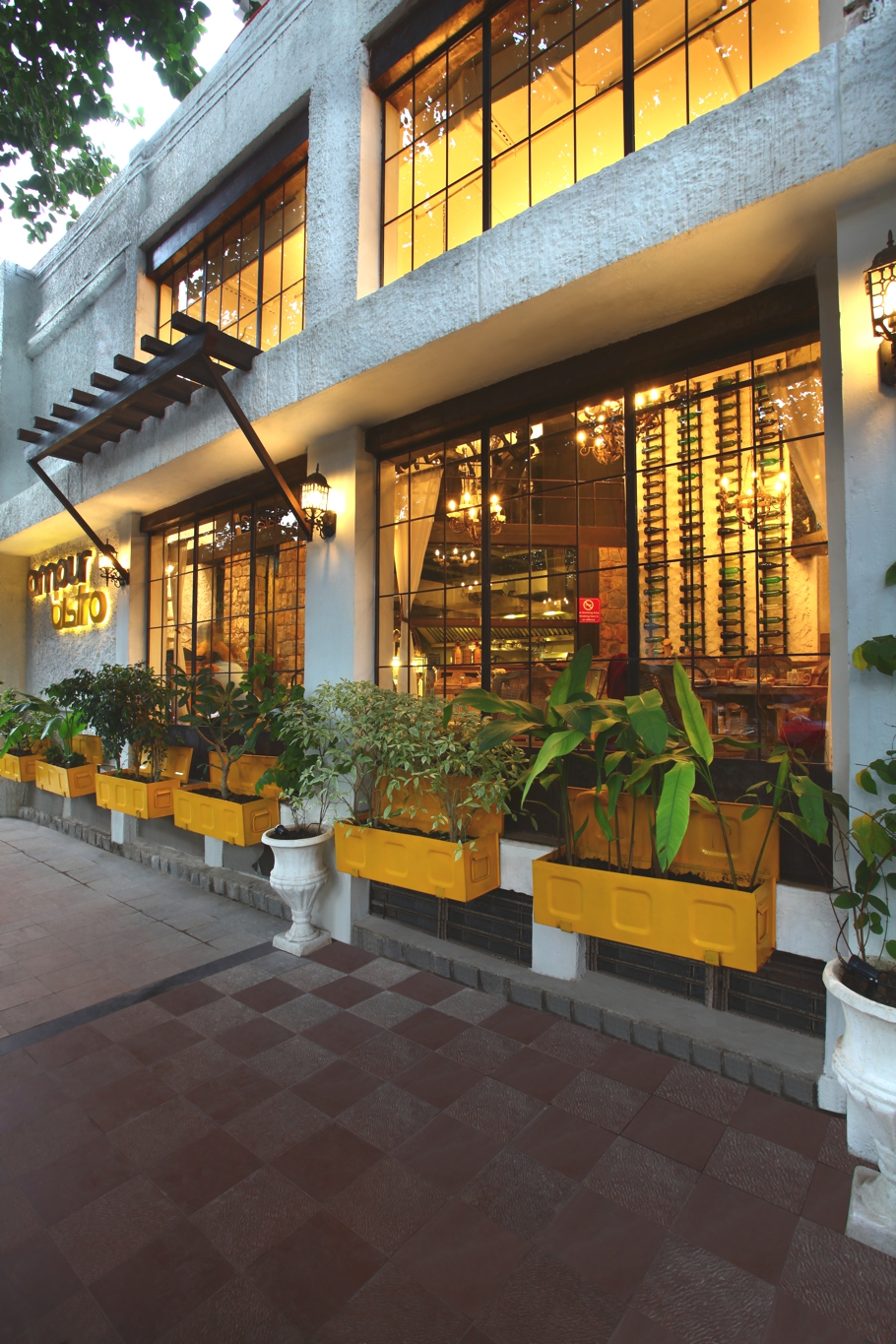 "The facade has undergone a major restructuration when opening new spaces to get the maximum permitted height from the building architecture. The maximised glazing acts as a layer only to let the premises function seamlessly through all seasons. Its interior design features open space philosophy, which successfully creates a natural and relaxed atmosphere in the indoor space.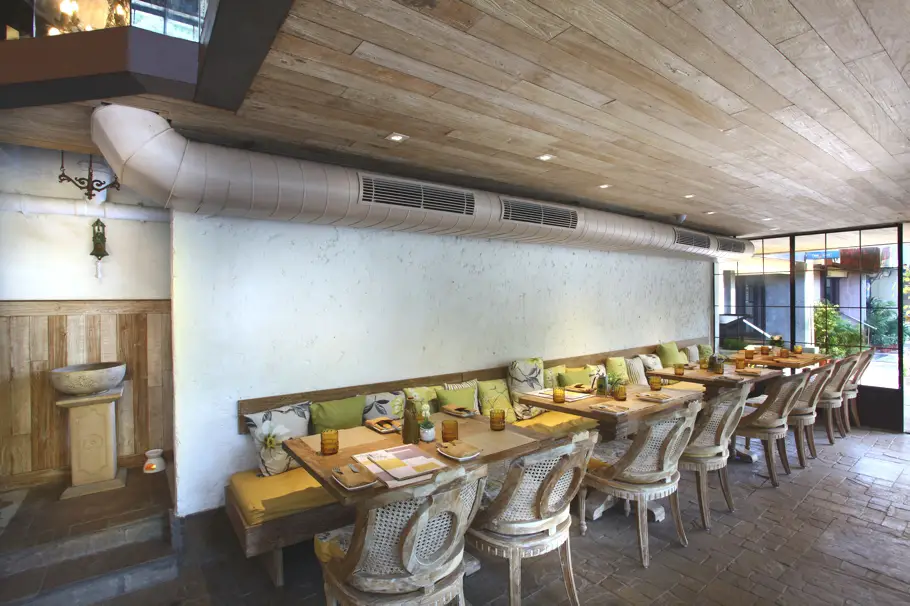 "The colour scheme extends, a relaxing dining space with black painted metal dining chairs, paired with sand blasted custom made chairs and bespoke‐designed wall lights. The furniture is made of fine materials inspired by a vintage‐style combined with a brick backdrop in white colour.
"The kitchen and rest room wall is 'dressed' in Delhi stone in its natural being ‐ handpicked by the designer and cut to perfection on site. The floor is made of a paver tiles from Nitco which was chosen as the most appropriate material for the specific use and needs. Last but not the least heightening the sense of luxe are the rest rooms , featuring brass inlay in marble, together with the vintage fixtures create a memorable experience.
"With a good supply of daylight, We paid special attention to the evening lighting. Except for the ceiling recessed technical lights all other lights were customised by the Brite Light Design studio. The double height in the inner part of the restaurant is treated with antique mirror on one side , complimenting the musical orchestra overlooking from the balcony above the open kitchen. Visible amply from outside is the feature element, that is a large wall in the center, which is filled with wine from top to the bottom."
Images courtesy of DCA Architects / Kapill Kamra
Love Interior Design & Exotic Travel? Follow us..
July 23, 2015 | Property | View comments