Modern renovation of S.I.N.'s outdated office in NYC
New York City-based interior design practice, Cezign, has renovated the S.I.N. project. Completed in 2014, the renovation project included updating the office and rooftop for New York City-based music company S.I.N.
The building was originally purchased for a radio promotion company called S.I.N. which stands for 'Street Information Network'. S.I.N. has been serving the music industry for more than 30 years with specialised marketing, promotion and artist development campaigns. SIN – originally a club promotion company was involved with the launch of some of the biggest music artists in the 1980s and '90s. As the music business changed so did S.I.N., transitioning into a radio promotion company to launch artists, like Lady Gaga.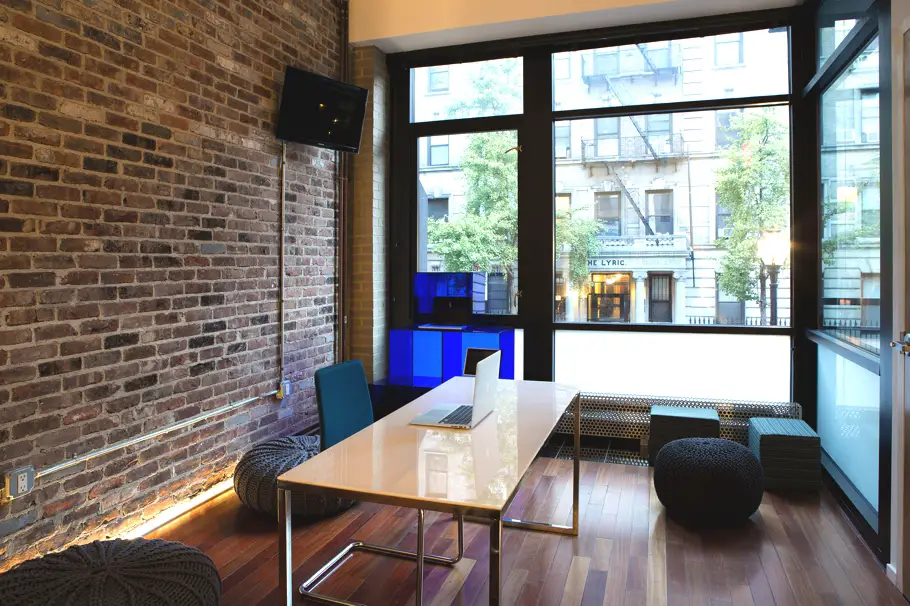 According to the designer: "The top floor was designed by Cecilia Dupire as a flexible, multi-use space to promote creativity, team unity and proficiency. To be able to modify from a professional environment to a more relaxed vibe, while retaining relevance to both. Needed for a wide range events, transformation had to be easy, fast and seamlessly, while retaining functionality.
"The owners wanted to have the ability to shift from a panel discussion, to a gym, art exhibition or cocktail reception easily and in a cost-efficient manner, while also being innovative and inspirational.
"The interior design project was to take an old, unused office space and turn it into a creative, versatile, multi-functional, modern and innovative space. With a small budget, the environment had to be as flexible and multi-use as possible.
"We created walls that could serve many functions: a mix of magnet and dry erase as well as rolling boards that could reconfigure the space instantly. The interior was opened up by removing old partition walls and the use of lighting fixtures to maximize the architectural details and further exaggerate the spaciousness by using a variety of lighting effects. The street-facing wall of windows is the focal point of the interior.
"Furniture, such as table and shelving systems, were custom-designed to be lightweight and slender and accommodating, depending on the event or the client. The kitchen was originally very outdated and drab, but by spray painting everything black, it was converted to a sleek and minimalist all-black wall.
"To enhance the communication between the inside and outside spaces, we gave the terrace a stronger identity using a lot of greenery. The different volumes give the environment interest. An artificial lawn was placed to turn the space into a more embracing space and offer a bit of texture.
"The skylight on the terrace was turned into a light feature/sculpture, and around it, a bar, which maximises otherwise lost space. This is the focal point of the entire terrace, especially when combined with dramatic lighting, which gives the area a dynamic energy.
 Images courtesy of Costas Picadas

Love Interior Design & Exotic Travel? Follow us..
February 2, 2015 | Property | View comments