Luxury yacht Antagonist by Art of Kinetik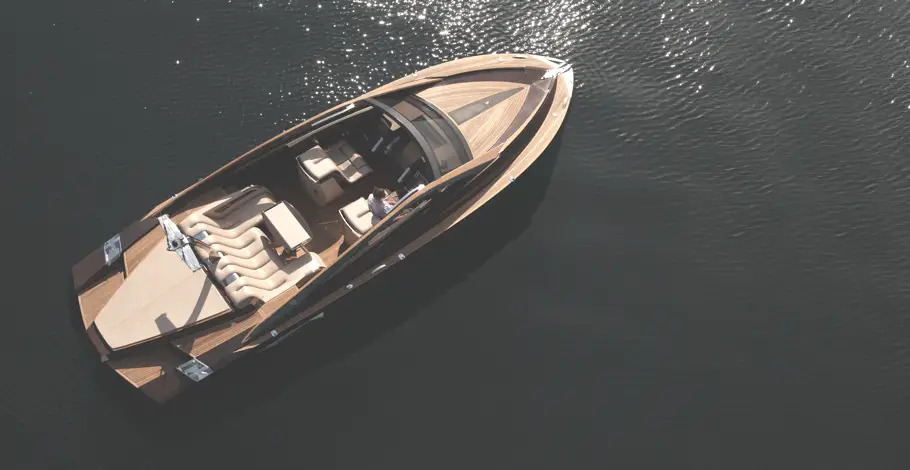 Art of Kinetik, the producer of luxury wooden pleasure yachts, launched Antagonist in 2012, the new model, features elegant lines, peerless finish and bespoke details for which the company has become known for.
Antagonist, a 37 foot open weekend cruiser fits below a 63 foot Hedonist, company's flagship yacht. Antagonist is targeting all
those who want to spend a day on the water in style and in environment not seen on any other yacht in its class. While smaller than Hedonist, the yacht continues with the philosophy of elegant lines, superb craftsmanship, highest quality materials and plethora of bespoke details.
A day on Antagonist
Dark, daring lines sweep out of the water like a poised alien sea creature as I approach Art of Kinetik's latest wunderkind with
anticipation and unease. True to her name Antagonist appears to challenge me; to question whether I have the mettle to command
her. She is not a craft for the faint-hearted. I can't wait. She purrs in the water as I approach, 37ft of achingly beautiful
lines lilting slowly in the swell. My mind is flooded with reactions, wildly contradictory: she is elegant, muscular, delicate, strong. Her profile flows like a bow wave exuding a sense of power and purpose, similar to her bigger sister Hedonist but more lithe and sleek.
From every angle, she whispers classic. The crew of a nearby super-yacht look down with envy. You can't blame them; there's nothing else like it. But does the kinetic experience match the art of aesthetic? I climb aboard, conscious that I look like a kid on Christmas Day.
I have been deceived. The open cockpit is even larger than it looks. No less than eight people could luxuriate here also day lounging, dining and sunbathing in comfort – and still not get in the way of the skipper perched on the designer pilot's chair, itself a bespoke work of art fused with ergonomic function. I admire the smooth, multifunctional table and am offered a drink from the discreetly hidden bar. The cabinet closes softly with an almost inaudible click.
The day is heating up and the spacious sunbathing area astern looks increasingly appealing. Framed by two teak-covered paths
either side, it tapers down to an elegant swimming platform. Then I begin to realise the sheer level of passion and craftsmanship at
work here. Every detail, every material, everything is designed to satisfy. The interior beckons. Descending easily below the cockpit, the conditioned air cools and the exterior noises become gently muffled. Beguilingly the craft plays its trick again of seeming to expand, this time to reveal a luxurious home-like pad with designer furnishings and subtle mood lighting.
Then the Yanmar engines rumble into life behind me, the room quivers almost imperceptibly as if with an eager thrill and I return
to the deck, a effervescent white streak of water tracing an arc to the jetty already disappearing in the distance.
Art of Kinetik is principally based in Belgrade, Serbia, where research and development, including design, naval architecture
and engineering is done. Design and manufacturing of interiors and accessories are completed are there Bavaria office, Germany.
Images courtesy of Art of Kinetik
Love Interior Design & Exotic Travel? Follow us..
July 16, 2013 | Travel Reviews | View comments