Luxury Spanish Home In Las Rozas by A-cero Architects

A-cero has again designed a highly contemporary property with striking aesthetics and sculptural references. The house is located in Las Rozas, one of the wealthiest towns of Madrid. The dwelling's plot has a surface of 1.368m2 with a light slope that A-cero has used in order to adapt the building's three floors: basement, ground floor and first floor.
The pedestrian access takes place by the ground floor where are located the most social rooms (living room, lounge and dining room) in the right side of the house. In the left side are the following rooms: a bespoke bathroom, cleaning room, a courtyard, bespoke kitchen – office, a larder and a cleaning room. In this level is also a porch that communicates with the dining room. An interior stair and an elevator communicate this level with the basement and the first floor.
The first floor has 273,46m2 and includes the following rooms: two children bedrooms with dressing-rooms, bathrooms and a living room; a guests' bedroom with bathroom; the main bedroom with two dressing-rooms and bathroom; a study that he communicates with a footbridge – library (to which also one gains access from the main bedroom) and two small courtyards. The basement includes facility quarters, storage room, quarter of implements for the garden and bicycles, luxury interior swimming pool, gymnasium, sauna, massages room, cinema room and cellar.
The housing is provided with two swimming pools and two jacuzzi (for exterior and interior). Interiors stand out for their diaphanous distribution and luxury furniture. It is a comfortable and habitable dwelling with ample areas. The beige marble with the wait walls and roofs produce a lot of clarity and luminosity in interiors. Furthermore, these colours create a spaciousness sensation in the house. Design, functionality and quality are the main concepts that have established this house´s design where elegance, modernity and simplicity stand out according to A-cero´s architecture.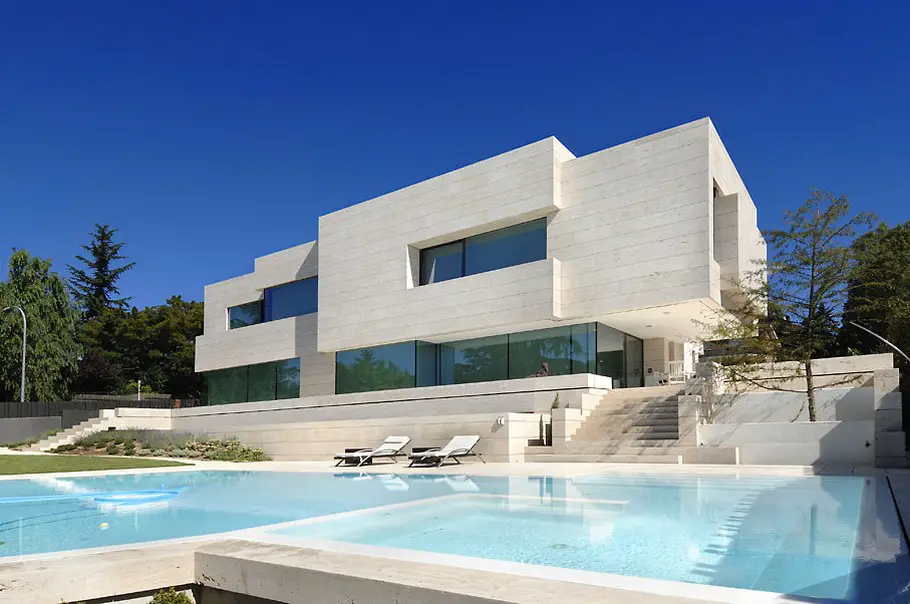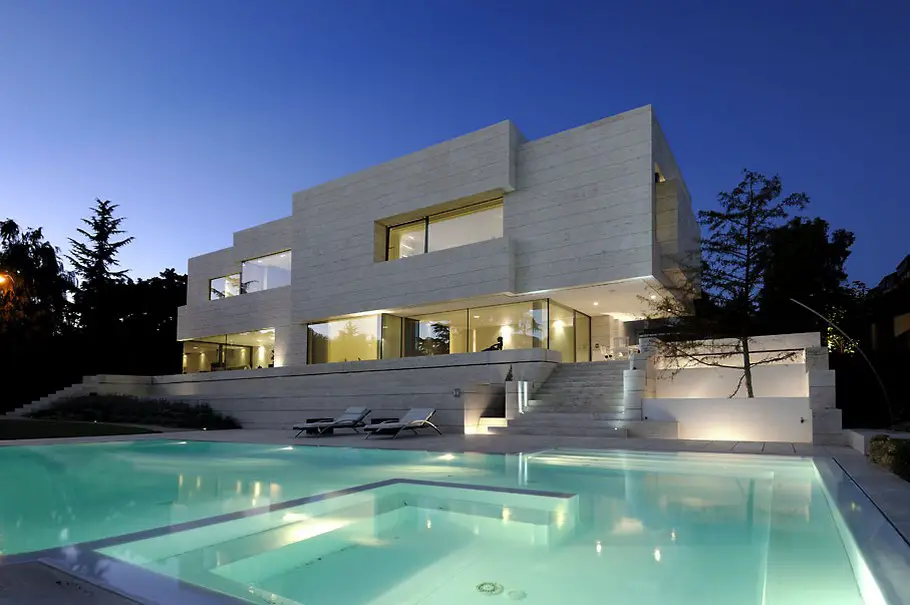 Love Interior Design & Exotic Travel? Follow us..
September 28, 2010 | Property | View comments