Luxury property in Southern California for sale via Ben Bacal
The luxury 1525 Blue Jay Way property, currently for sale via Ben Bacal, is simply luxury architecture at it`s finest. The interior designer was Lori Dennis, of the leading interior design company Dennis Design Group. The home is located above the Sunset Strip in the prestigious "Bird" streets, the views are sensational. Walls of glass every room open up to patios and balconies, beyond to sensational views of Downtown, and then to the Ocean. Built to satisfy the senses, with the finest of today's technology and materials, the luxury home features wide open spaces, high ceilings – the ideal floor plan for entertaining. The property also features indoor/outdoor pool/jacuzzi on the view side of the home, street frontage of 260 feet on Blue Jay, large garage driveway with 3.5 garage spaces, extremely rare window heights of 13feet and a 360 degree roof deck. Asking Price of $12,950,000 via Ben Bacal. Photography by William MacCollum. For more off-listing properties visit Pocket Lister.
Under the direction of Principal Designer, Lori Dennis, ASID, LEED AP, Dennis Design Group is one of the nation's top interior design firms. Lori graduated from the UCLA Interior Design program and formed Dennis Design Group, specializing in green interior design, in 1998. Eco-friendly projects include residential, commercial and hospitality interiors throughout the nation. She passed the NCIDQ and LEED Exams and is active member of ASID. Her work has been featured in the New York Times, Coastal Living, Southern Accents, Woman's Day, Los Angeles Times, Dwell and countless other magazines, books and websites throughout the world. In addition to authoring a book on Green Interior Design, her firm has been awarded the nation's best green and modern design from ASID, Home Magazine, Southern Accents, California Home and Angeleno Magazine. She is a featured expert on HGTV, Food Network, Oxygen Network, NBC, KABC and XM Radio. Lori has lectured on green interior design at UCLA, FIDM, Dwell on Design, Alt Build, Design Within Reach and Westweek at the Pacific Design Center. Dennis Design Group is a full service office overseeing complete interior and exterior design and development in the residential, hospitality and commercial arenas and will consider projects internationally.
Inspired by world travel, especially the elegant, yet approachable hotels of Mexico like La Purificadora, the designer knew that Blue Jay, with its extraordinary location, had to be an example of seamless indoor/outdoor living with warm, modern elements that comfortably blend masculine and feminine style.  Never one to take herself too seriously, she joyfully explains this concept as a relaxed Flintstones meet the Jetsons vibe, juxtaposing rustic, natural elements with sleek materials and the latest technology.
The residence contains world class materials, finishes, furnishings and many green ingredients as well. After all good design is green design.  Blue Jay was designed to age gracefully and never go out of style.
Materials:
The floor to ceiling windows and open floor plan in the Blue Jay home allow natural daylight and airflow virtually everywhere in the residence.
In addition to being beautiful the limestone 4×4 slab flooring throughout the interior and exterior of the residence acts as a heat sink, absorbing solar energy during the day and releasing it in our cold desert nights. The master bath and master patio have radiant heating, which is highly effective and is the most luxurious way to heat a body.
In our soothing kitchen flooded with sunlight, natural grey stone and white washed oak, we feature cabinets by European phenom, Valcucine, undeniably the most sustainable cabinets made today.  Top of the line appliances by Gaggenau are Energy Star Rated and meet the highest efficiency standards available. The warm grey counters are made of recycled content quartz. Features like water filters, compost receptacles, easily cleaned materials (not requiring harsh, toxic chemicals), an abundance of natural light and air flow help any homeowner practice sustainable behavior.
The stunning, exotic wood finishes seen throughout the home, including the bar, closets, vanities and cabinets are all made from eco friendly manufacturers and meet FSC certification requirements.
A generous his and hers master closet, complete with professional make-up/hair studio section, is outfitted with skylights for skin flattering natural light.
The master bathroom with natural materials of bronze and lava rock, known to help balance magnetic fields and the central nervous system create an environment that literally melts stress away. Dornbracht fixtures act as sculpture.  Endless views of nature from the hand carved stone tub and spa quality steam shower make a morning routine feel much more like a vacation in paradise.  The home's electronic brain designed for maximum efficiency of all systems allows the homeowner to use energy and resources for maximum comfort and minimum impact.
Custom furniture and fabrics throughout the home were created by Dennis Design Group and are eco-friendly, organic, built from FSC certified woods and non-petroleum product cushions. The home is designed as an indoor/outdoor experience and affords a homeowner the beneficial sea breeze, gently sweeping in from the Pacific Ocean.
A vast spance of roof deck provides a fabulous opportunity for a homeowner to install enough solar panels to power the home or the installation of a green roof , securing another energy efficient spot of tranquility in this treasure of a home.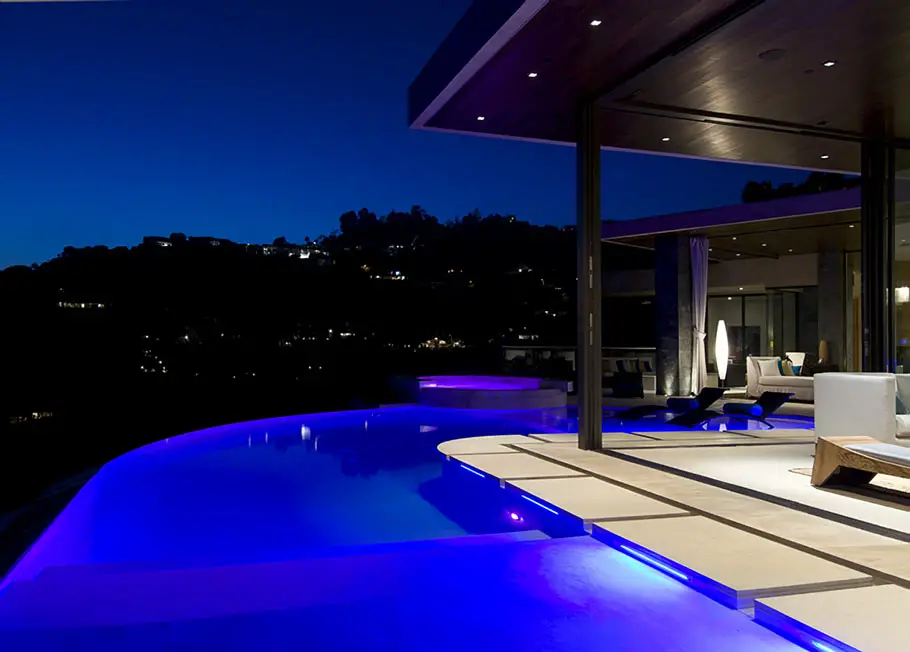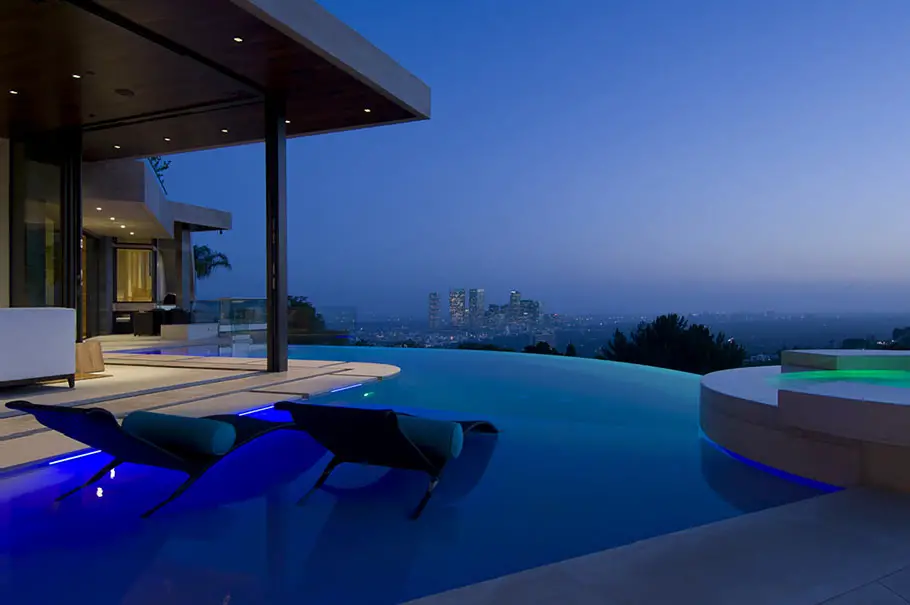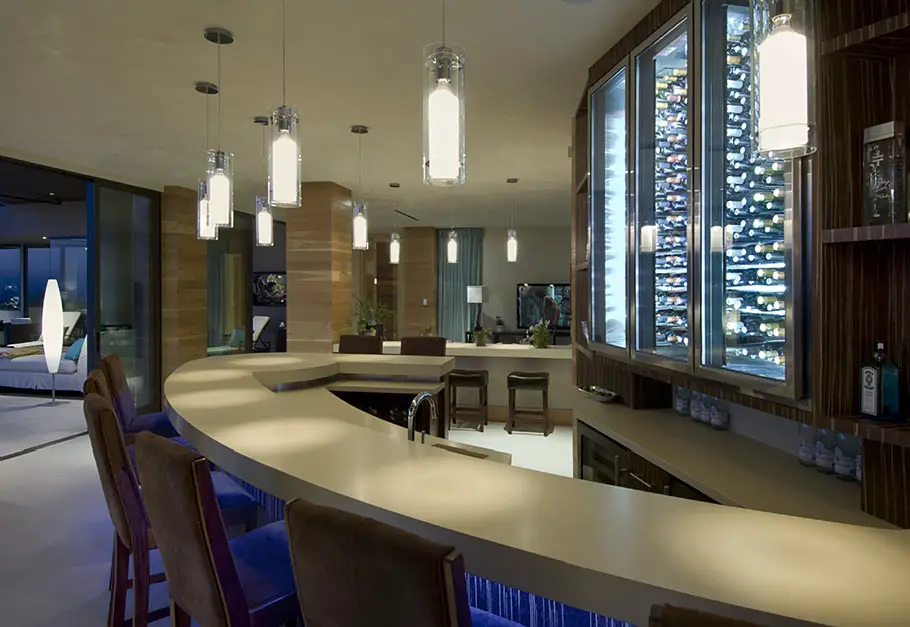 The entire house is equipped with the VANTAGE home automation system allowing fully integrated and intelligent control over lighting, entertainment, security, heating and air conditioning and the pool and water features.
The programming potential is truly endless with many Green features available to boost the overall efficiency of the controlled systems.
All the lighting controlled by the vantage system can be adjusted to whatever mood you would like to set. This can also be used as a tool to minimize and manage energy usage. Another benefit of dimming the lights is it can greatly extend the life of a light bulb, which in turn saves cost and reduces waste.
There is also an Energy Consumption Management program available for the Vantage system which allows you to monitor the exact dollar amounts used and can recommend strategies for adjusting your homes energy consumption.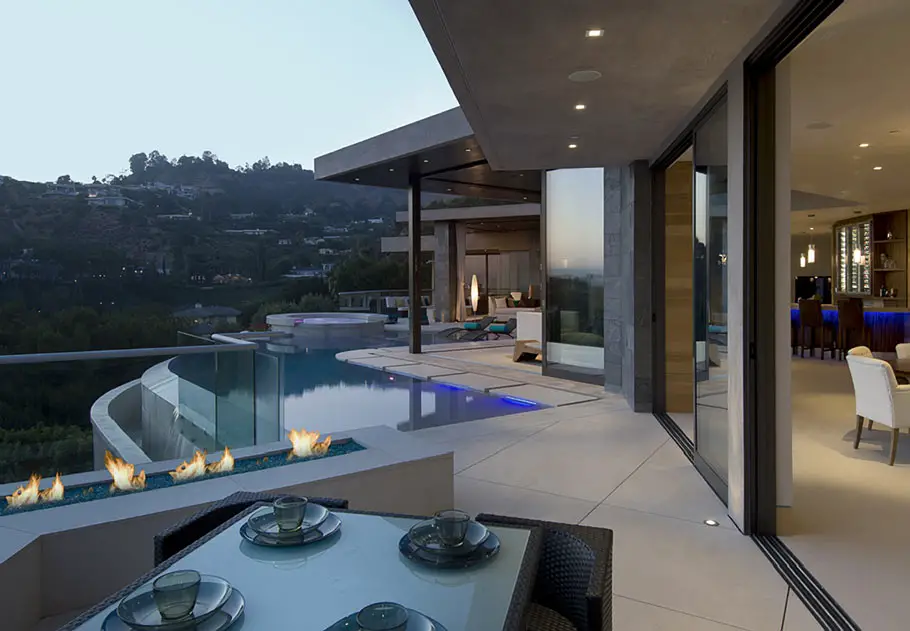 There are 5 separate zones to provide comfort and ample heating and air conditioning to all areas of the house. Each zone has its own flush mounted temperature sensor and thermostat that is integrated with the VANTAGE Home Automation System. For maximum efficiency all the furnaces, forced air units and condensers installed are top of the line YORK models. YORK is an industry leader in energy efficiency.
These air conditioning units deliver energy efficient performance with reduced noise and
constant comfort. There are three YORK Condensing units Model # CZH02411 and two Model # CZH06011 installed at the residence. These condensing units achieve up to an 18 Seasonal Energy Efficiency Ratio (SEER) which far surpasses the federally required 13 SEER.
For heating and air movement there are two FAU Model #PC9B12N060, two Model #
PC9C20N100 and one Model # PC9C16N080 installed. These furnaces are the most efficient on the planet and deliver an astounding 98% Annual Fuel Utilization Efficiency (AFUE). The north exterior deck and master bath floors have hydraulic radiant heat systems.
The boilers are a MUNCHKIN CONTENDER Model# MC120.
These boilers use proven European technology. It is a fully modulating boiler and achieves an ultra efficient 95.1% AFUE rating.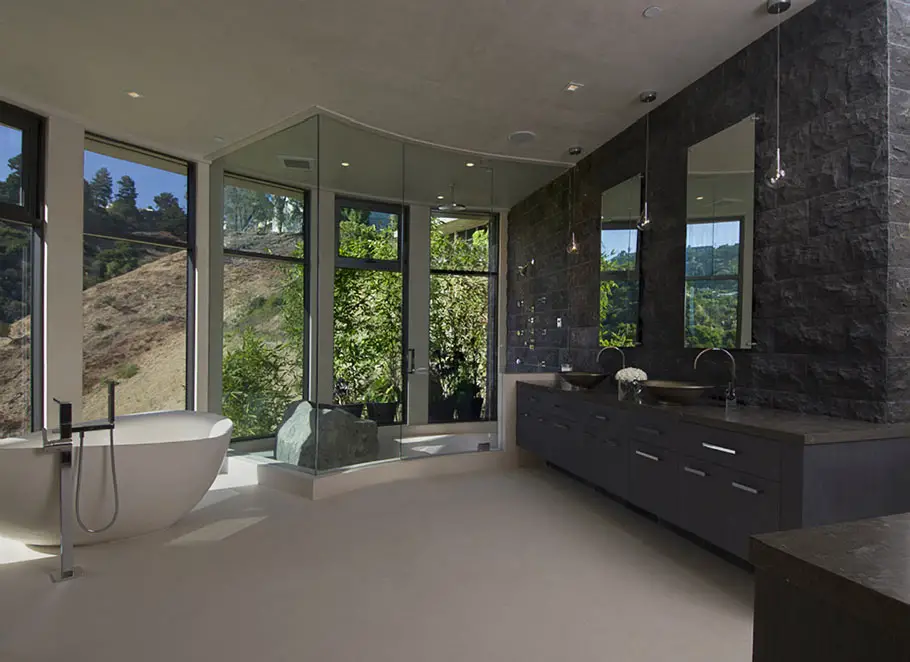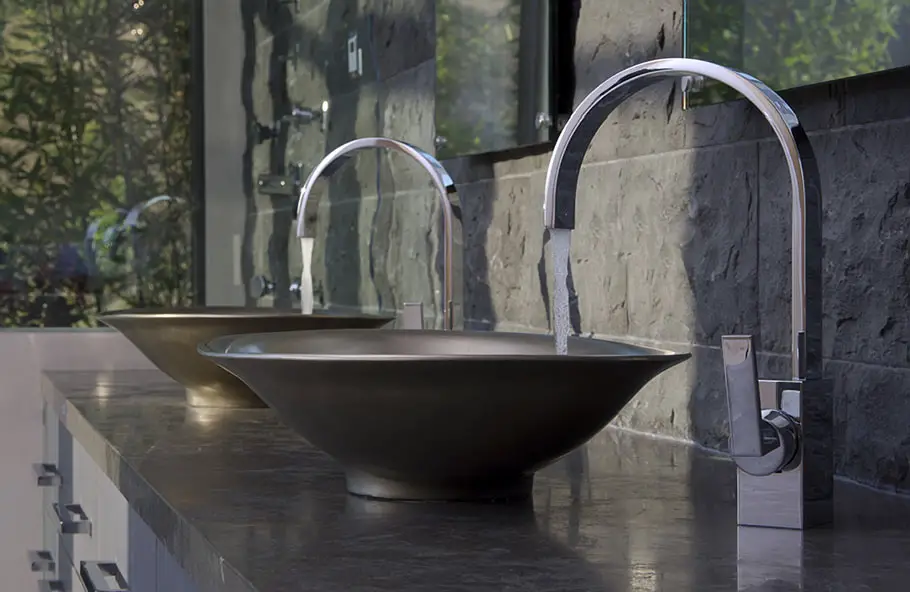 There are two water heaters installed at the house. The TAKAGI tankless water heater Model # TM50 provides the kitchen, laundry and the three bathrooms on the south end of the house with hot water. The TAKAGI tankless has a efficiency rating of 80.2% and is a low impact way to provide hot water.
There is a 100 gallon AMERICAN WATER HEATER Model #DCG3-100T199-6NH that provides the master, retreat and powder baths and also the bar and exterior shower.
This unit has a 90.1 energy efficiency standard; meets or exceeds the 80% thermal efficiency. All the hot water lines throughout the house are insulated and on a re-circulating system to efficiently provide instant hot water at any location without losing heat and energy. All the appliances installed in the kitchen have class A+ efficiency standards.
The GAGGENAU Refrigerator Model # RC472-700, Freezer Model # RF 471-700 and Wine climate cabinet Model # RW464-760 also have energy saving vacation modes and ultra low energy consumption during standard operation.
The GAGGENAU dishwashers Model # DF241760 use approximately 2.58 gallons of water per wash and have a AAA for energy and water use. They are 10- 50% more efficient than standard models and are also extraordinarily quite (45 db). The bathrooms have been furnished with dual-flush TOTO toilets giving the option of a 0.9 or a 1.6-gallon flush.
All the faucets and showerheads have water saving aerators.The window and door glass is dual glazed Low Emissivity with a slight grey tinting. This helps control the heat transfer and insulates from heat and cold. The mitered window glass also has a film to help insulate and reflect the heat. Additionally the architecture and orientation of the house provides shade, through large overhangs, on the large glass doors and windows that face west. Not only does this provide spectacular views but also there is no direct sunlight on most of the glass till the late afternoon. This is certainly a benefit of the location, architecture and orientation of the house.
As the sun descends and begins to heat the west facing glass, the YORK cooling system can easily maintain the interior climate at a comfortable temperature. Of course the most Green and efficient thing to do is open the large FLEETWOOD and Metal Window Corp sliding doors and windows to take advantage of natures cooling system, the soothing afternoon breeze. The white roof coating has high reflectivity, which helps to keep the house cooler and reduces the cost and energy of cooling. It also serves to protect and prolong the roof/deck system from "thermal shock" stress associated with large temperature changes.
With no exposed ductwork or equipment on the roof there is plenty of room and excellent potential for Solar power, heating and other Green possibilities.
The pool is a saltwater system with the JANDY AquaPure salt to chlorine generator. This system dissolves low levels of ordinary salt in your pool into chlorine. The chlorine is generated automatically and naturally in your pool. Once the chlorine purification work is done, it automatically converts back to salt, to be used over and over again.
AquaPure is safe, economical, and environmentally friendly way to purifying your pool and spa. One of the first advantages of saltwater swimming pools is the level of comfort you experience. Salt is softer on your skin than chlorine. Also, chlorine has the tendency to cause red eyes, itchy skin, and discolored hair. Another advantage of saltwater swimming pools is the lowered use of chemicals. With the saltwater pool you don't have to store and handle toxic chemicals on a regular basis.  This means that a saltwater swimming pool is more environmentally safe. You also won't have to suffer the odor of chlorine anymore. Lower maintenance is also a advantage of the saltwater swimming pool. It will virtually clean itself and require much less attention than pools that just use chlorine.
The chlorine generator converts salt into chlorine, so you don't have to keep a constant check on the water sanitation. It also stops the growth of algae throughout the year. There are also medical benefits to saltwater pool. Pure chlorine pools create organochlorines which mimic human hormones. They can cause reduced fertility, immune system abnormalities, and numerous cancers. Chloromines can also cause or worsen emphysema and asthma. Saltwater swimming pools do not have this problem because chlorine levels never drop low enough for organo chlorines to form.
One of the final advantages of saltwater swimming pools is the cost. You save more because you don't have to buy as many chemicals and pay for the amount of maintenance required on a typical chlorine pool. The cost to maintain a saltwater swimming pool is less than half the cost to maintain a chlorine pool.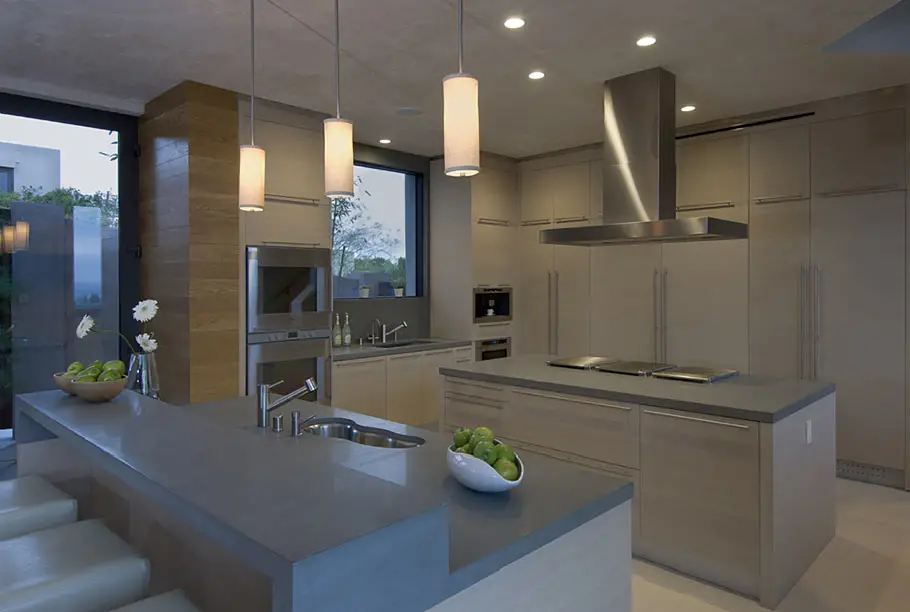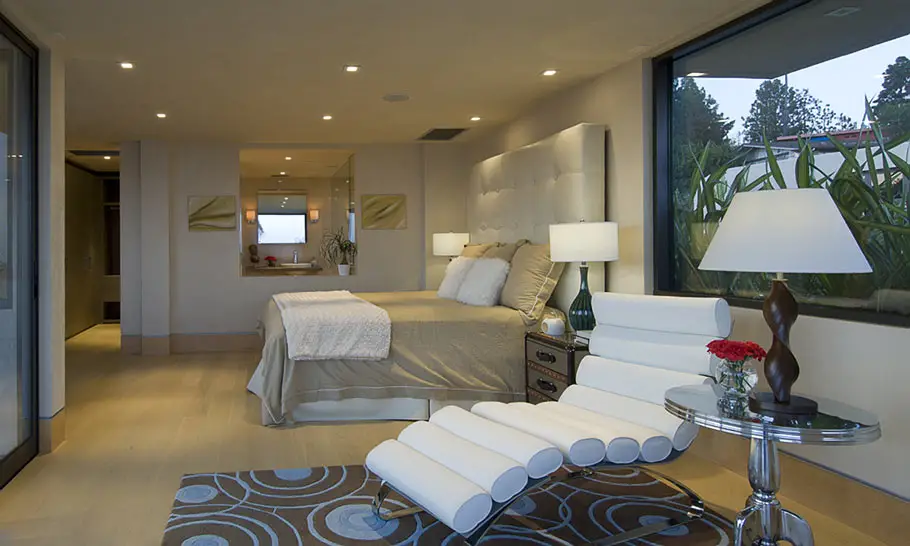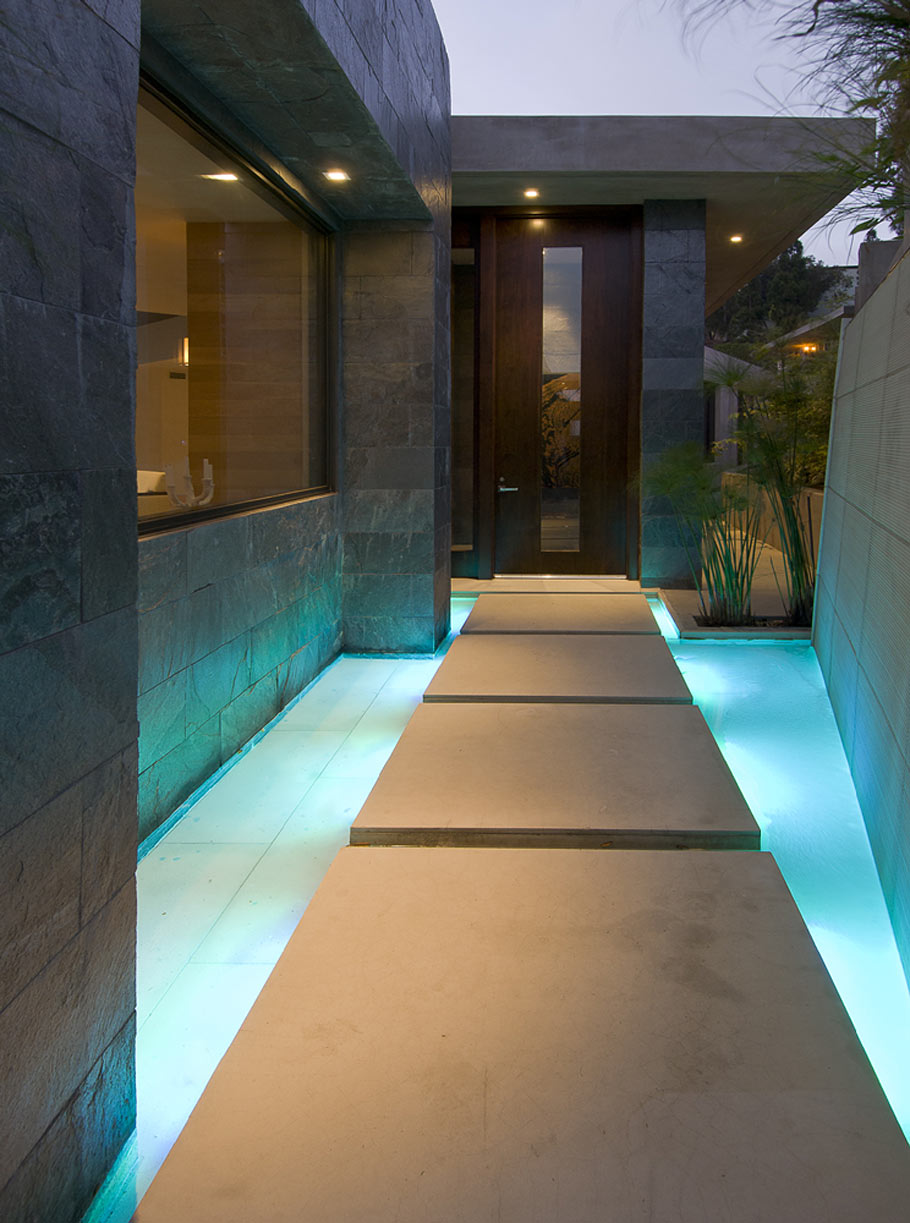 Love Interior Design & Exotic Travel? Follow us..
August 20, 2010 | Property | View comments