Luxury Gershenson House, Yucatan, Mexico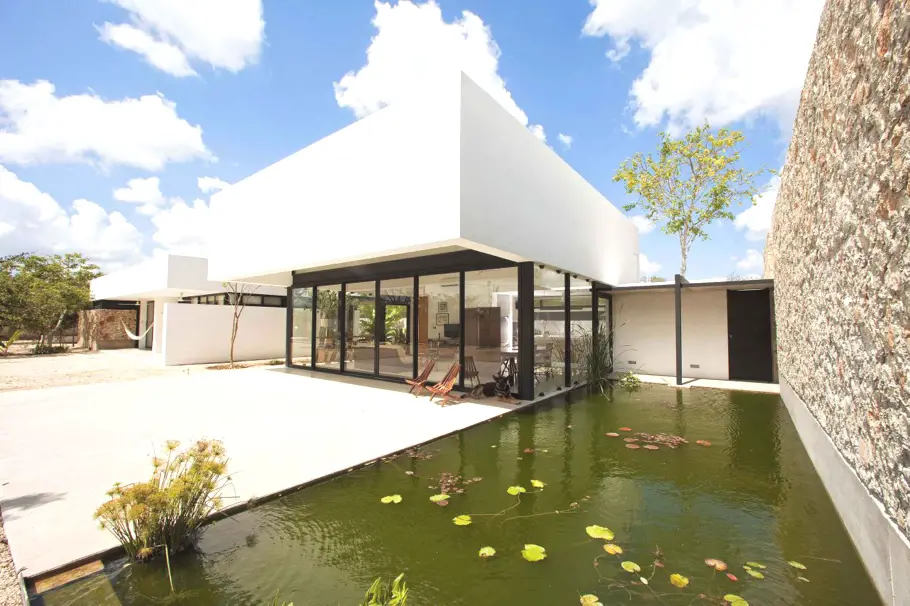 Merida-based architectural practice Taller de Construccion have completed the Gershenson House project. The single storey contemporary property can be found in Cholul, Yucatan, Mexico.
According to the architects: "The contemporary Mexican property, with 270 m2 area of construction, is located on a parcel of land in Cholul, Yucatan, Mexico, a small community near Merida, Yucatan, Mexico.
"The property belongs to a retired couple who wanted a private space without losing contact with nature.
"The forms are mainly composed of three volumes, each allocating a specific part of the program: service, social and private functions of the house and are connected with a single transversal circulation.
"One of the design premises was to reutilise the materials and expose their natural form. Every rock extracted from the excavations was used in walls and details. The house is placed on top of a 60 cm high apparent concrete footing, in which functions as a starting point for the modular rhythm.
"The perimeter walls of the residence do not reach the slabs in order to keep visual contact with nature, even within the private spaces of the contemporary Mexican house.
"Integration of the exterior and interior is sought through curtain walls, a pond and gardens that divide the house in order to eliminate the monotony of the inhabitants' daily life."
Images courtesy of Pepe Molina.
Love Interior Design & Exotic Travel? Follow us..
December 11, 2012 | Property | View comments