G9 restaurant with 956 light installation opens in Shanghia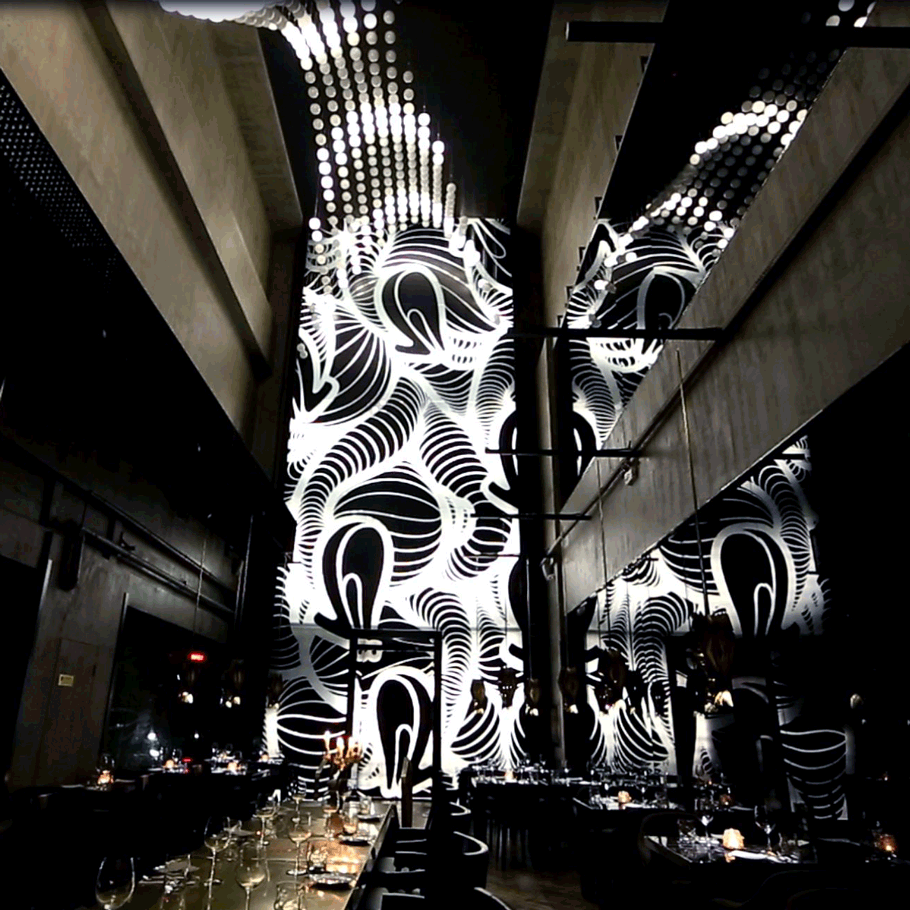 New Zealand-based architectural practice, Atelier INDJ, has completed G九 上海 (G9 Shanghai) project. Completed in 2014, the luxury restaurant is set within a dramatic triple height space that is part of main land China's first luxury department store; Lane Crawford.  
G九 exists beyond it primary purpose of dining and delves into a realm of exhibition, spectacle and participation.
From the interior design projects inception Atelier I-N-D-J founder Ian Douglas-Jones led the projects ambitions – "the unusually proportioned space just had to be exploited and celebrated, early on I had persuaded the client that this presented an opportunity to create something that subverts preconceptions," said Douglas-Jones. All elements of the project have been carefully considered; from bespoke furniture to a super scaled interactive light installation that terminates in a major site specific art work by British Artist INSA, this collaborative piece sees the 956 lights of the light installation merge with the art work, working together as one.
Technology, industry, luxury and excess collide; manifest in concrete, raw steel, black marble, shimmering gold, bright light and high art.  G九 is a brash celebration for the rise of the Chinese economic super power, more so glittered with gold befitting of the Paris of the east – 上海. The notion of luxury and excess reaches it's pinnacle with INSA's art wall.  The interactive lighting installation cascades through the space terminating in INSA's trademark 'Grafitti Fetish'- an exploration of the iconography of modern aspirations.
A 22m long brass table bisects the primary space acting as both banquette table and runway, that dictates a simple dining arrangement. Balanced upon a lateral  beam above, a VIP dining platform serves not only as  symbolic elevation of status, but also as exclusive position of grandeur from which to survey the space below, here users are invited to engage in the light installation and art piece – a 3D depth sensing camera empowers the user with the ability to control the speed brightness and pattern of the light with simple hand gestures, In this way the light installation and art work in synchronisation controlled by a singular user.
The light installation and art work collaboration between INDJ and INSA marks an evolution of INSA's pioneering work with the GIF medium; whereby multiple frames are painstakingly painted photographed and animated digitally. G9 is a reversal of this process whereby the digital is manifest physically in the 67sqm art work.
Images courtesy of the architects
Love Interior Design & Exotic Travel? Follow us..
June 20, 2014 | Property | View comments