Luxurious Shaw House, Vancouver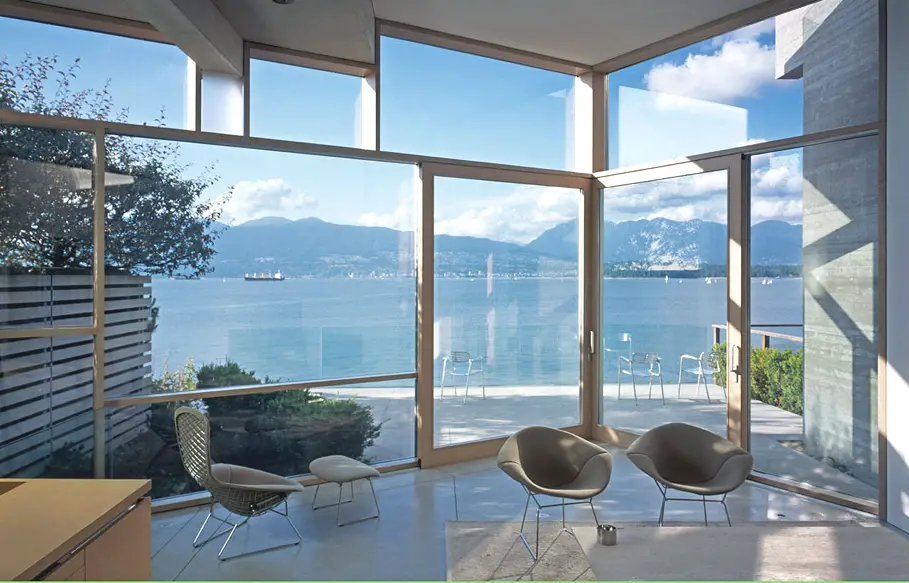 Patkau Architects a Vancouver-based design studio completed the Shaw House project in 2000. The contemporary home can be found in Vancouver, Canada.
According to the architects: "A private residence of 285 square metres for a single person. The program includes living spaces, bedroom, study, music room, and a lap pool."
The luxury Canadian property looks across English Bay with views stretching across the North Shore mountains, which dominate the skyline of downtown Vancouver. The house is organised with living spaces on grade, private spaces above grade, and music room below grade.
Due to the dimensions of the site the architects found it difficult to locate the lap pool on grade while retaining generous living spaces. Consequently, the lap pool was located above grade, along the west side of the house, connected at either end to the terraces off of the bedroom and study.
Within the narrow floor plates spatial expansion is only possible outward over the water and upward through the volume of the contemporary Canadian house. Small spaces are enlarged with generous ceiling heights, while the fully interiorised dining room rises through the floor above to a clerestory that brings both daylight and light reflected from the lap pool deep into the central area of the plan.
Images courtesy of by: Paul Warchol, Undine Prohl.
Love Interior Design & Exotic Travel? Follow us..
June 8, 2012 | Property | View comments