London Design Festival highlights: Sonya Winner
Sonya Winner creates vibrant, contemporary hand-tufted rugs which can add excitement and interest to many different styles of home interior.  Her latest crop of striking designs were launched at Design Junction, during the London Design Festival, says Karen Sear Shimali.
Winner trained as a graphic designer, and this is evident from the bold shapes and lines of her rugs.  Working initially in paper collage, Winner perfects the design until there is nothing left to add or take away.  Colour has a huge part to play in her creative process.  "Colour is key – it transforms an environment, changes mood, creates excitement, ambience, interest and simply makes you happy.  My aim is to add vibrancy, warmth and positivity into a room – this is where my passion for creating rugs stems from." says Winner.  Made from pure New Zealand wool, tufted in different pile heights, her rugs are not simply floor-coverings, but works of art for the floor.
Vortex is created by overlapping coloured triangular forms around a central point.  The overlapping shapes reveal new shades of colour to give an overall dynamic yet warm design.
Galaxy is a complex whirl of oval shapes which interlock and overlay creating different shades of warm green, purples and greys with touches of crimson.  Movement is implied by Winner's expert colour manipulation.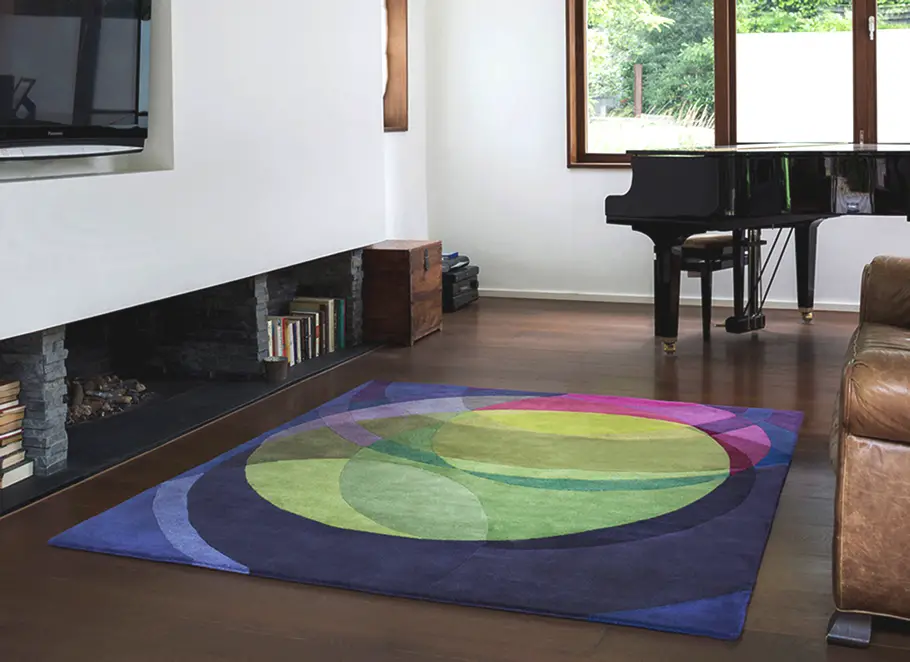 After Mattisse Blue and Purple is a variation on Winner's hugely popular After Mattisse rug. She cites many artists as inspiration for her work. The new colour way uses a spectrum of purples and blues, overlapping to create new shades in Winner's signature style.
Dusk is a symmetrical, geometric design in calming blues, greens and purples. It evokes the quietness of the twilight sky.
Winner's rugs are made in Nepal and northern India, where the exploitation of child labour is a huge problem.  She works closely with GoodWeave, an organisation that campaigns to end the illegal use of child labour in the rug industry.  All her rugs are made in factories accredited by GoodWeave, which ensures that her makers are all adults working legally.
Sonya Winner rugs is showing at Stand S18, Design Junction, The Sorting Office, 21-31 New Oxford Street, London WC1A 1BA, 18-22 September 2013.
Karen Sear Shimali writes a regular blog Stitch by Stitch, focusing on sustainable design, and the fusion of global artisan skills and contemporary design.
Love Interior Design & Exotic Travel? Follow us..
September 18, 2013 | Design Fairs | View comments