Hotel review: Pacific Rim Hotel, Vancouver, Canada
Laid back and lively, Vancouver is a city that seems to revel in contradictions. It's a trendsetting, West Coast metropolis that thrives on a relaxed, nature-loving vibe. It's protected by the snow-capped shards of British Columbia's mountains, but the Pacific coastline leaves it exposed to outside influences – lapped up by its cosmopolitan population. Its unaffected in attitude, but knows its the effortlessly cool kid of Canada's city sprawls.  
It's a similar mix of urban cool, self-assured yet unpretentious, and modern luxury that makes the Fairmont Pacific Rim hotel a perfect spot for any stay in Canada's west-coast capital.
A relative newcomer to Vancouver's historic port and financial district, the 377-room hotel seamlessly marries relaxation and indulgence whilst stunning room views of the North Shore mountains remind residents this is a city worth exploring – even if the inclination might be to order room service via your in-room iPad. With the cocktail menu – an innovative list of concoctions such as the Little Bird containing pisco, rhubarb and vanilla – also available via your tablet device, staying in could fast become Pacific Rim's answer to going out.
But passing through the vibrant hotel lobby, set alight with live music, crisp Asian-inspired decor (including a 180-ft handmade origami sculpture) and an in-the-know crowd, it becomes obvious that this really should be the place to enjoy the funky cocktail menu.
Lobby Lounge and Terrace
Billed as the place to 'see and be seen' the Lobby Lounge and Terrace has recently seen stars such as Rihanna passing through – but with music six days a week, including up-and-coming acts from Vancouver's local scene, it's not a place that needs to wait for the A-listers to get the party started.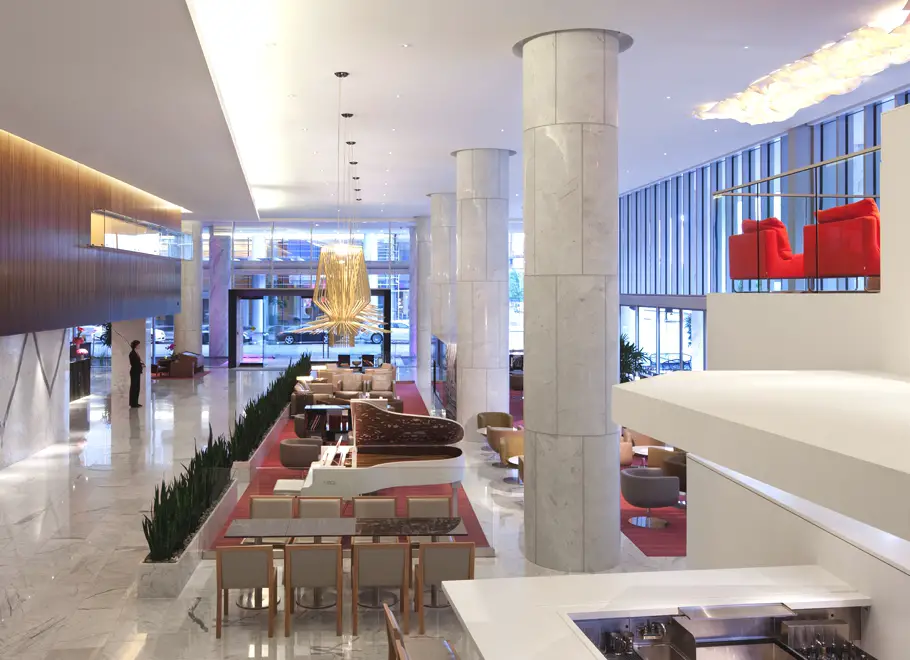 Oru restaurant
If dining takes priority over drinks on your evening agenda, the Oru restaurant offers stylish simplicity and cuisine that combines the freshness of British Columbia's coast with influences from afar, including Japan and Chile.
Showing off its location, the restaurant design treats diners to downtown views of Coal Harbour through floor to ceiling windows. The elegant, white linen-dressed tables – almost stark but for the blades of neon orange chopsticks, a cheeky nod to its fun-loving, sophisticated clientele – is set ready to let the food do the talking.
With seasonal produce a key component of chef Darren Brown's menu, we started appropriately with a spring salad merging fresh and pickled carrots, beets and burdock root packed with crunch and a smear of carrot puree to give a sweet, smooth finish.
A perfect palate cleanser in preparation for a bounty of sushi and sashimi – a pretty platter worthy of any Tokyo's fine-dining houses. Although the crowd-pleasing California rolls, albacore tuna and salmon played central parts in this feast, the chefs at Pacific Rim are not afraid to offer up the more exotic varieties of the Japanese delicacy, including sea urchin and octopus sashimi.
If Oru can do raw fish so finely, it seemed only right to put its cooked variety to the test. A dish of beautifully roasted halibut was crisp with salty skin and accompanied by roasted rhubarb, at once sweet and sour and a satisfying brandade potato. A perfectly-sized portion, allowing room for an indulgent chocolate dessert, smooth and rich with a surprise crunch for the bottom layer, accompanied by a wonderfully sweet condensed-milk ice cream.
The drinks list offers an impressive selection of more than 200 wine labels – by the glass and the bottle – local and imported beers, spirits and an impressive range of Japanese sake, should you choose to accompany your sushi in the traditional way. As with the food, the emphasis for wine and beer is on the locally and regionally produced, many originating from the nearby Okanagan Valley – but of course European classics are stocked for those who prefer the old world of wine.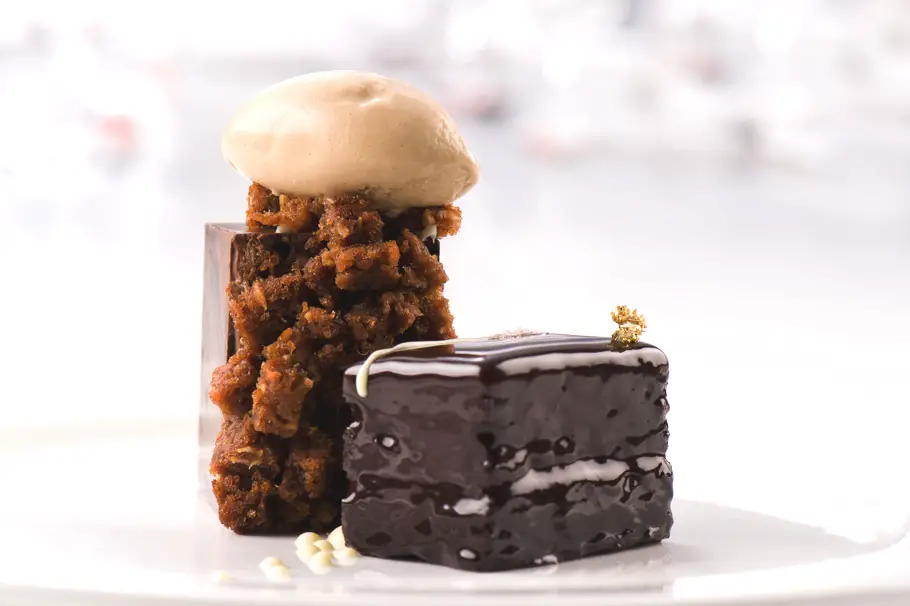 Away from the lively hubbub of the hotel's lobby bar and Oru restaurant (other hotel dining options are available), guests are invited to make use of the Willow Stream Spa. Perched on the fifth and sixth floors, the outdoor deck includes a rooftop pool with hot tub, private cabanas and a bar during the summer months. Relaxing poolside on a bright, May morning it was hard to believe we were so central to the bustling city centre. For a more vigorous workout try the fully-equipped fitness studio.
And if at any stage during your stay, the allure of one of Canada's most thriving cities beckons, the hotel offers a complimentary downtown car service, combined with ever-helpful concierge to help you plan your day or night. Or if you'd rather do as many of the locals do, be sure to make use of the hotel's other complimentary transport – bicycles! The beautiful Stanley Park is easily, and safely, reached from your location and a wonderful way to get a feel for the city's great outdoors.
It's always special when a hotel manages to capture the personality of a great location, be it in the city or countryside. If you're in Vancouver you're probably looking for a relaxed experience with a good offering of culture and something on the right side of cool. With its well-informed staff, internationally-inspired restaurants and laid-back buzz, Pacific Rim reflects the essence of its home perfectly.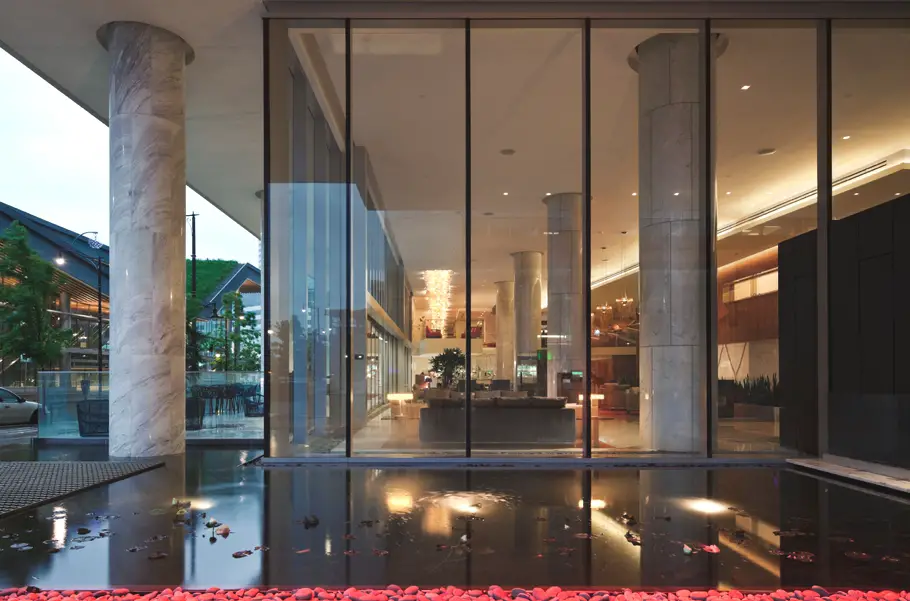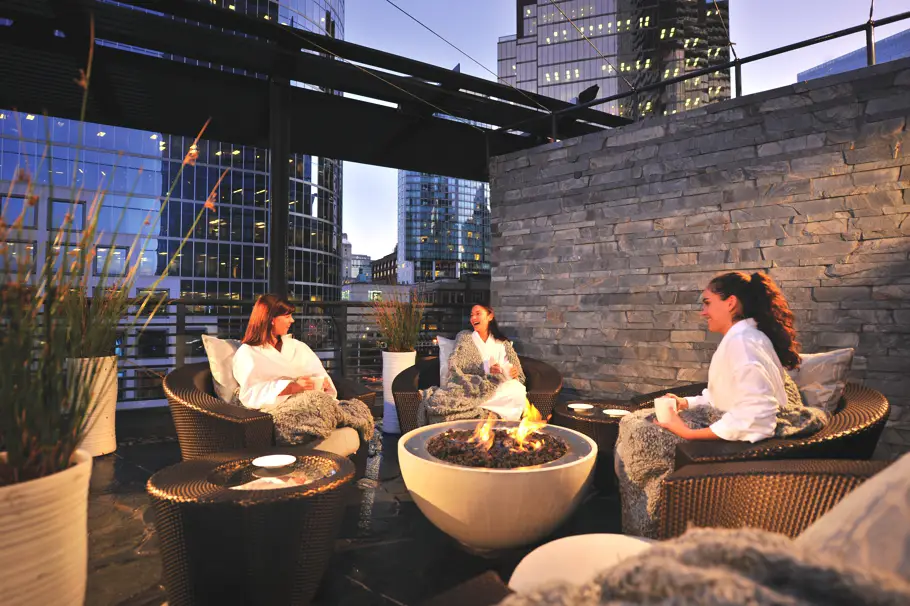 Love Interior Design & Exotic Travel? Follow us..
June 19, 2013 | Travel Reviews | View comments