Hotel review: Morgan's Rock, Nicaragua
When it comes to eco design, there's little to beat high-end eco lodge Morgan's Rock. It was built to showcase the beauty of the location – San Juan del Sur, Nicaragua – but with minimum impact on the environment.
Owner Eric Poncon, said: "We wanted guests to remain connected to the most basic and fundamental elements of nature, be it the sound of the ocean, the uplifting feeling of the natural breeze, the refreshing smell of rain on unpaved soils, and the multiplicity of sounds of animals, small, medium and large, night and day!" This is fortunate, given that the lodge is surrounded by a nature reserve of 4000 acres of reforested land and dry rain forest, and fringed by a glorious mile-long stretch of beach.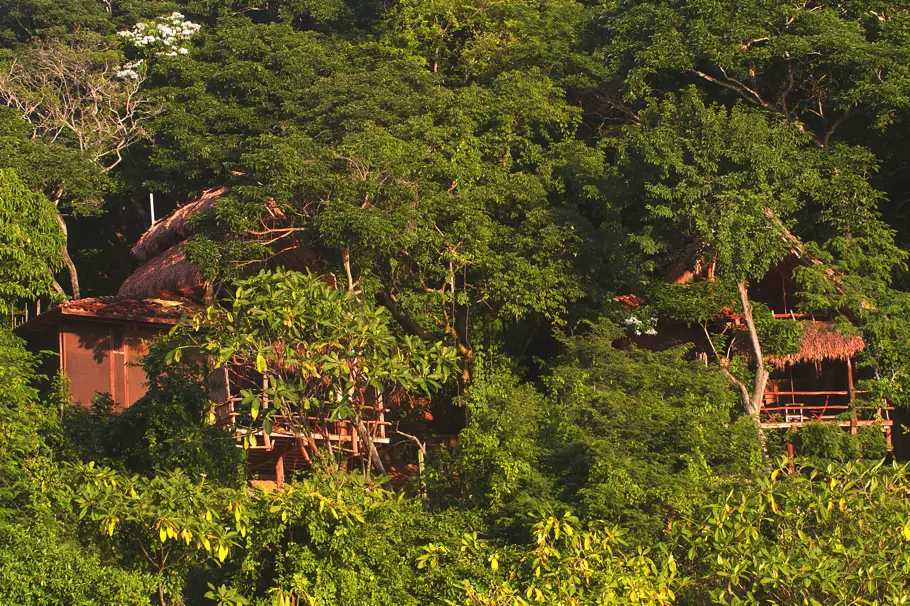 The eco triumph is best seen when we ride on horseback to a high point above Morgan's Rock. Its 15 bungalows are camouflaged in the nearby hillside. The wood and thatch constructions are scarcely visible in the cliff rising from the beach, so discreet and unobtrusive is their design.
Morgan's Rock opened in 2004 and was built by British architect Matthew Falkiner of Simplemente Madera Arquitectura. It was conceived in an unusual way, to keep it harmonious with nature. 'We started with very sketchy drawings but soon got frustrated with dealing in two dimensions with the site's complexities, so began using string and sticks in different locations,' explains Falkiner. 'It was the ideal way to be totally responsive to the site.' They decided, for example, that they wanted guests to be able to sit in the bar and watch the sun go down. 'So we took a bottle of rum and moved around until we got the right spot.' Then out came the sticks and strings.
The location of the bar and restaurant left logistical problems over reaching the rooms that hung to the rocks above the beach. 'It was too much to ask guests to walk down to the beach then clamber up the hill,' says Falkiner. So an awesome 90 m long and 22 m high suspension bridge was built to connect the lodge to the bungalows. It was engineered by Klaus Boden, a German. But how to make it eco? In keeping with their ethos, the bridge is built in almond, walnut and nispero wood from certified plantations.
Indeed Morgan's Rock was constructed with local products and many precious, tropical woods – all from certified plantations – from mahogany to almond, royal cedar, walnut and cordia to jatoba. Falkiner's instruction was to ensure that no trees were cut down to make way for the buildings – some even have trees growing through them as part of their design. Even in the rainy season the trees are not cut in order to enhance the (still splendid) views from the bungalows. Then there's the towering lobby area with its palm thatch ceiling and vast timber beams. Its large supporting columns came from trees felled by Hurricane Mitch in 1998.
Other local materials that were used include stone. The base of the bungalows is of slabs of volcanic rock and any little stones used in their gardens were scavenged from the beach – a white, deserted stretch of sand that sweeps in a magnificent bay and is frequented by nesting turtles. There are rough-hewn exposed volcanic stone walls in the bar and reception areas.
When it comes to keeping the property cool, an eco solution was also found. The palm thatch roofs of the bungalows and the mosquito screens at their windows preclude the need for air-conditioning or glass. The air circulates naturally with the help of a fan. This certainly keeps the rooms fresh.
What of the interior decoration? There's an overall feeling of simplicity, calm and homeliness in the design. 'Mathew's first work was for our beachside family house,' recalls owner Poncon. 'What I like most about the design of the rooms at the lodge is that he was able to create for guests that same experience. There's a feeling of privacy and coziness.'
Simplemente Madera – a company known for celebrating the characteristics of imperfect wood, creates the furniture in sustainable wood. ('Global issues,' according to its brochure, 'are tackled one tree at a time.') The queen -size hanging day bed on the verandah is one any stylish guest would love to ship home. Even the door handles, crazy twirly copper bathroom pipes, taps and shower systems, plus the light fittings and switches -designed by Simplemente Madera Arquitectura – use eco materials, create a feeling of homeliness and celebrate the craftsmanship of Nicaraguan artisans.
Other ecological issues – such as zero food miles for the restaurant – were considered too. At Morgan's Rock they take the farm- to- fork concept seriously – with a dairy and shrimp farm and organic kitchen garden on the estate. Plus, of course, there's the ocean- to –table element, with still-flapping fish delivered to guests' plates. Even the activities available to guests are eco ones. (Go there to go riding – and see sloth and howler monkeys midst palm and cacti. Take a kayak into the mangrove- fringed estuary to spy 54 types of sub tropical birds. Then drive up the Jurassic Park- style dirt track – home to endless mini dinosaurs known as iguana – to participate in getting your breakfast from dairy farm to plate. This involves, inter alia, milking a cow.) Add to this that there's no room service and no television, and guests get back to basics. They 'disconnectandenjoy' in the words of the lodge's Wi-Fi code.
When it comes to eco credentials, Morgan's Rock ticks all the boxes, several times. Uses grey water for irrigation? Yes. Solar panels for heating hot water? Yup. Low wattage bulbs? You got it. Additionally they have biodegradable cleaning products, recycle, and feed the farm animals from waste and leftover foods. Little wonder that when we ride on horseback to a high point above Morgan's Rock, its bungalows are camouflaged in the nearby hillside. Little wonder too that when it comes to eco design there's little to beat Morgan's Rock.
Caroline Phillips was a guest with Journey Latin America who specialise in tailor-made holidays to Central & South America, including Nicaragua. She flew with United Airlines who offer three daily nonstop services from London Heathrow to its hub at Houston/George Bush Intercontinental Airport, with onward connections to Nicaragua.

Love Interior Design & Exotic Travel? Follow us..
March 4, 2015 | Central America Nicaragua Travel | View comments