Jockey Club Innovation Tower, Hong Kong by Zaha Hadid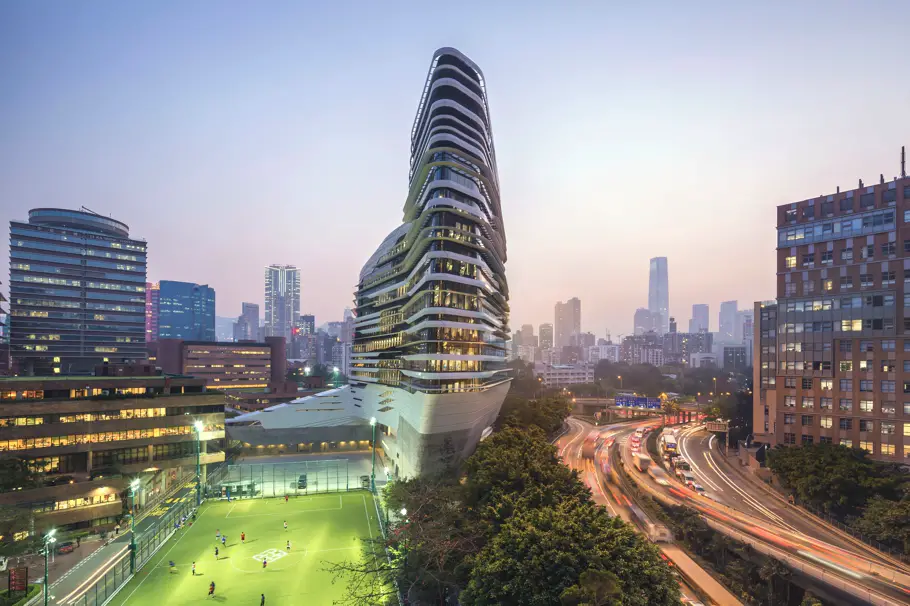 The Jockey Club Innovation Tower (JCIT) is home to the Hong Kong Polytechnic University (PolyU) School of Design, and
the Jockey Club Design Institute for Social Innovation.
The 15-storey, 15,000 sq m tower accommodates more than 1,800 students and staff, with facilities for design education
and innovation that include: design studios, labs and workshops, exhibition areas, multi-functional classrooms, lecture
theatre and communal lounge.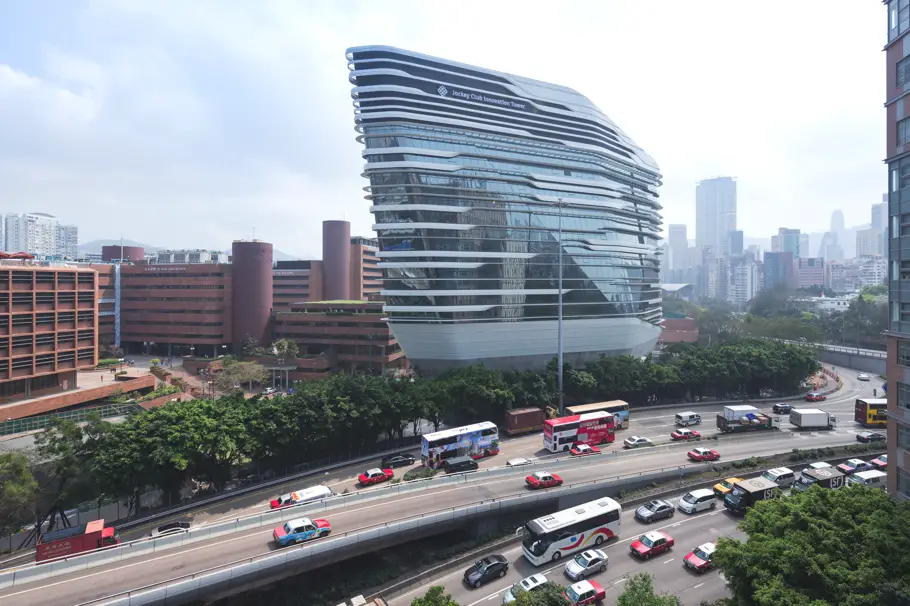 Located on a narrow, irregular site at the northeastern tip of the university campus (bordered by the university's football ground to the south, and the Chatham Road/Kowloon Corridor motorway interchange to the north), the JCIT is connected to the heart of the campus; encouraging the university's various faculties and schools to develop multidisciplinary initiatives and engagement with the community, government, industry, NGO's and academia.
The JCIT design dissolves the typical typology of the tower/podium into a more fluid composition. Interior and exterior
courtyards create informal spaces to meet and interact, complementing the large exhibition forums, studios, theatre and recreational facilities.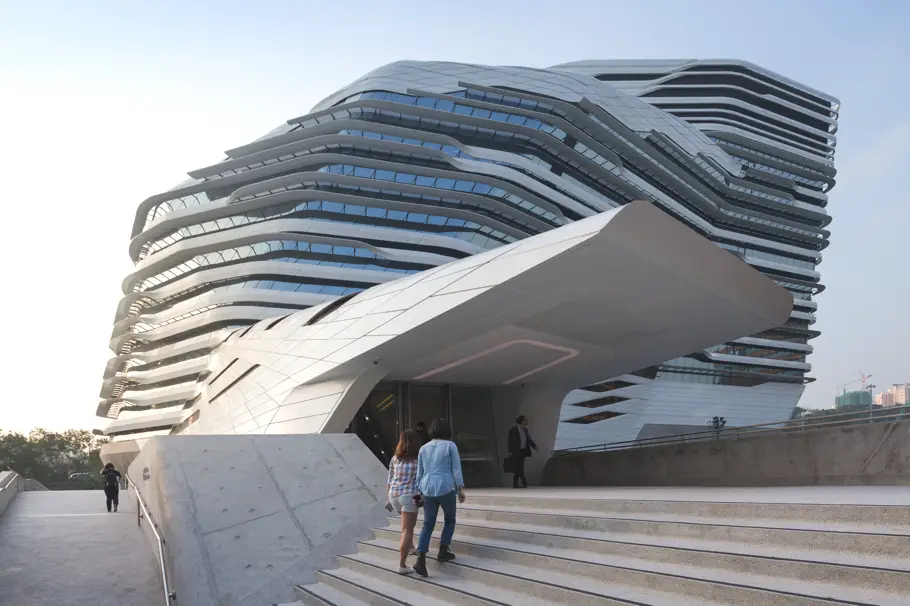 The tower's design promotes a multidisciplinary environment by connecting the variety of programmes within the School of Design; establishing a collective research culture where many contributions and innovations can feed off each other.
Students, staff and visitors move through 15 levels of studios, workshops, labs, exhibition and event areas within the school. Interior glazing and voids bring transparency and connectivity, while circulation routes and communal spaces have been arranged to encourage interaction between the many learning clusters and design disciplines.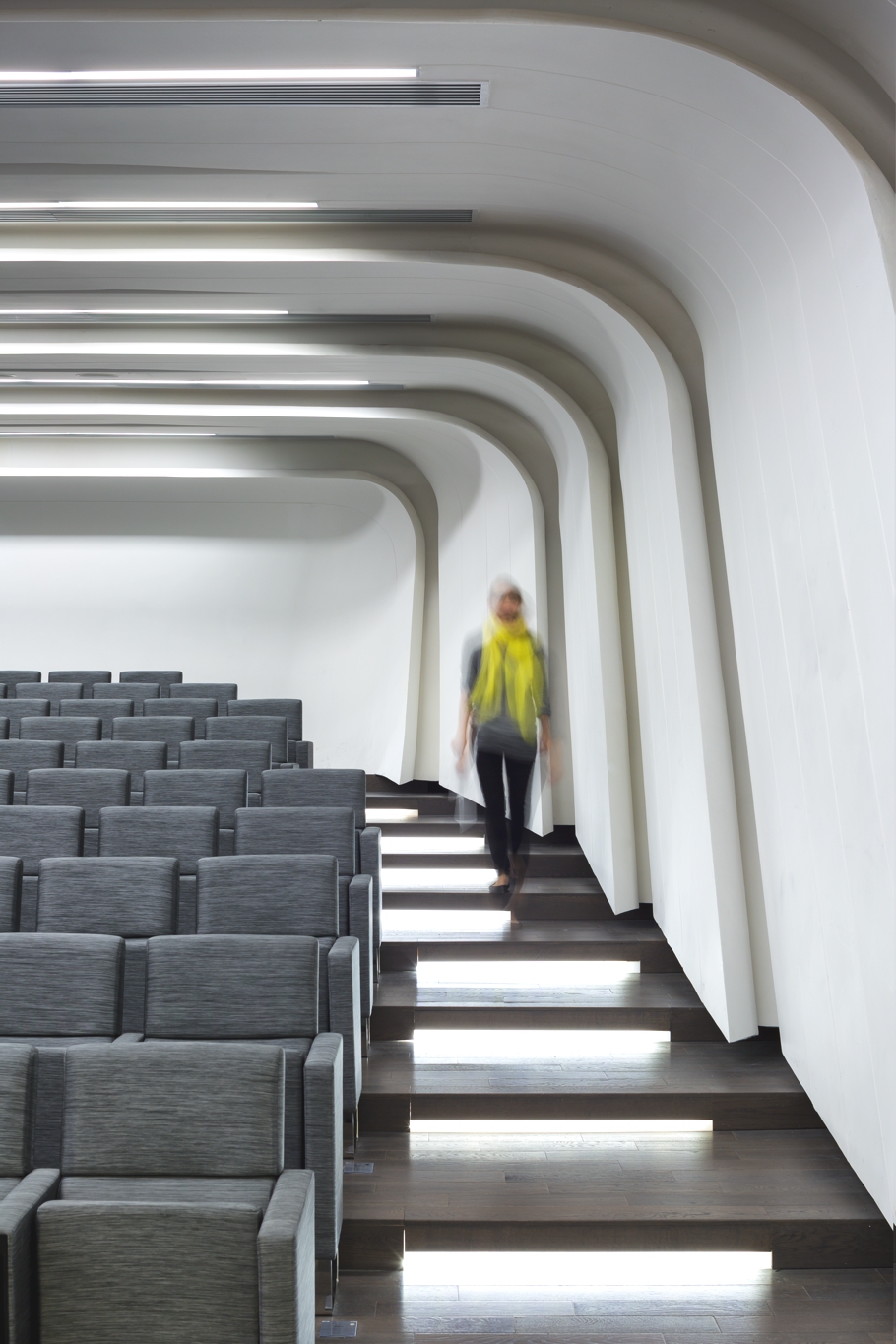 With its contribution of HK$249 million towards the construction of JCIT, The Hong Kong Jockey Club Charities Trust also funds the Jockey Club Design Institute for Social Innovation.
Images courtesy of Iwan Baan, Doublespace and Virgile Simon Bertrand
Love Interior Design & Exotic Travel? Follow us..
May 27, 2014 | Property | View comments