Hotel review: Glamorous treehouse escape at Chewton Glen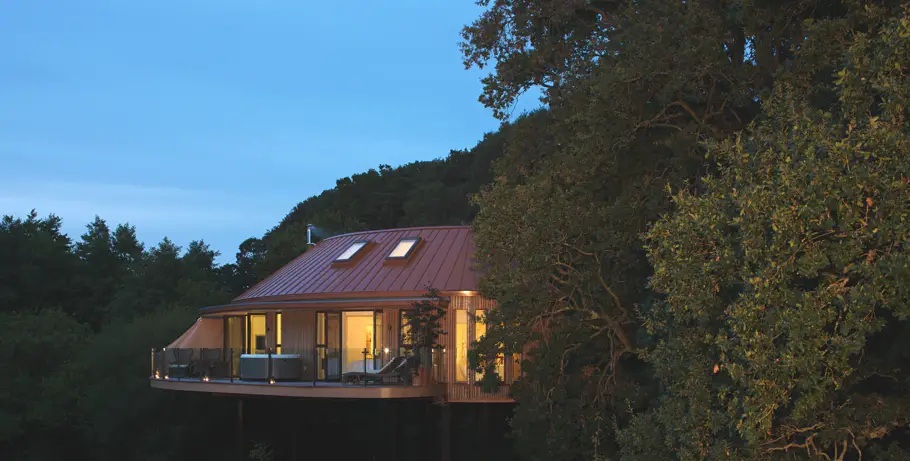 It's what the Swiss Family Robinson would have built, had they met the Blue Forest design team. A Chewton Glen treehouse. The ultimate reinvention of the country house hotel. The six treehouses – or 'treehouse suites' as they're known – look simple and rustic outside, like floating wooden space ships hiding in the woods. But ones with wraparound balconies and al fresco hot tubs that brush the tree canopy, says Caroline Phillips.
Yet walk across a gangplank and suddenly you're in a curvaceous, light-drenched contemporary space with vaulted ceilings, heaven-to-floor windows and with a giant egg bath in which you can loll looking dreamily at the forest. Plus there are stone and earthy forest colours, natural fabrics, timber floors, wood burning stove and log table. Call it the ultimate in bringing the outside in stylishly: an outside that just happens to be a secluded valley on the 130-acre private hotel estate in England.
The designer, Martin Hulbert, has ticked off all mod cons in this arboreal paradise – mood lighting, a modern entertainment system, plasma screens and iPads for room service. There's even a heated floor in the cupboard to warm your wellies. Additionally there are enough eco-credentials to make the greenest greens weep recycled tears of joy: from rainwater harvesting to air-source heat pumps.
Each 140m2 award-winning treehouse has two individual suites – with a double bedroom and en-suite bathroom the shape of a half moon, kitchenette and an open plan living space. The 'hideaway suites' have a circular bedroom and en-suite bathroom connected via a separate covered walkway to the main treehouse with its larger living area; the 'loft suuite' has an extra bathroom and bedroom – a hidden eyrie reached up an innovative Swedish loft ladder and into which children disappear joyfully to play Monopoly; and the 'studio suites' are perfect love nests.
What else takes these treehouses to new heights? Is it the large curved seating areas or the bedroom – with king-size bed – that leads onto the terrace? A terrace where you can lounge on beds 35 ft above the ground. Is it that everything from succulent oysters to couples' massage therapists are magicked up to your treehouse by the excellent hotel team? That your breakfast hamper is left discreetly in a secret hatchway? Is it the REN goodies – like delicious sage body wash – they leave for slavering yourself? Or perhaps the cute chocolate buttons you'll find in a jar for making hot chocolate?
The luxury suites are tranquil and cosy. Whimsical, magical hideaways where you'll sit training your binoculars on bunnies and badgers. Or you may stride out in Hunter wellies to the New Forest with its grassy plains and the nearby waters of the Solent. Or just turn right out of your forest sanctuary and after a mere minute's walk or a quick golf buggy ride, you'll find yourself at the main hotel. That grande dame establishment, Chewton Glen with its spa, golf, excellent restaurant and super-attentive service.
How could tree life ever get more glamorous?
Chewton Glen Hotel & Spa, New Forest, New Milton, Hampshire BH25 6QS, England, chewtonglen.com
Love Interior Design & Exotic Travel? Follow us..
February 5, 2014 | Travel Reviews | View comments