Gessi's new stylish showroom in Milan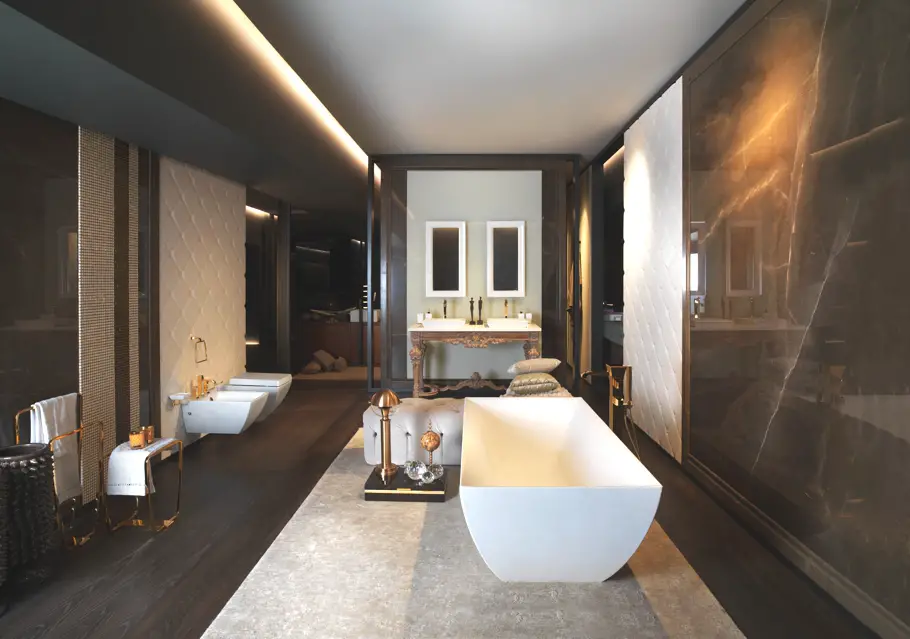 Luxury bathroom designer Gessi have unveiled a fabulous new showroom in the centre of Milan, Italy.
Located in the upscale fashion district of the city, the new showroom sits inside a historic building on Via Manzoni 16, creating a series of atmospheric spaces to showcase the luxury, lifestyle brand.
The building that houses the showroom is a former cinema and was transformed by the Gessi Style Studio – led by Luca Bresciani and Sara Ferrari – into a 1500 square metre space reminiscent of a secret garden. Guests enter the space from Via Manzoni – an address known for its luxury fashion boutiques – and descend into a world where they get an unparalleled Gessi experience.
The showroom moves away from simply displaying products to create a dramatic waterfall entrance as well as event and entertainment spaces. These different areas have been designed to convey a feeling of relaxation and sensory wellbeing throughout. The design uses organic materials, including wood and stone, complementing the vertical gardens and cascades that are also key features of the design.
The showroom opened with an exhibition that showcases bathroom designs from around the world, which includes recreating the opulence of Russia, the simple lines of Scandinavia and the rawness of New York.
The luxury bathroom brand in Milan goes beyond selling standard products. The new showroom provides each customer with a tailored experience through the help of an in-house team of interior designers and architects specialising in bathroom design. With a wide selection of materials, including rare and unusual woods, tiles, stones, resins and a group of highly skilled craftsman and knowledgeable suppliers to create the finest surfaces, Gessi Milano stands out amongst conventional showrooms.
Gian Luca Gessi, founder of Gessi, said: "We didn't want to create a product-focused showroom; instead the ambition was to design a series of spaces that embodies the Gessi Private Wellness® philosophy, which revolves around transforming bathrooms into personal spas.  We hope the space won't just be attractive to customers and clients but also a hub for the worlds of fashion and culture."
Love Interior Design & Exotic Travel? Follow us..
June 17, 2013 | Property | View comments