Fogo Island Inn hotel designed by Saunders Architecture
Bergen-based architectural practice, Saunders Architecture, has designed the Hotel at the end of the Earth project. Completed in 2013, the five-star hotel and art gallery is located in Newfoundland, Canada.
The luxury Canadian hotel, situated on the rugged coast of Newfoundland, boasts 29 ocean-facing guest rooms that look onto fishing grounds that originally attracted people to Fogo Island centuries ago.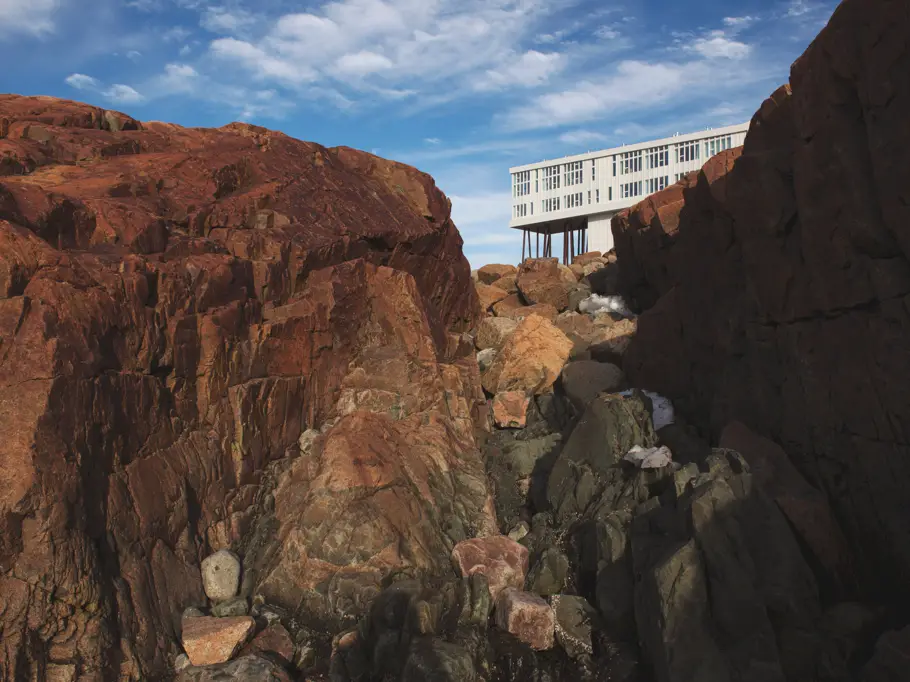 The overall design of the hotel is minimalist, with clean lines and patchwork quilts for splash of colour. And thanks to the floor-to-ceiling windows every view is a picture postcard – you won't want to leave the luxurious urban rooms.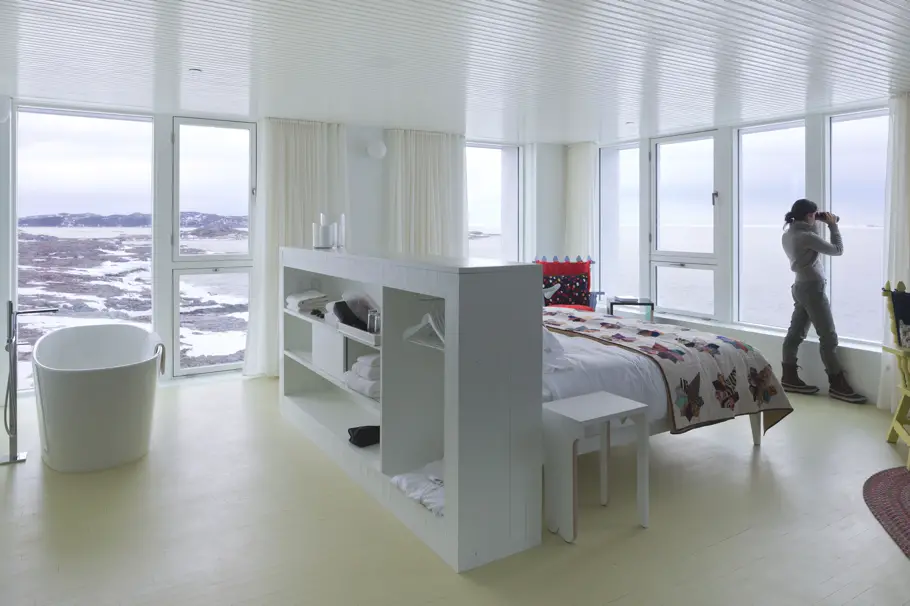 According to the architect: "The room sizes vary from 350 square feet to 1,100 square feet. The sound transmission classification of 69 between guest rooms ensures that guests hear only the sound of the nearby waves. The rooms rooms on the third and fourth floors all come with a wood-burning stove. And three rooms on the east side feature a mezzanine floor.
Public areas include an art gallery curated by Fogo Island Arts; a dining room, bar and lounge and a heritage library. The second floor includes a cinema that is a partnership with the National Film Board of Canada. The fourth floor roof deck has saunas and outdoor hot tubs with views of the sea."
The eco-chic hotel also integrates self-sustaining systems to reduce and conserve energy and water usage. Rainwater from the roof is collected into two cisterns in the basement, filtered, and used for the toilet and laundry water and also to be used as a heat sink for all of the kitchen appliances. Solar panels supply hot water to the in-floor radiant heating as well as the laundry and kitchen equipment.
"The knowledge and skill of local carpenters and craftspeople were essential for establishing the materials, details, furniture and textiles used throughout the buildings," said the architects.
"Their know-how was the starting point for what has become a long term and ongoing collaborative project between contemporary designers from North America and Europe and the men and women makers and builders of Fogo Island and Change Islands," they add.
To see other projects by Saunders Architecture click here.
Images courtesy of Iwan Baan and Alex Fradkin
Love Interior Design & Exotic Travel? Follow us..
January 22, 2014 | Canada Newfoundland Travel | View comments